To mark the first anniversary of The Food Institute's weekly newsletter, The Plant-Based Insider (PBI), we're assessing the current state of the plant-based industry with a focus on the recent sales figures and trends that have positioned the category as both a powerhouse for innovation and a hotbed for debate.
Overall, plant-based remains a small but expanding industry, with perpetual ups and downs driven largely by the evolving preferences of flexitarian consumers.
According to a press release by IRI and The NPD Group, about 25 million consumers eat plant-based beverages and foods occasionally or regularly as part of a meal or as an ingredient. Furthermore, about one in five consumers say that they want more plant-based foods in their diet.

Plant-Based at Retail 
At retail, measurable sales data for plant-based meat and dairy continue to reflect the tumultuous state of an industry impacted by product quality and economic uncertainty.
At the same time, plant-based innovation is blurring lines in new categories from snacks and candy to beverages, most of which lack definitive data or company leaders for tracking overall sales performance.
Meat alternatives spent most of the year at retail crossroads. Refrigerated varieties that spiked throughout the pandemic showed steep declines while frozen alternatives held a stronger hand.
It has also been a significant year for plant-based seafood — a relatively sleepy category prior to 2022.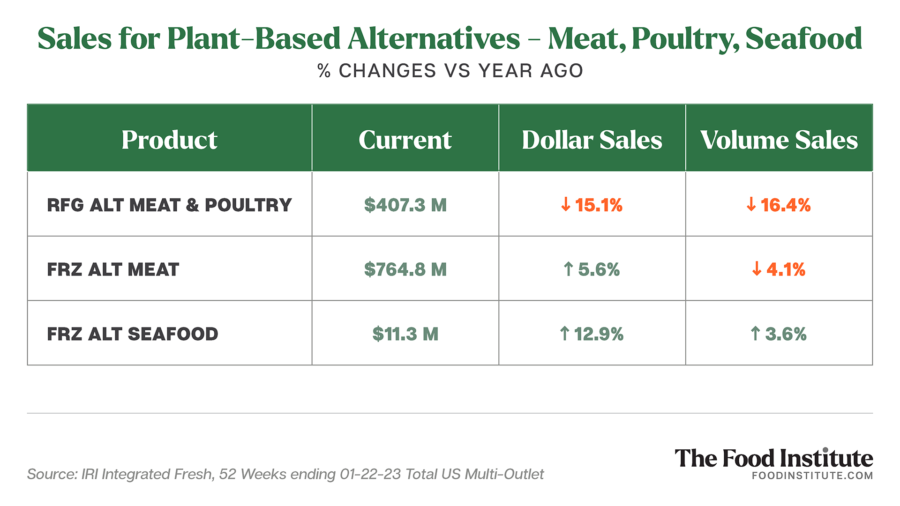 Overall, volume sales for fresh meat alternatives remain below dollar sales in the 52 weeks ending January 22, 2023, according to IRI. In the frozen aisle, inflated dollar sales are nearly offset by the slump in volume.
Meanwhile, the total volume sales for dairy alternatives during the same period were down storewide with shelf-stable ready-to-drink milks toeing the line.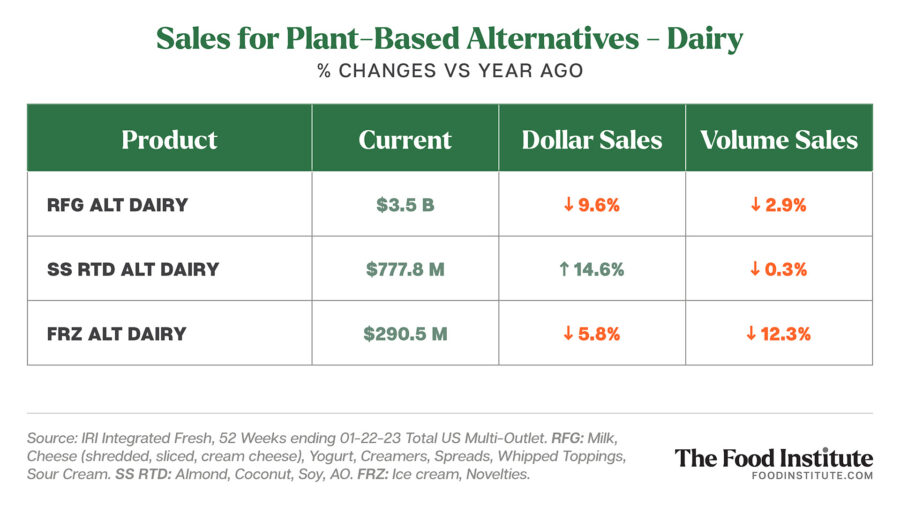 "As consumers are returning to their pre-pandemic habits and living with high inflationary prices, we are seeing slower velocity rates and a higher number of lost buyers than new buyers," said Chris Dubois, executive vice president, Americas Protein Practice Leader at IRI, in the press release. "As long as the big plant-based companies continue to deliver taste, texture, and innovations while working toward price parity with other protein options, the category can thrive, especially in the frozen case where the strength and base are consistent."
Plant-Based in Foodservice
On the heels of the pandemic, the foodservice sector also regained some footing, bringing with it a new state of plant-based growth in QSRs, fast-casual chains and college campuses.
Plant-based meat analogues have expanded from primarily beef alternatives to poultry, seafood, and pork. Per IRI and NPD, year-over-year pound sales of plant-based chicken and fish shipped from broadline foodservice distributors increased by 38% and 5%, respectively, in the 12 months ending December. Pizza crusts made with grain alternatives like cauliflower also grew broadline foodservice pound sales by 35% during the same period.
"Chefs and foodservice operators see the plant-based protein category as a versatile option to serve a greater diversity of guests," said Darren Seifer, NPD food and beverage industry analyst in the press release. "Plant-based provides the options to create center-of-plate recipes that delight guests and bring them back for more."

The Plant-Based Insider: Top Stories of 2022
Over the past year, the most-clicked feature focus articles in The Plant-Based Insider   reflected key shifts in the overall evolution of plant-based products. Here's a breakdown of the top five articles:
5. Millennials, Gen Z Key to Plant-Based Advancement. This article highlights the outlook and buying patterns of the two generations driving plant-based sales — Gen Z and millennials.
4. Demand Growing for Clean-Label Meat Alternatives. The evolving consumer demand for plant-based products include whole foods, short ingredient lists, and minimal processing.
3. Plant-Based Trends to Watch in 2023. In December, The Food Institute spoke with several industry analysts to explore what's in store for the year ahead.
2. Emerging Plant-Based Proteins to Watch. Plant-based food producers are experimenting with the broader variety of protein sources as more consumers pursue dietary patterns that improve personal and planetary health.
1. Is Beyond Meat Beyond Repair? This April piece on Beyond Meat was the most-clicked feature focus last year. It foreshadowed the ongoing financial challenges that the alternative meat company experienced throughout 2022.
For a deeper dive, download The Outlook for Plant-Based Products by SIAL America.
Click here to sign up for PBI – The Food Institute's free plant-based newsletter – to get related news, data, and trends delivered directly to your inbox every Tuesday.