A growing number of plant-based burger chains are cropping up across the country as more younger consumers flock to quick service restaurants (QSRs).
As Restaurant Business reports, competition is heating up across this fast-food niche, with over a dozen concepts accelerating growth from coast to coast.
According to Technomic Ignite menu data, plant-based protein has a 48.6% menu penetration across all segments as of Q2 2022, reflecting 0.6% growth year over year.
"Some of the fastest-growing dishes over the past year with plant-based protein include build-your-own pizza (+58.3%) and imitation meat sandwiches (+31.7%)," Katie Bellflower, associate editor at Technomic, told The Food Institute.

QSRs Lead Restaurant Foot Traffic
Restaurant traffic increased across all segments in the third quarter of 2022, according to a September report by Revenue Management Solutions. Quick-service establishments maintained the highest share of visits, outpacing runner-up fast casual by 12%, and saw overall visit frequency jump 7% compared to the previous quarter.
"Specifically for QSRs, plant-based protein has a 31.5% menu penetration, with 4.1% growth on these menus in the last year," said Bellflower.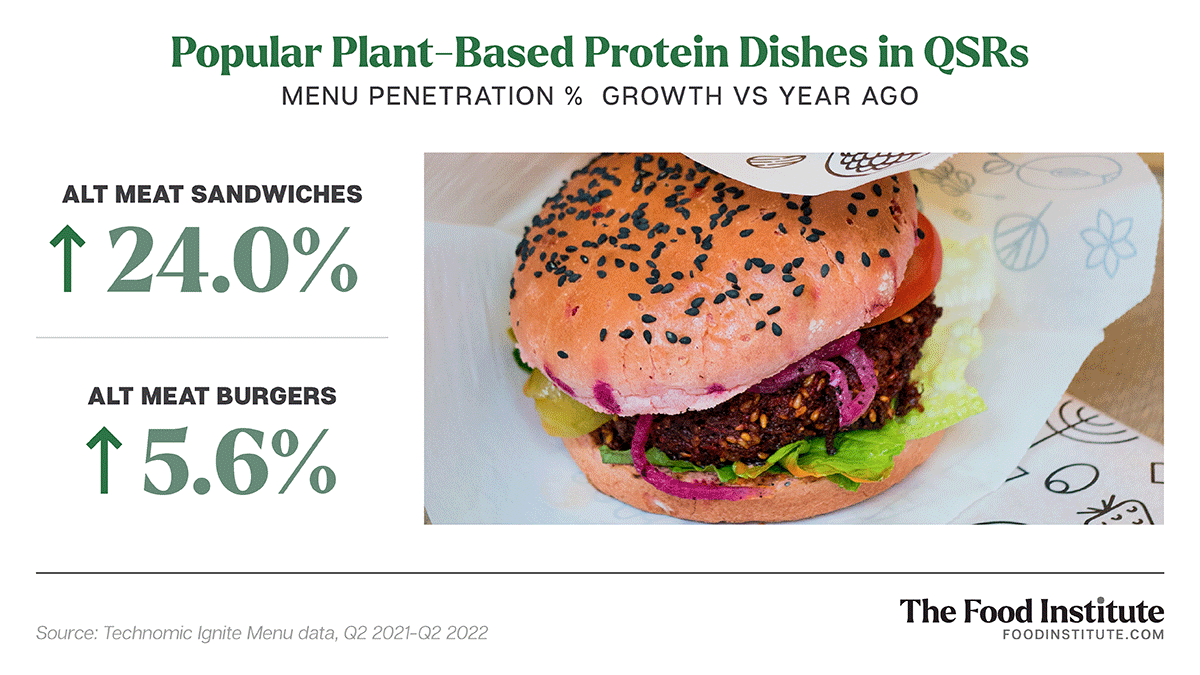 This traction is largely driven by millennials and Gen Zers, nearly 1 in 3 of which visited QSRs "more or much more" in Q2, compared to just 8% of boomers. These two groups are also key consumers in the plant-based space, making the intersection ripe for growth and innovation.

Recent Activity
In September, Next Level Burger raised $20 million to support its expansion. The chain — which is considered America's first 100% Plant-Based Burger Joint — currently has nine locations and has plans to quadruple in size by the end of 2025, reported MSN.
Meanwhile, Texas-based concept Project Pollo is rapidly expanding with alternative chicken at its core. According to Nation's Restaurant News, the company is on track to have about 20 corporate units open by the end of 2022 and plans to open another 14 next year.
In the celebrity sphere, Kevin Hart recently opened his first plant-based fast-food restaurant called Hart House in Los Angeles. Along with the flagship location, Hart aims to open six more restaurants by the end of the year, reported Bloomberg.
The expansion of independent plant-based chains coincides with recent moves from major fast-food players like Taco Bell, which began trialing Beyond Meat's plant-based carne asada in October.
Overall, restaurant relationships play a very important role in the democratization of plant-based protein, noted Seth Goldman, cofounder of fast casual PLNT Burger and chair of Beyond Meat, on a recent Food Institute Podcast. In addition to making plant-based offerings available alongside their animal counterparts, food service departments create trial.
"When we can bring a plant-based carne asada to a Taco Bell — which is something those consumers haven't had before — then it's a great opportunity to introduce new tastes and new ingredients to new consumers," said Goldman.