Colleges and universities are on the frontline of plant-based foodservice innovation as they cater to the Gen Z students who will help shape the future of menus.
For additional insights, The Food Institute spoke with Ken Toong, executive director of University of Massachusetts Amherst Auxiliary Enterprises, which includes UMass Dining, the nation's largest campus dining operation.
How are Gen Z college students driving plant-based innovation in the foodservice space?
They are driving innovation in two ways. First, today's Gen Z students are the most diverse in history — Asian, Latin, and Indian students demand authentic cuisine that is mostly plant-based. Secondly, today's Gen Z students are focused on healthy cuisine and how diet drives performance.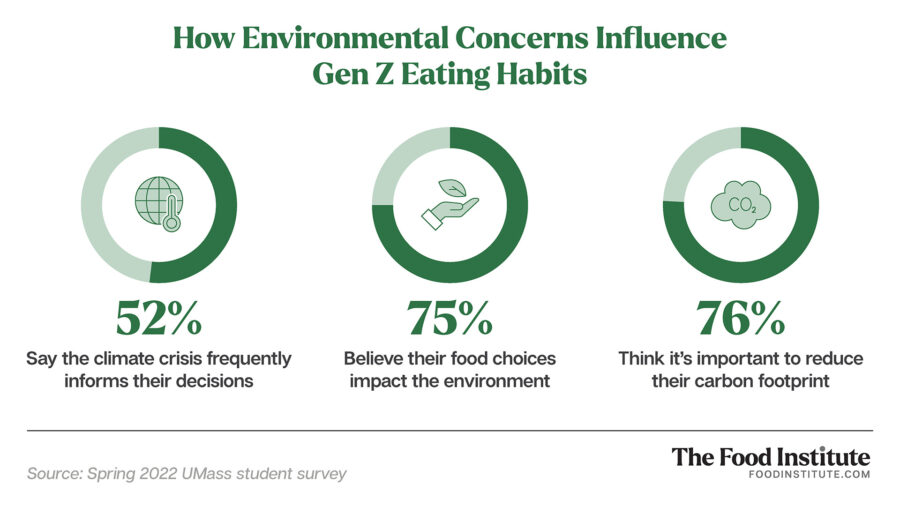 In a recent IRB study in collaboration with the School of Public Health and Health Sciences, students who had high consumption of plant-based menu items, for example dark leafy greens, had higher GPAs than those students with lower consumption. To that end, Gen Z students understand the importance of a healthy, plant-based diet, and its impact on their daily lives.

Could you highlight a few plant-based food and beverage trends that have popped up on campus recently?
1. Late night dining: Students are demanding healthier, plant-based menu items, served until mid-night and beyond. Student feedback indicates they prefer plant-based menu items such as burgers, grounds (that we use to turn out classic dishes like Mapo tofu), chorizo, pizza toppings, and vegetarian curry broths with mung bean noodles, vegetables, and spicy grounds. Additionally, plant protein such as kale from Maine (Atlantic Sea Farms) has also been very well received by the students. We incorporate it in many ways from classic soups, pickles, and salads to batters for tempura vegetables, stir-fries, and omelets.
2. Beverages: Students, specifically during the mid-day, have little down time and beverages on-the-go are very popular. These include plant-based protein items such as white bean smoothies that are healthy and portable, plant-based milks (almond, oats, soy, and coconut) for additions to coffee and tea programs, as well as Boba drinks like Maple Tiger milk Boba made with maple syrup, soy milk, boba pearls, and ice. We also use silken tofu to give a smoothie the body and extra protein.
3. Globally inspired breakfast items: Plant-based eggs, sausages, and grounds are popular options for vegans as well as omnivores/flexitarians. Menu options such as quiches, scrambles and breakfast sandwiches are common options alongside classic American breakfast items.
We also have a strong Indian breakfast program for our students who favor a more traditional and authentic Indian vegan diet that has been very well received by our campus community. Examples are Dosa, idli, poha, Aloo Gobi (cauliflower and potato curry), dhal, and Sambhar. We also offer a plant-based version of JianBing, traditional Beijing style crepes.
Any stand-out trends for potential mainstream restaurant adoption?
Globally inspired, culture driven, and authentic menus have significant potential for mainstream restaurant adoption. Customers understand the importance of in-person dining more than ever. They are looking for experiential dining.
UMass Dining surveyed over 4,000 students in the Spring of 2022, and the top three concepts they would like to see more are Chinese, Latin, and Indian cuisines. Additionally, when asked what students would like to eat after college, over 70% stated their current patterns would continue after graduation.