As a broader variety of plant-based protein alternatives enter the market, health-conscious flexitarians are turning a more critical eye towards ingredients and production methods.
In 2021, consumer interest in clean label grew by 86% within the meat alternatives space, according to a 2022 innovations report from food and beverage intelligence company Spoonshot.
"Thus far, [the plant-based] category has been criticized for the use of too many highly processed ingredients, including preservatives, stabilizers, and various other additives," Ranjana Sundaresan, Lead Research Analyst at Spoonshot, told The Food Institute. "In our Game-Changers list, we saw numerous companies addressing this issue and calling out their clean label credentials."
Furthermore, SPINS data indicates that plant-based consumers are willing to pay for clean labels.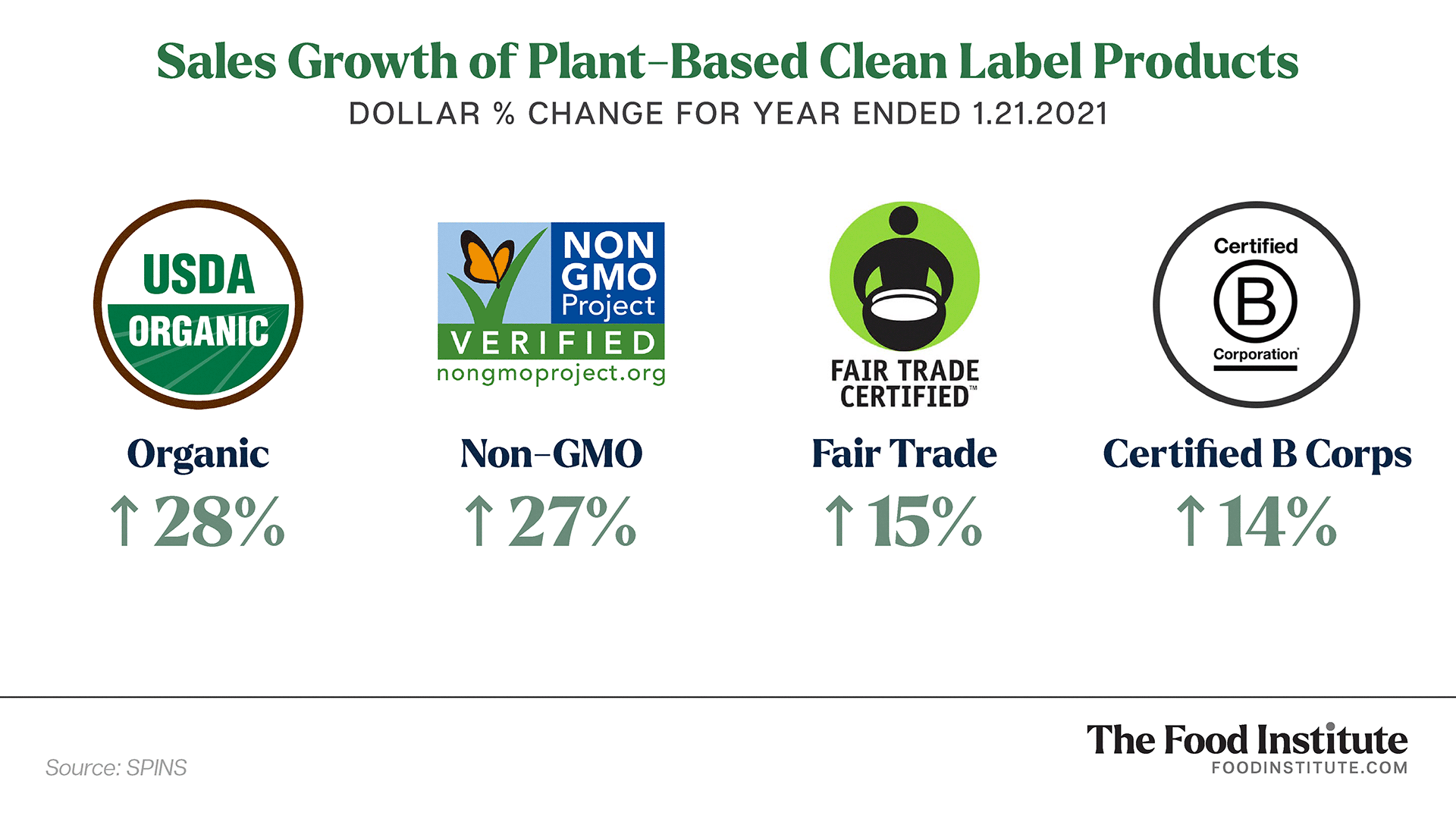 A significant percentage of plant-based purchases can be attributed to flexitarians, who dabble in both traditional meat and alternative categories and often base their choices on perceived health benefits.
"The more that a plant-based product feels processed, the less likely that's going to be the choice to win out," said Robyn Carter, CEO of Jump Rope Innovation, in a recent FI Livestream. "The winning formula is to make something that's really delicious, that just happens to be plant-based, and ideally, with a cleaner label – so it's an easy switch, something that's accessible to everyone."

Whole Food Solutions
Plant-based consumers frequently seek out whole food protein sources like fruits, vegetables, seeds, and legumes, according to Mintel. Furthermore, nearly two-thirds (63%) would like more meat alternatives made with whole foods — and producers are heeding the call.
For instance, the use of mushrooms, a stalwart among plant-based ingredients, is evolving as consumer demand for the nutrient-rich vegetables continues to expand.
Companies like Fable Food Co and Cruz Burgers are highlighting clean label credentials and textural attributes to make their mushroom-centric offerings stand out from the competition.
"Mushrooms are like the meat of plants," said W.E. Da'Cruz in the same FI Livestream, adding that Cruz patties, which are made with portobello mushrooms, produce, and a mix of spices and seasonings, "cut and bite like burgers…but feel fresh because of vegetables."
Jackfruit is also gaining prominence as whole food meat alternative.
Traditionally used in Southeast Asian cuisines, the tropical tree fruit has a stringy, meaty texture similar to beef or pork before it ripens, and a neutral taste which can accommodate the flavor of whatever it's prepared with.
In December 2021, jack & annie's, a sustainable brand that produces a variety of alt meat products with jackfruit, closed a $23 million Series B funding round, reported TechCrunch.
Historically, foods made from whole plants, like black bean burgers, were not very similar to meat in terms of taste and texture, Annie Ryu, CEO at jack & annie's told The Food Institute.
"Jackfruit, because it's meatier than any other plant, is uniquely positioned to be a solution for consumers," said Ryu. "It is able to effectively mimic the experience of eating meat – but it's also a real, whole plant."