Investors appear to have soured on Beyond Meat, sending its stock price from a $160.28 to as low as $35.74 in the last year, as competition in the alternative-meat sector has increased and the company's efforts to expand into the fast-food sector have sagged.
The stock currently is trading in the high $40-$50 range.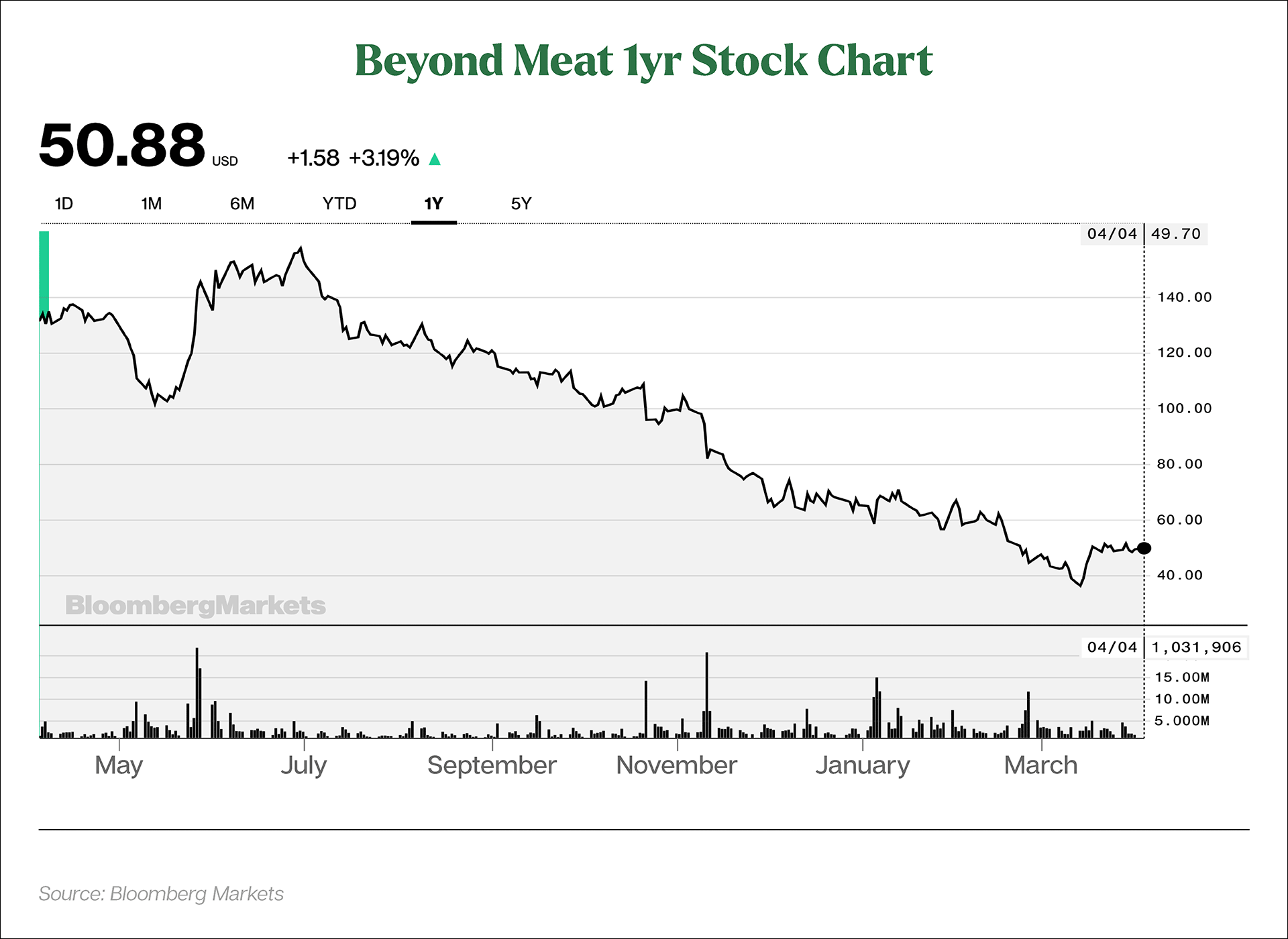 Adding to the pressure on the stock price, Piper Sandler lowered Beyond Meat's rating from neutral to underweight, and cut the target price to $29 from $50. In its latest earnings report, Beyond Meat reported an $80.4 million net loss for the quarter that ended Dec. 31, blaming a "temporary disruption in U.S. retail growth."

McPLANT HASN'T TAKEN ROOT
McDonald's unveiled the McPlant burger at eight restaurants in November and then expanded the trial in mid-February to 600 locations in the San Francisco Bay and Dallas-Fort Worth areas, but the fast-food giant is unlikely to expand the McPlant nationwide due to lackluster sales.
BTIG analysts said only about 20 McPlant sandwiches are being sold daily in the test markets at high-performing stores – about a third to a half of what had been expected, Restaurant Dive reported (March 24).
"The problem with the McDonald's platform is that Burger King's Impossible Whopper had first-mover advantage in the U.S., capturing a lot of consumer trial," Jennifer Bartashus, senior food and consumer staples analyst at Bloomberg Intelligence, told The Food Institute. "That early success created high expectations for Beyond's partnership with McDonald's, but with a limited rollout and lack of a national advertising campaign, meeting those expectations is difficult."
BEYOND'S BREAKFAST FAILINGS
Tim Hortons, Canada's largest coffee chain, said it would end its 2-year-old association with Beyond Meat in favor of Impossible Sausage, which will be featured in the company's New Harvest Breakfast Sandwich and Harvest Breakfast Wrap.
"The product [Beyond Meat] was not embraced by our guests as we thought it would be," a company spokeswoman told Reuters (Jan. 28).
The bad news comes at a time when meat alternatives are poised to take off, a study by MDC Research showed. The study projected growth in the category of 15% to 2030.
THE PATH FORWARD
Beyond Meat likely can attribute its early success to the fact that it was an early entrant in the alternative meat sector. To regain its footing, "Beyond Meat needs to guarantee it's future by finding a new differentiating factor to set it above other meatless options," Roy Morejon, co-founder of product-development firm Enventys Partners, told The Food Institute. He suggested the company find a way to produce its product sustainably and be transparent about the process.
"They could set themselves apart from other meatless protein production companies," he said.
The one current bright spot on Beyond Meat's horizon is its deal with Pepsico to produce a jerky made with mung beans and containing no GMOs, soy or gluten. The snack rolled out nationwide in late March.