Alternative meat sales continue to plateau at retail following strong performance in recent years. Has plant-based meat reached its peak, or is this just a lengthy chapter in the emerging category's evolutionary process?
According to IRI data, sales for refrigerated and frozen meat alternatives totaled $1.2 billion for the 52-week period ending February 20, down 2.6% year over year, with volume sales indicating a steeper 6.6% decline.
Overall, category performance stalled in 2021 following a two-year growth period which was energized by expanded distribution, consumer trials, and restaurant shutdowns.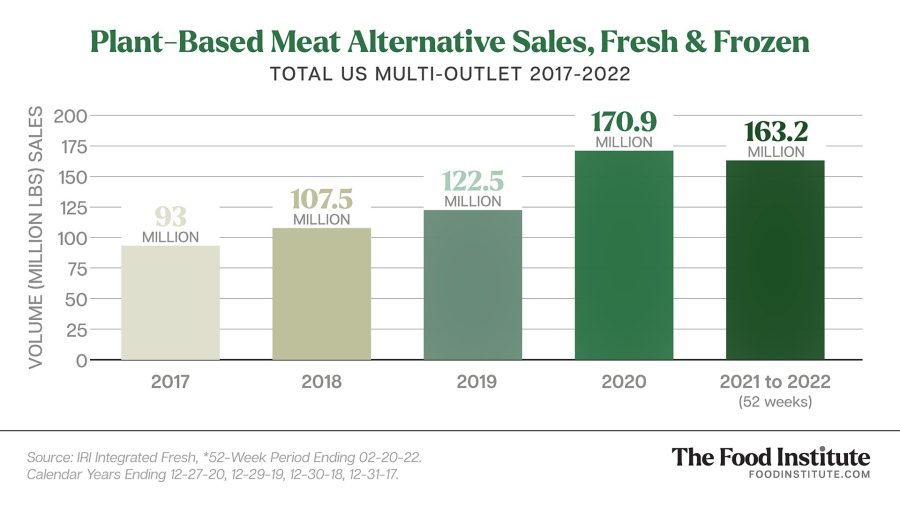 Recent earnings from plant-based producers also reflect this trend.
Canada's Maple Leaf Foods reported a 4.7% plant-protein sales decline in 2021, prompting the company to adjust its business model from investing for growth to improving profitability.
Meanwhile, Beyond Meat saw wider-than-expected losses and shrinking revenue for its fourth quarter, with net sales dropping 1.2% to $100.7 million, reported CNBC.
However, while overall category sales slowed last year, that was not the case for all brands, Jennifer Bartashus, senior analyst at Bloomberg Intelligence, told The Food Institute. This may have to do with lingering effects from the pandemic.
"[Companies] with scale and developed distribution networks were more easily able to navigate challenges," said Bartashus. "As supply chain issues subside, and product is consistently available to customers, we may see less volatility in sales."

Company Viewpoints

While early plant-based protein trials at Maple Leaf Foods were promising — "penetrating 60% of U.S. households," according to President and COO, Curtis Eugene — an internal review initiated in 2021 found that consumers' needs simply were not met regarding taste and price and they did not repeat purchases, reported Meat + Poultry.
"It's clear that the category can't be expected to grow at the spectacular rates that we saw in 2019 and 2020," said CEO Michael McCain, adding that Maple Leaf expects plant-protein will continue to grow "at a more moderate but still attractive pace of 10 to 15%."
Meanwhile, on a conference call with analysts, Beyond Meat CEO Ethan Brown attributed some of the slowing growth to the company's decision to shift its focus from grocery sales to scale its production for large fast-food launches.
While Beyond's U.S. retail sales fell 8% to $243 million in 2021, its foodservice sales rose 26% during the same time period, reported Supermarket Perimeter.
The company also rolled out KFC Beyond Fried Chicken in early 2022 and expanded tests for McDonald's McPlant burger, which is made with Beyond's beef patty substitute.
While this realignment could continue to damper in-store spending, restaurants still play a critical role in plant-based food trial and adoption.
"For many consumers, it is an easy and low-risk way to try products," said Bartashus. "If someone tries a plant-based item at a restaurant and likes it, that often influences their willingness to buy more plant-based products at retail."
Emerging Competitors
Increased competition in the grocery store is also cutting into sales for established plant-based players.
"Competitive activity in U.S. retail intensified in 2021, marked by frequent aggressive discounting and new entrants to the category," said Brown, adding that "the size of the prize did not expand" during the same period.
Although interest in the plant-based CPG market share is increasing, the true value of investing in the category depends on individual company portfolios and growth strategies.
As Bartashus notes, major protein producers like JBS and Cargill stand to benefit by diversifying their offerings, regardless of the form, while companies like Kellogg are building upon a strong vegetarian and vegan consumer base with brands like MorningStar Farms.
"For others, however, like Maple Leaf, it has been harder to translate sales for the Lightlife and Field Roast brands to flexitarians," she said.
The Flexitarian Factor
Maple Leaf's challenges align with the exploratory behavior of flexitarian consumers, the dynamic group driving the plant-based meat movement with discriminating tastes.
According to FoodThink research, two-thirds of U.S. consumers who identify as flexitarians consider themselves foodies, and 64% enjoy experimenting with new foods, recipes, and products.
Furthermore, flexitarians frequently purchase plant-based alternatives alongside traditional meats, positioning the categories as more complementary than competitive — and their preferences on both sides continue to evolve.
Like plant-based alternatives, traditional meat is experiencing a slowdown in retail volume sales following strong tailwinds over the past two years.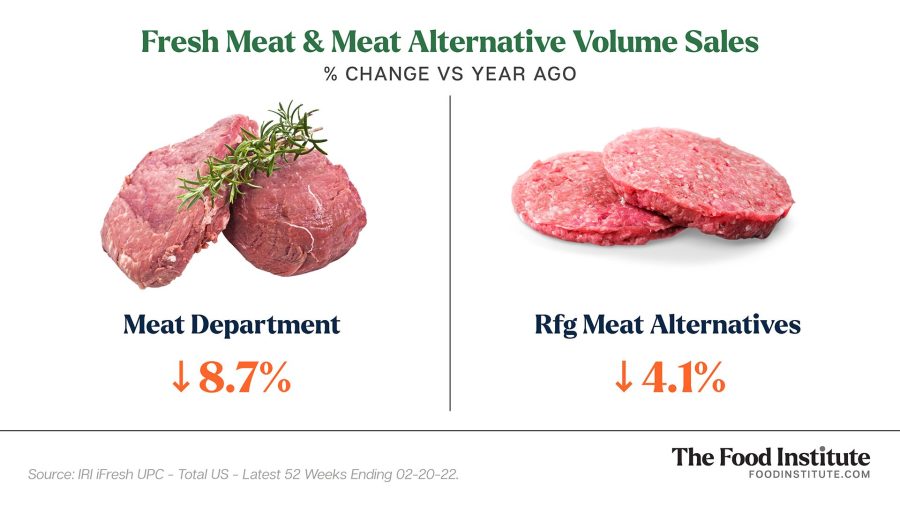 According to a 2022 Meat Trends report by IRI, the meat department grew throughout the pandemic by leveraging its assortment, which includes refrigerated plant-based protein. Compared to pre-pandemic, U.S. consumers bought more meat, more often, in more varieties in 2021.
Furthermore, households who buy both meat and meat alternatives are more adventurous in the cuts and varieties they choose. In the same year, flexitarians decreased spending on chicken and beef while increasing pork, veal, and lamb purchases.
The Restaurant Wild Card
Sluggish retail sales growth can be further linked to restaurant recovery, which adds another layer of unpredictability in the months ahead.
"As people go out more, they purchase less for at-home consumption, and that is the trend that we're starting to see," said Bartashus. "However, there is cause to believe that structurally, the number of meals people eat at home will remain higher than it was pre-pandemic."
Restaurants have also had to raise prices significantly in the past two years.
"If consumers become more value-focused, that could push more sales back to retail," said Bartashus. "This just means that companies need to have a balanced strategy of sales at retail as well as foodservice to meet the customer wherever the food occasion may be."
To learn more, join us for the Protein & Plant Evolution™ virtual conference, presented by The Food Institute and The Lempert Report.  The three-day event provides a comprehensive perspective into the broad spectrum of protein categories and a deeper understanding of what shoppers expect regarding sustainability and ESG. Register Here