From major players' struggling stocks to the proliferation of emerging categories across retail and foodservice, 2022 was a big year for plant-based anything. But what will 2023 hold?
The Food Institute spoke with several industry analysts to explore what's in store for the year ahead.
Clean Label
According to the team at Jump Rope Innovation, a major development happening in plant-based is more clean label options made from real plants.
"This is where the action will be as the simple novelty of plant-based options wears off and people consider whether plant-based substitutes are healthier choices — especially in this inflationary time, given that these options can cost more than conventional products," Robyn Carter told The Food Institute.
Marcel Bens, managing partner at Emil Capital Partners, echoes this sentiment.
"[Clean ingredients] will be the new standard, as plant-based products shift from being a novelty, which people purchased initially for the hype, to a health food item," said Bens. "The young consumer, who is more likely to buy plant-based products, is a smart consumer that reads the ingredient deck and wants to understand what is going into their body."
Meat and Seafood
According to the Datassential's 2023 Food Trends, 40% of consumers plan to purchase plant-based meat products in 2023.
The report observes that while the plant-based meat industry is still growing, a clear, compelling message and products that are priced competitively while tasting just as good as traditional meat will be key.
Greater variety will also support future growth.
"A perfect introduction to more specialty plant-based products (e.g., whole cut) would be through chef-created dishes at restaurants where that initial consumer trial can be a positive experience, further encouraging participation in plant-based meat at home," said Bens. "We will likely see this trend increase as several well-known chefs around the country and the world partner with alternative protein companies."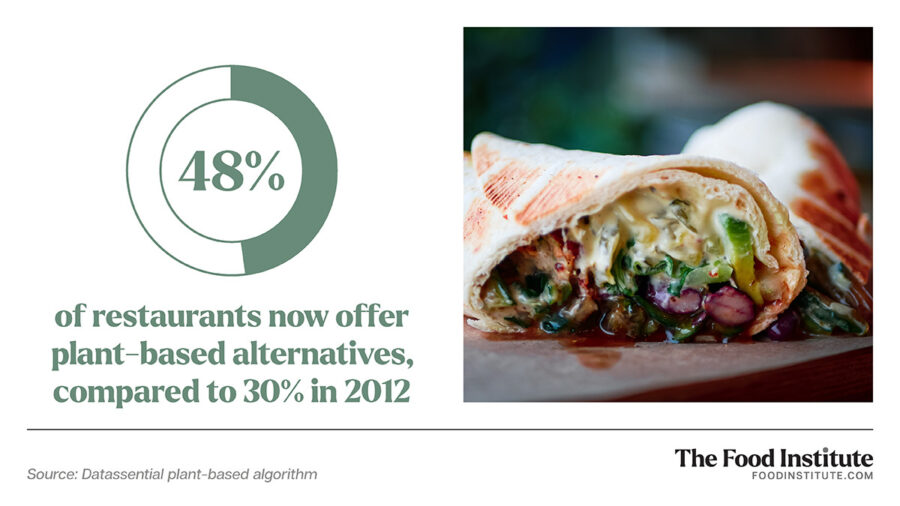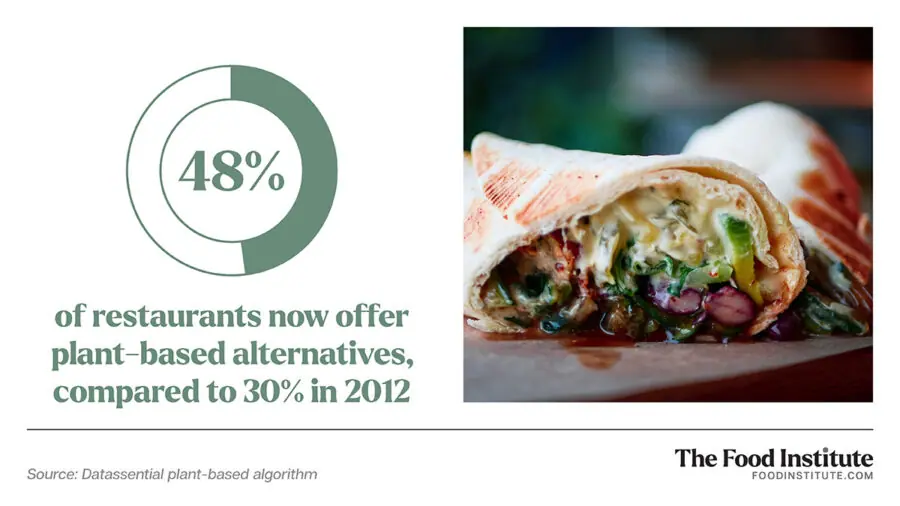 Plant-based seafood should also be making waves in the year ahead.
"In 2021, plant-based seafood was just 1% of all plant-based meat dollar sales, but demand is growing, highlighting the whitespace opportunity for these products," said Bens. "In fact, the number of plant-based seafood products sold in U.S. retail increased 25% in 2021."
According to Elysabeth Alfano, CEO of VegTech Invest, further developments to watch in the alternative protein space include:

Additional Growth Pockets
Baby food: "As adult diets shift, so does concern about what they are feeding their children. We are seeing an increase in baby food brands that are creating 'plant-forward' products with the goal of creating healthy, lifelong eating habits for the next generation," said Bens. "This creates a tailwind for future growth in the broad plant-based category as this young generation will view plant-based eating as the norm."
Plant-based snacks: "Keeping in mind that many of our favorite snacks are already plant based, I think it's a matter of positioning, and likely we'll see more of these with upcycled plants, plants grown using regenerative agriculture [and] other sustainability claims," said Carter.
The Jump Rope team also predict more excitement and growth around non-alcoholic spirits and wine products that leverage inherent mood-altering properties of plants while supporting the body.
"In stressful times in the past, we've seen people turn to alcohol and other things that temporarily alter your mood but in the long run, are hurting the body," said Carter. "We still see people seeking ways to alter their mood, but they want to support their bodies while doing this, rather than dig a deeper hole in a way."