Despite industry-wide challenges, both dairy and meat plant-based alternatives are forecast to grow through 2024, driven almost entirely by Millennials and Gen Zers.
According to a recent report by The NPD Group, these plant-based consumers seek a variety of protein analogues, flavor profiles, and formats. This creates plant-based opportunities across numerous categories, including frozen, shelf-stable, indulgent, and snack.
In addition to expanding the overall variety of plant-based foods and ingredients, food manufacturers should focus messaging efforts on Millennials and Gen Zers, notes Darren Seifer, NPD food industry analyst and co-author of the study.
"Their concerns for sustainability and animal welfare should also be taken into account," he said in a statement.

Gen Z Buying Patterns
"When looking at the Gen Z consumers, they're focused on health and sustainability, and a plant-based alternative checks both of those boxes," Daena Rexho, Senior Director of Growth Solutions at KeHE told The Food Institute.
In the fall 2022 Taking Stock with Teens survey conducted by Piper Sandler, environment took the highest mindshare (14.7%) among teen's ESG concerns.
Furthermore, 18.5% of Gen Z teenagers indicated that they pay attention to their carbon footprint, with more than half that percentage indicating that it impacts their purchasing decisions.
In terms of consumption, 14% of respondents claimed they eat plant-based meat, while an additional 29% said they're willing to try it.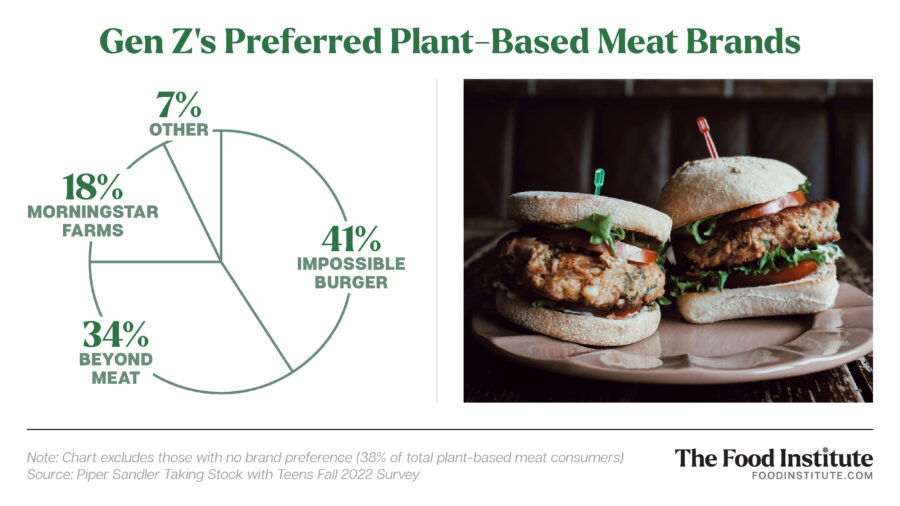 However, the younger consumers also appear less interested in eating these products in the future. Among the 14% of teens that currently consume plant-based meat, 23% plan to reduce their intake the next 12 months – a figure that has increased 6% year over year.

This downward trend aligns with the sector's ongoing struggle to deliver tastes and textures that encourage repeat purchases.
In addition to demanding better quality and unique flavors, Gen Zers are very active on social media and therefore, more open-minded when it comes to food.
Are you interested in trying plant-based seafood?

— The Food Institute (@FoodInstitute) October 18, 2022
"Gen Z is plugged into a world of flavors and diverse cultures," said Rexho. "As a generation that prides themselves on being 'unique,' this will help further drive innovation in the plant-based space to satisfy their need for cool and great-tasting food that is also eco-friendly."
Millennials Hold the Lead
Despite their broader tastes, Rexho believes it's unlikely that Gen Z's overall consumption of plant-based products will outpace that of Millennials in the long term, as the latter group makes up the largest percentage of the U.S. population.
"While COVID-19 will negatively impact the economic prospect for all Americans, younger generations are more susceptible to the economic storm that we're experiencing and a possible recession," she concluded.