Dr. Lior Lewensztain likes to say the brand he founded, That's it, "plays" in multiple food categories.
But Lewensztain is especially passionate about the plant-based category. And he plans to stand out within the segment by offering products with extremely simple ingredient lists. That's it produces functional snack products – predominantly fruit bars – that are non-GMO, gluten-free, and typically feature between two to six total ingredients.
"Everything that we do is really focused on creating a healthier, indulgent product with benefits," Lewensztain told The Food Institute.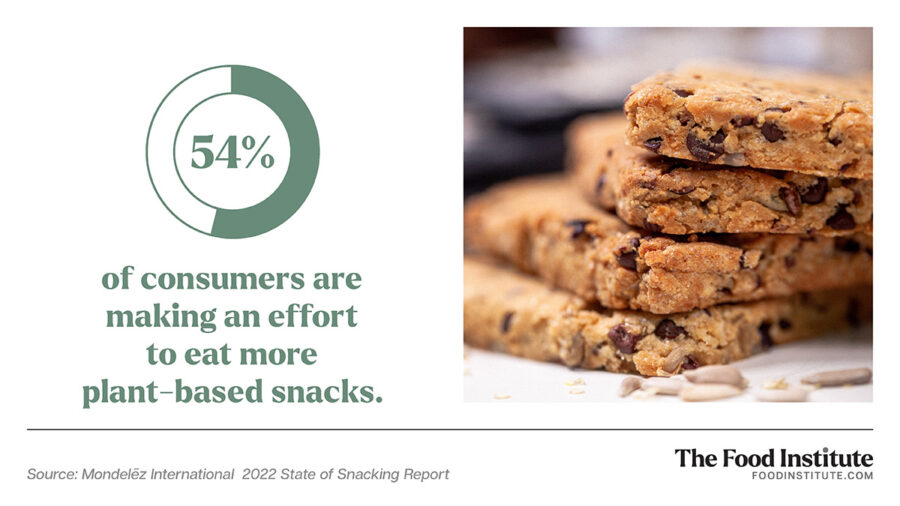 Since founding his brand in 2012, Lewensztain has seen the plant-based category steadily gain steam. And he expects that evolution to intensify in the months ahead.
"You're starting to see a lot of chips and those types of things utilizing different types of plant bases for those items," the founder and CEO said, assessing the plant-based landscape. "I think there's going to continue to be a lot of innovation in that space. It's a great thing.
"I think there's still a lot of runway within the plant-based space in its various forms."

FIGHTING THE 'HEAVILY PROCESSED' PRECONCEPTION
The big knock against the plant-based category, historically, is that many products within it are heavily processed. Lewensztain is well aware of that criticism.
"We're all about simplicity," the founder of That's it insisted. "We're utilizing the actual ingredients and letting them speak for themselves."
That's it products were initially sold in farmer's markets in Los Angeles. Yet, rather quickly, the brand was awarded a national rollout with Whole Foods. Now, That's it's healthier-for-you products are receiving heavy distribution by the likes of Starbucks. In the past two years, the brand has begun expanding its profile to include products like probiotic bars and coffee energy bars that contain 95 mg of caffeine.
"I think there's still a lot of runway within the plant-based space in its various forms."
"If you put us up against a Fruit Roll-up that some people may consider fruit, there's a very big difference," Lewensztain said. "It's not neon in color. It's not uniform and consistent every single time. If you try our fruit bars from season to season they'll taste different because that's what nature gives us; one year apricots may be a little tart, and the next year they may be a little sweeter. You see that in our product lines."
The brand founder said That's it's fruit bars are manufactured through a proprietary process in which they remove moisture from fruit before molding it into bar form. He feels it's imperative that such plant-based products are produced in a manner that's "as simple as you could possibly get," without "junk," chemicals, and extensive ingredient lists.

TAPPING INTO THE PROBIOTIC MARKET
Lewensztain also envisions a rapidly expansive market for probiotic supplements that help users digest food among other perceived health benefits. The global probiotics market is projected to grow at an 8.1% CAGR through 2027, reaching $85.4 billion, according to researchandmarkets.com.
"Probiotics have been growing year over year. It's a very, very large category as a whole," Lewensztain said. "You're starting to see shelf-stable versions of it – so, non-refrigerated and beverage or yogurt."
The COVID-19 pandemic inspired many consumers to keep a more watchful eye on their health, Lewensztain said, and to closely monitor what they're putting into their body.
"That was a catalyst, I think, for the growth that we're seeing in probiotics [and] prebiotics these days," he said. "There's so many different benefits that come with it beyond gut health. I think there's going to be continued research on it and there's going to be continued awareness and growth of the probiotic categories."