The carbonated beverage category continues to evolve as low – or no-sugar attributes resonate with consumers and manufacturers pivot their traditional soft drink presentation accordingly.
"The narrative is changing from 'diet' beverages to 'no sugar,'" Joan Driggs, Vice President of Content and Thought Leadership at IRI told The Food Institute. Companies like Keurig Dr Pepper, for example, have repositioned several brands to be zero sugar.
"These changes point to a new, more permissible view of health and wellness. People are given permission to indulge in something tasty without the association of restriction, which the word 'diet' denotes," she added.
The Carbonated Landscape
According to IRI data for the 52-week period ending November 7, carbonated beverage dollar sales were up across all major categories, with unit sales showing traction in sparkling water and traditional low-calorie soft drinks.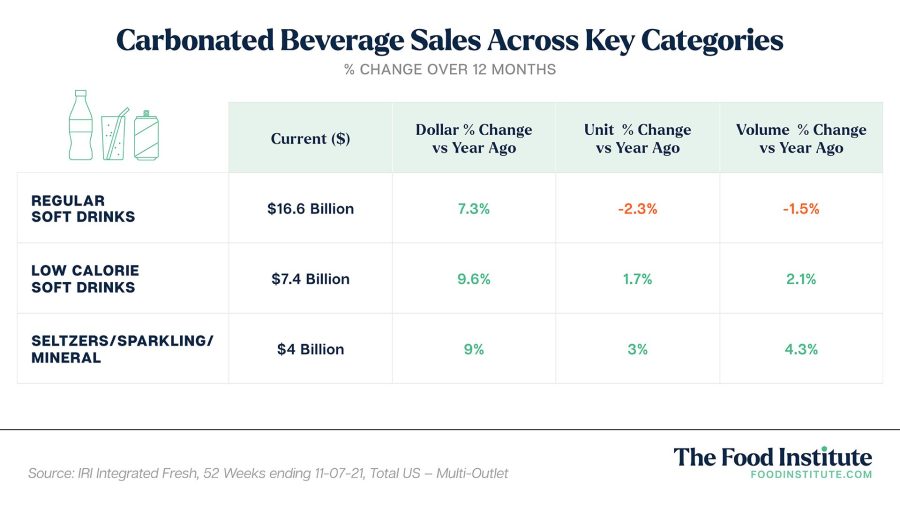 ---

---
Sparkling waters continue to make a splash as a healthy refreshment option, with a colorful variety of no- or very few calorie products like Spindrift, which include a small amount of real fruit juice.
The subcategory also appears to have untapped potential, especially in terms of new flavor extensions. "There are some interesting entrants that feature Asian flavors, for example," said Driggs. "We also see that sparkling waters are part of many cocktails, so there's broad application."
Although data indicate slippage in traditional soft drink unit sales, Driggs notes that the overall volume of the subcategory remains significant.
Notably, national brands account for the lion's share of soft drink sales — a year over year comparison shows store brand numbers plummeting in both traditional and diet varieties.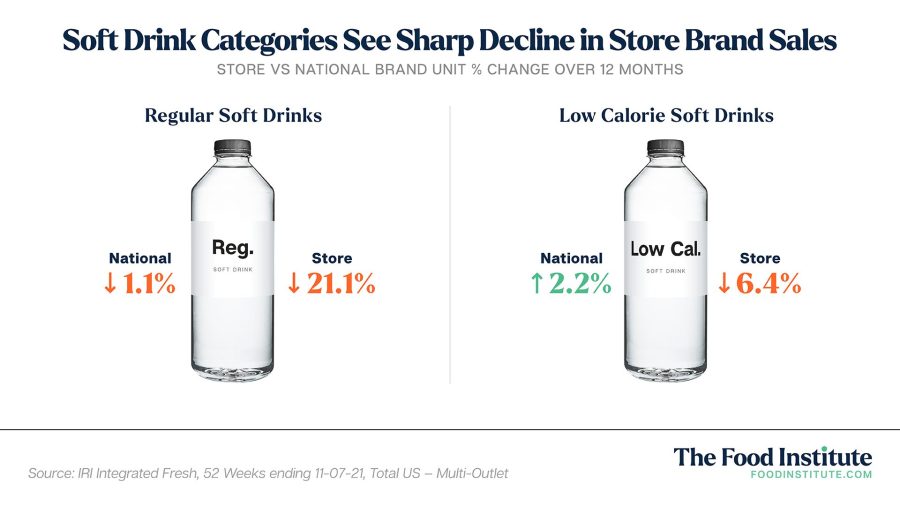 While this imbalance could be due to numerous factors, consumer preference for national brand throughout the pandemic was not limited to carbonated soft drinks. IRI data shows private label product sales have been losing ground to national brands across the store in 2021.
Emerging Trends
Driggs believes relaxing and "lifting" beverages, like PepsiCo's Soulboost, are lines to watch. Soulboost "ease" contains L-theanine to support relaxation and "lift" is made with panax ginseng "to support mental stamina."
"PepsiCo also makes Driftwell, a still beverage that contains L-theanine", said Driggs. "Similarly, ShineWater, which is distributed by AB InBev's Anheuser-Busch, contains vitamin D and other antioxidants."