Over the past twelve months, national brands have turned the tables on private label, racking up a higher percentage of total dollar sales for edible products and beverages. The new data suggests a shifting landscape for store brands, which have enjoyed a consistent lead in category sales over the past five years.
According to IRI data for the 52-week period ending September 5, total edible product sales for national brands reached $528.4 billion, up 3.4% since 2020. Comparatively, private label brands totaled $142.3 billion, reflecting a significantly lesser increase of 1.5% for the period.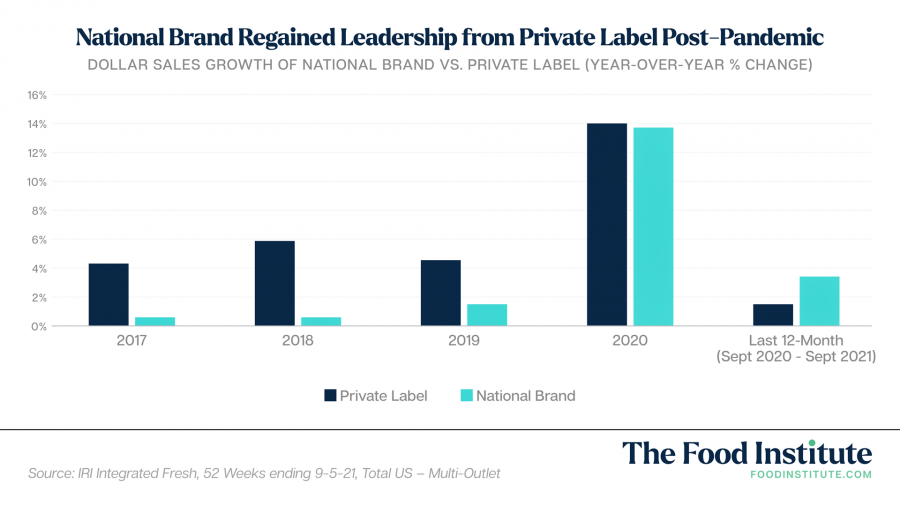 While the root of consumers' return to brand prioritization remains hazy, Bill Bishop, Chief Architect at Brick Meets Click, believes the shift could be driven to a significant degree by the purchasing behavior of households that bought a lot of food "away from home" to carry in pre pandemic.
"These households typically have higher incomes and would be more attracted to national versus private label brands," Bishop told The Food Institute in an email. "In addition, they're less likely to shop channels like hard discount, where private label is growing fastest."
Department Fluctuations
IRI data from the same time-period also shows national brands gaining an edge across many major departments. The most significant lead can be seen in beverages, where sales for national brands were up 8.5%, reaching $70.1 billion. In comparison, private label beverage sales totaled $8.9 billion, up 0.9% during the same period.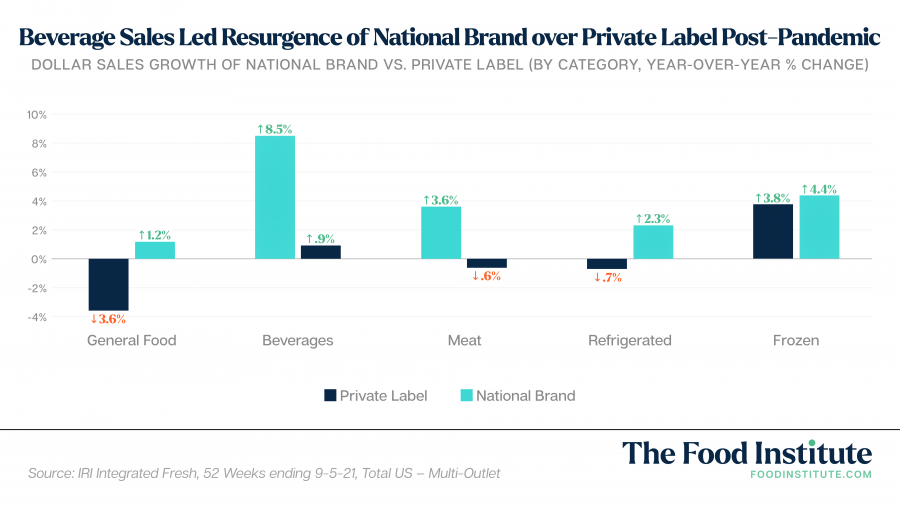 Other departments where private label has slipped following strong pre pandemic leads include meat, refrigerated, and center store general foods.

A Temporary Blip?
While private label continues to hold favor with consumers, the new data suggests that grocery retailers should remain vigilant and prioritize innovation as they expand and diversify their branded offerings.
For instance, major private label player Wegmans is currently reorganizing the layouts in some of its locations to further highlight store brands, reported Rochester Democrat & Chronicle (Sept 20).
In the article, Burt P. Flickinger III, managing director of Strategic Resource Group notes that Wegmans' private labels currently account for around half of its sales.
Although this places the chain well ahead of the majority of U.S. grocers — which average 20 to 25 percent — Flickinger believes that Wegmans' objective is to increase that number by ten to fifteen percent.