There's a key reason why cactus tortilla chips recently landed on grocery shelves. Beyond cacti's superfood status, products like Tia Lupita's Sea Salt Chips (made from prickly pear cactus fronds) have just 18 grams of carbohydrates per serving.
And as the health and wellness movement gathers momentum, many consumers are intrigued by anything and everything in the low-carb category.

Brands like U.K.-based SRSLY Low Carb are making products like low-carb pizza more commonplace. Meanwhile, Data Bridge Market Research predicts the global, low-carb diet market is expected to reach $18.65 billion (USD) by 2029, expanding at a compound annual growth rate of nearly 7%. The low-carb diet market was valued at less than $11 billion just two years ago.
"The low-carb movement has evolved," cookbook author and entrepreneur Maya Kramph told The Food Institute. "The keto diet was extremely popular a few years ago, and it's still one of the most effective ways to lose weight, but many people have found that a more moderate, low-carb lifestyle is more sustainable for them."
Educated Consumers Demand More from Grocers
Baljit Ghotra, co-CEO at EQUII Foods, said brands like Quest Nutrition, Real Good Foods, and Wicked Kitchen have benefitted from research regarding low-carb diets.
"The low-carb movement is definitely on the rise in 2023," said Ghotra, who earned a PhD in grain science/food science and technology from the University of Alberta. "Research has shown that low-carb diets can help with weight loss, improve blood sugar control, and reduce the risk of heart disease, stroke, and some types of cancer."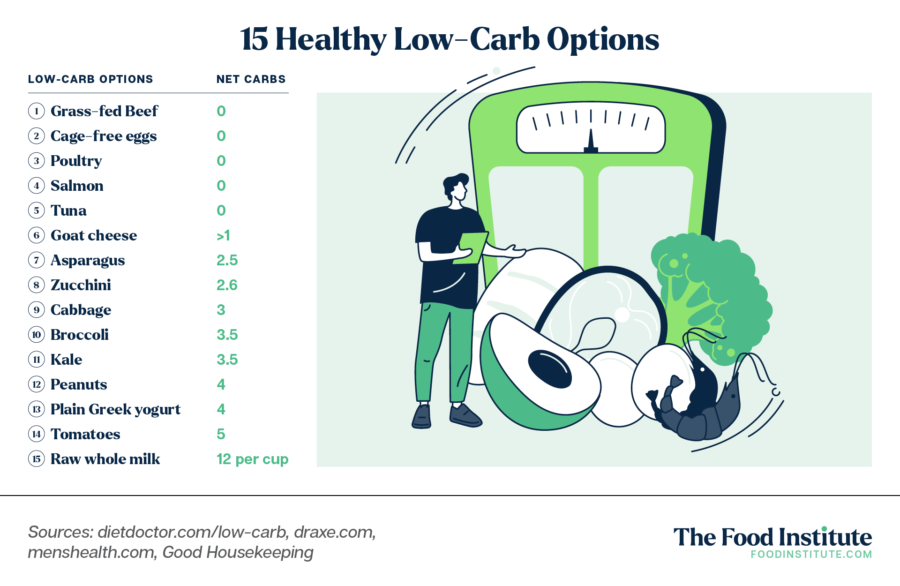 "In 2023, I think the low-carb movement is driven by what makes people feel – and look – better, without feeling too restricted or being too complicated," added Kramph, who has a zero-sugar product line and a low-carb blog that garners 8 million views per month.
Contemporary consumers are paying closer attention to ingredient lists and noting, for example, that the typical loaf of bread can consist of as much as 50% carbohydrates. Carbs are the human body's preferred fuel, however, and many medical experts recommend that at least 45% of an individual's total calories come from carbs, according to WebMD.
Insight for F&B Brands
Given Western society's love of sweets and refined foods, it's not easy for food manufacturers to create low-carb products that simultaneously meet demand for taste and healthier-for-you ingredients.
So, how can F&B brands check all the boxes regarding their low-carb products? They can focus on healthy ingredients found in nature, thus catering to health-conscious consumers.

"Many consumers have been disappointed by low-carb products and have associated them with an aftertaste and/or processed ingredients, especially artificial sweeteners," Kramph said.
"The healthiest low-carb foods are whole foods. Human-created products just can't compete with what nature has developed over tens of thousands or even millions of years."
F&B brands need to stay attuned to the latest food trends, too.
"For example, some people who follow low-carb diets are now avoiding certain non-sugar sweeteners, such as sucralose and aspartame," Ghotra noted. "If brands continue to use these sweeteners in their products, they may lose customers.
"The low-carb diet market is constantly evolving," he added, "so brands need to be flexible and willing to adapt."
---
The Food Institute Podcast
How can a dairy operation balance the ESG demands of consumers while still creating delicious cheeses and ice cream? Tillamook County Creamery Association executive vice president of stewardship Paul Snyder joined The Food Institute Podcast to discuss the brand's sustainability goals, its Oregon-based history, and the company's expansion to the U.S. East Coast.