As the coronavirus pandemic changes global markets, U.S. pork producers are ensuring the U.S. remains fed and that producers are protected under the Coronavirus Aid, Relief, and Economic Security (CARES) Act.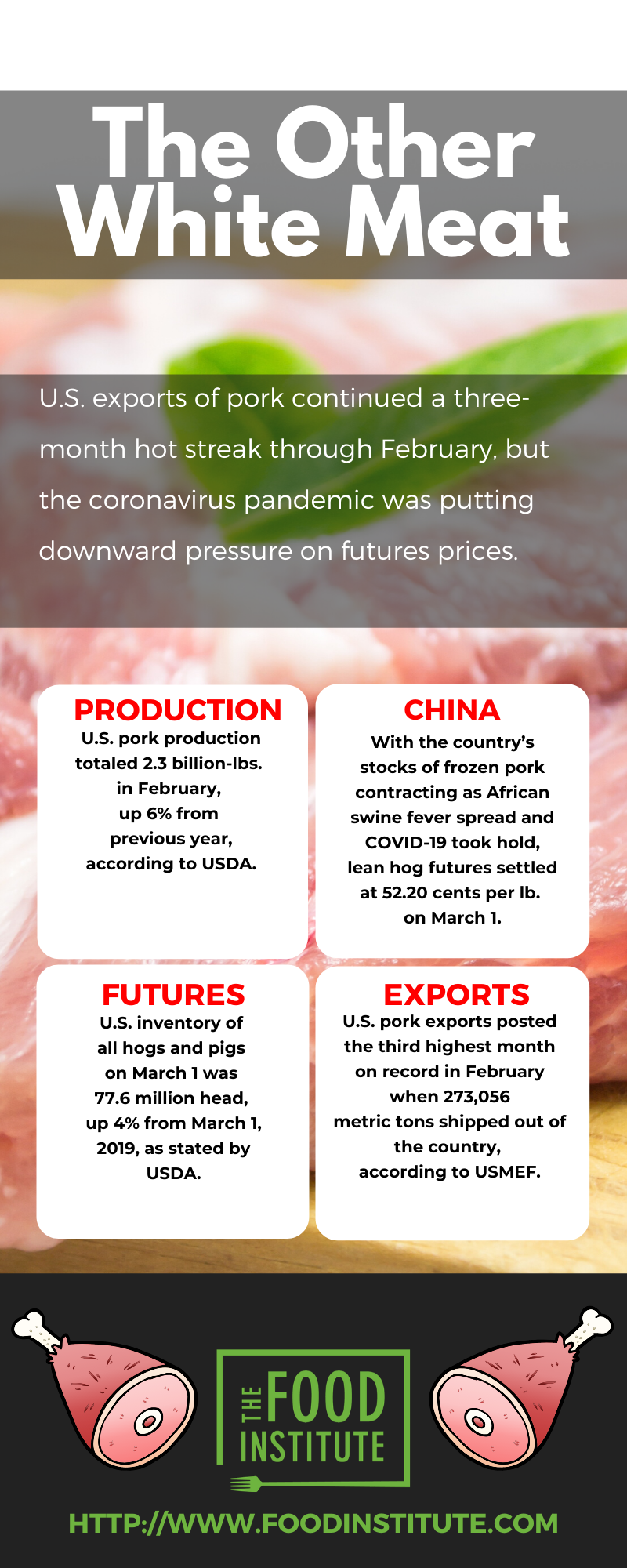 The National Pork Producers Council (NPPC) joined 30 agricultural organizations in urging the Small Business Administration (SBA) to make sure agricultural businesses can participate in the Economic Injury Disaster Loan (EIDL) program. The program, as first posted by SBA, excluded farms and other agricultural enterprises.
However, the CARES Act, as written by Congress, did not specifically exclude agricultural producers from the program. The coalition argued the law was intended for all businesses with fewer than 500 employees, and that it was unfair the EIDL program was not offered to the country's pork producers.
"As part of the critical U.S. food supply infrastructure, U.S. pork producers are committed to keeping Americans and consumers around the world supplied with nutritious protein. To ensure a continued and uninterrupted supply of pork to America's kitchens, hog farmers must have access to necessary resources, including this vital economic disaster loan program," said Howard "A.V." Roth, NPPC's president, who is also a pork producer from Wauzeka, WI. "We urge SBA to implement this program as intended by Congress, allowing pork producers to participate and remain committed to keeping consumers supplied with nutritious protein."
Regarding North American herds, U.S. and Canadian inventory of all hogs and pigs for Dec. 2019 was 91.2 million head, representing 2% increase from Dec. 2018, and up 4% from Dec. 2017, according to USDA and Statistics Canada. The breeding inventory, at 7.7 million head, was up 2% from a year ago and up 4% from 2017.
Market hog inventory, at 83.5 million head, was up 3% from 2018 and up 5% from 2017. The semi-annual pig crop, at 84.6 million head, was up 3% from 2018 and up 5% from 2017. Sows farrowing during this period totaled 7.6 million head, down slightly from 2018 but up 2% from 2017.
The U.S. inventory of all hogs and pigs on March 1 was 77.6 million head, up 4% from March 1, 2019, but down 1% from Dec. 1, 2019, according to USDA. Breeding inventory, at 6.4 million head, was up slightly from 2019, but down 1% from the previous quarter. Market hog inventory, at 71.3 million head, was up 4% from 2019, but also down 1% from last quarter.
The Dec. 2019-Feb. 2020 pig crop, at 34.7 million head, was up 5% from the same period in 2018-2019. Sows farrowing during the period totaled 3.16 million head, up 2% from previous year. The sows farrowed during the quarter represented 49% of the breeding herd. The average pigs saved per litter was a record high of 11 for the period, compared to 10.7 in the prior years.
Pork production totaled 2.3 billion-lbs. in February, up 6% from the previous year. Hog slaughter totaled 10.7 million head, also up 6% from Feb. 2019. The average live weight was up 1 lb. from the previous year, at 288 lbs.
The U.S. Meat Export Federation (USMEF) reported U.S. pork exports posted the third highest month on record in February when 273,056 metric tons shipped out of the country, according to its analysis of USDA data. The total was up 46% when compared to Feb. 2019. Value increased 59% to $726.6 million. The totals followed only Dec. 2019 and Jan. 2020.
USMEF found pork export value per head slaughtered increased 50% year-over-year to $67.77 in February, representing the highest price since 2014.
Exports accounted for just under 33% of total pork production during the month. Exports to China and Hong Kong tripled year-over-year with the implementation of Phase 1 of the U.S.-China trade deal, reaching 98,847 metric tons. Export value more than quadrupled to $243.2 million. For the first two months of 2020, exports increased 260% to 195,849 metric tons. Japan and Mexico also posted impressive results for existing markets, according to USMEF.
Japan brought in 35,262 metric tons of U.S. pork during the month, increasing 23%year-over-year. Mexico increased its imports of U.S. pork by 16%, reaching 61,693 metric tons.
"Obviously these are uncertain economic times and the road ahead remains very challenging, but these results are really a great testament to our international customer base," said Dan Halstrom, president and CEO, USMEF. "In the face of unprecedented obstacles, importers, retailers, and restaurateurs are finding creative ways to meet consumer needs, and with record production, the U.S. industry is well-positioned as a supplier."
Hog futures, along with most other animal proteins, slid in first quarter 2020 as the coronavirus pandemic spread. Lean hog futures dropped about 26.9% in first quarter 2020, reported Seeking Alpha (April 2).
Concerns of African swine fever in China did little to support the price of hogs, with the country's sizeable stocks of frozen pork contracting as the disease spread and the coronavirus pandemic took hold. On March 31, lean hog futures settled at 52.20 cents per lb.
Meanwhile, NPPC decided to cancel the World Pork Expo in June due to health concerns stemming from the pandemic.
"By eliminating COVID 19-related uncertainty surrounding the event, we allow producers and others across the industry to focus on the essential role we play in the nation's food supply system at this critical time," said Roth.