As an expanding number of startups pursue the commercialization of cultivated meat, a select few are targeting the hybrid approach — blending small quantities of lab-grown cells into primarily plant-based products.
While affordable, 100% cultivated meat is a long way from U.S. consumer's dinner plates, hybrids that require significantly smaller amounts of cultured animal product to "boost" the taste and quality of plant-based meat alternatives could be a bridge for advancement across both categories — particularly among meat-reducing flexitarians.
In terms of industry innovation, Elysabeth Alfano, CEO of VegTech Invest, flagged hybrid meats as a novel offering to watch.
"With [hybrid plant-based] products, you get some of the health benefits, but you're really getting all the taste," said Alfono in a recent Food Institute Podcast. "And when you nail that taste and price, you're there."

Adoption Outlook
Overall, the popularity of blending vegetables into traditional meat dishes is rising among consumers, thanks in part to inflationary pressure and concerns about personal and planetary health.
Furthermore, a March 2022 study found that consumers ranked the taste of blended hybrid burgers (60% beef and 40% vegetables) above beef burgers in blind taste tests – and this preference increased when the consumers were told they were blended.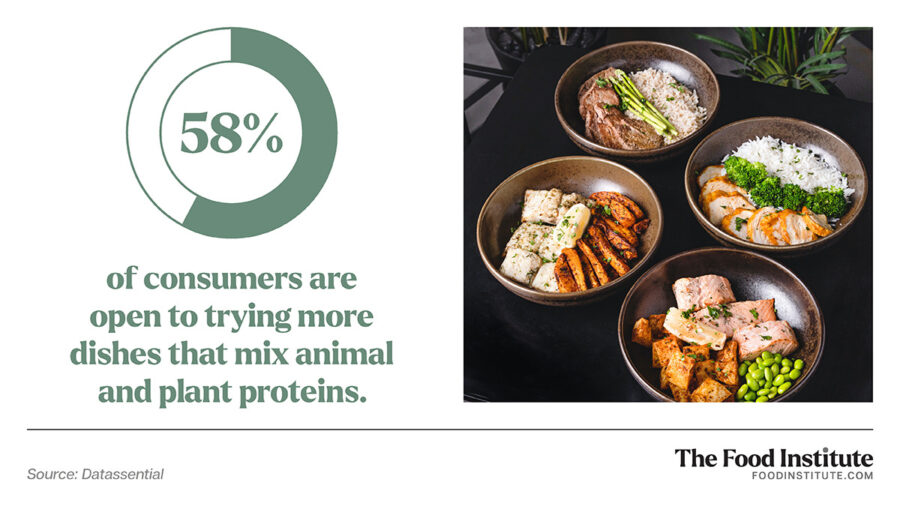 As Jennifer Bartashus, a senior analyst with Bloomberg Intelligence noted, plant-based meat hybrids could play a key role in widespread consumer adoption of alt-meat products.
"Fats are a critical part of taste and texture in food," Bartashus told The Food Institute. "If the same fat we are used to today can be cultivated with the identical cell structure and attributes but has a significantly lower impact on the environment, then that's a win, and something a lot of consumers can get behind."
These products could also prove pivotal as the industry eventually moves toward broader availability of cultivated meat products.
"They can help get consumers comfortable with the idea of precision fermentation or cultivated cells on a gradual basis," said Bartashus. "It may be easier for people to try a plant-based burger with an animal-free fat than to try a product that is entirely cultivated."

Racing for the Taste
Last month, precision fermentation company Nourish Ingredients raised $28.6 million (USD) in Series A funding to expand its development of fats identical to those found in animal products.
"The first generation of alternative proteins made waves, mostly with vegans and vegetarians, but they didn't convert carnivores into return customers," James Petrie, Nourish's CEO, told Vegconomist. "By overlooking fats, the market has missed the most essential element to the taste experience."
In September, cell-based meat startup SCiFi Foods – which recently raised $22 million in its Series A funding round – announced a partnership with Michigan State University to help test and finalize the plant-based portion of its first cultivated beef burgers.
As Food Navigator reports, SCiFi blended affordable, scalable plant-based ingredients (largely soy) with around 10% to 20% animal meat cells by mass to create a meatier mouthfeel, taste, and aroma. The company estimates it will be able to produce this hybrid burger for under $10 at the pilot facility, with this potentially decreasing to $1 a burger in the first "large scale production."
"We are in a race against the clock – not just to bring a product to market, but as a mission-driven company," said CEO, Joshua March. "The faster we finish crucial aspects of R&D like pilot runs, the faster we can make an impact."
According to the company's website, SCiFi is targeting 2024 for its initial product launch.