Lunch meats were a star player at retail throughout the pandemic, and even in today's inflationary environment, that trend is retaining its momentum. But can this boon boost demand for plant-based deli meats?
Some industry experts like Elysabeth Alfano, CEO of VegTech Invest, believe this is a category to watch in the year ahead.
"I think we are going to see more growth in the plant-based deli slices/lunch meat areas and perhaps the development of a plant-based section of the deli counter at the grocery store," Alfano told The Food Institute.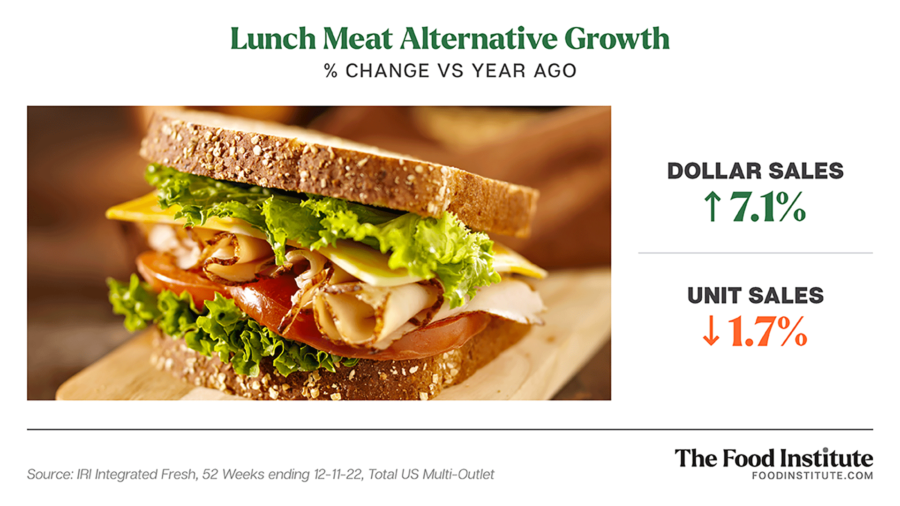 Solving the Meal
In a recent webinar, Sally Lyons Watt, EVP for Center Store and Produce at IRI, noted that solving the meal remains key for consumers and fresh department staples like cold cuts are a go-to when it comes to replacing restaurant-quality foods at home.
IRI reported that across the board, lunch meats are experiencing an inflationary sales boost – grab-and-go varieties reflect significant year-over-year growth in both dollar (21.8%) and unit (4.1%) sales for the 52-week period ending December 11.
"If you're looking for that at-home experience that's going to give you the feeling of going to a restaurant or quick serve, you can do that by going to the deli or the bakery and [putting] together a sandwich," said Watt in the same webinar. "In doing that you're still saving almost [one dollar] per sandwich versus going to a food service location."

This demand has not been overlooked by alternative meat producers.
As VegNews reports, many companies (including UnReal Deli, Plantcraft, and Renegade Foods) want to revolutionize the $300 billion global deli meat market with plant-based versions of popular cold cuts, from sandwich-ready deli slices to gourmet vegan salami.
As with all plant-based innovations, however, the category has faced its share of challenges.
Development Hurdles
As Kimberlie Le, co-founder and CEO of Prime Roots, observed in a recent Food Institute Podcast, this category has been overlooked in part because the existing technology – using processed plant proteins – does not create the same density and textures that are required for a sliceable meat product.
"Deli is a very humble category. It is low hanging fruit in my mind…because it's consumed so often," said Le. "It's just the existing ways that we make plant-based meats don't support it."
By using koji – a type of mycelium formed from the root system of mushrooms – and focusing on sliceable, whole-format products that fit well into a deli case, Prime Roots is side stepping some of these conventional plant-based technologies.
"It's an area we really need to think about — how to build meat from the ground up," said Le. "That fundamental ability to create the experience and the textures of meat with a unique biology inspired solution is really important to tackling that."

Market Outlook
While price and taste remain critical factors for broader consumer acceptance, plant-based deli meats offer several attributes consumers seek, including, in some cases, better ingredients for personal and planetary health.
"When you think about deli as a category, and the value proposition for a meat eater, most people know that deli meats aren't the healthiest food out there, if you're talking about the antibiotics, or the hormones, or more prominently, the nitrates, which are known carcinogens," said Le.
Companies like Prime Roots are also targeting flexitarians over traditional vegetarians and vegans to better enable periodic swaps for traditional cold cuts — a substitution method that has seen significant success with dairy alternatives like soy and almond milk.
"As much as I want there to be, for every single meat product, a great alternative that is exactly the same for price, taste, cost, texture, and experience, that's not going to happen overnight," said Le. "That's why we lean really heavily into the flexitarian [or] the notion of progress and change, rather than focusing on people who are already doing really great things for the planet."