In an uncertain retail environment during COVID-19, CPG companies are accelerating their direct-to-consumer (DTC) efforts.
Pandemic aside, CPG companies have been facing competition from retailer brands and digitally native vertical brands, so selling direct is a good opportunity for legacy manufacturers to reignite growth, according to Shopify.
CPG companies and legacy manufacturers must also develop a strategy for selling through and competing against Amazon. By 2021, e-commerce is expected to grow to nearly 14% of overall sales, according to Statista, making it essential for CPG brands and manufacturers to evolve with the trend and execute an omnichannel strategy.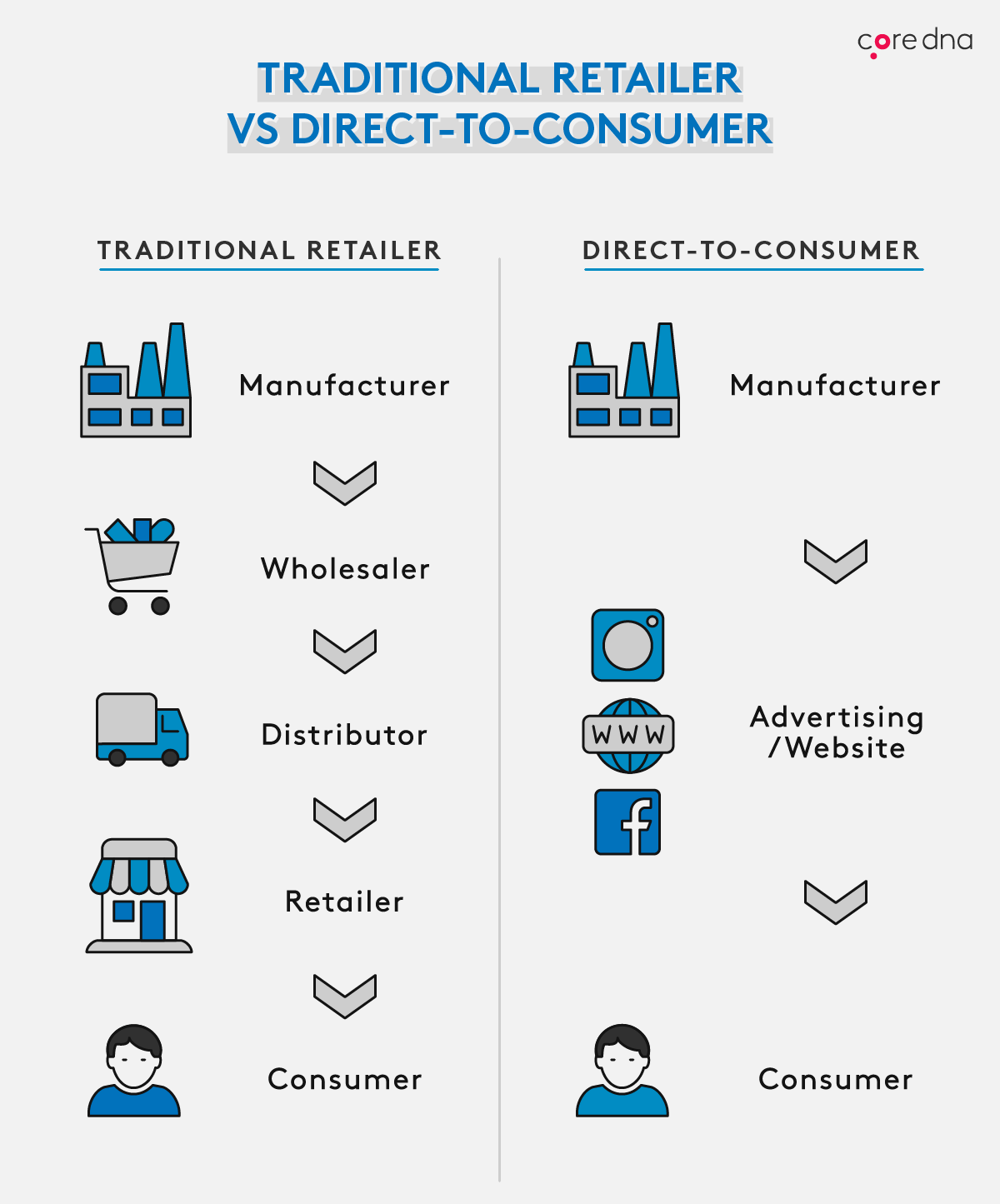 (Source: coredna.com)
Benefits of DTC
One benefit of DTC is the ability to collect customer data. Brands can collect first-party data to personalize the customer experience and monetize that relationship. Data including social profiles, psychographics, and demographics allow brands to target, tailor, and communicate with customers who are increasingly willing to purchase from CPGs online.
Selling direct on a commerce platform that connects digital marketing efforts with historical customer behavior positions companies to minimize returns by personalizing the end-to-end experience.
Another benefit of DTC is the ability for brands to own the customer relationship instead of surrendering it to retail. A direct customer relationship removes the need to rely on retail and can strengthen brand loyalty.
Owning the customer relationship allows companies to lead with their own values and align with a social cause that resonates with like-minded consumers.
Personalized products are also a possibility. Customers can design custom packaging, or mix and match custom assortments, which is an experience they can't get in brick-and-mortar stores. Additionally, DTC enables the introduction of new product lines, as well as more expensive, premium-priced products. Offering products directly to consumers allows manufacturers, in part, to retail some control over profit.
A Strong Shift to DTC Amid COVID-19
It's not yet a flood, but a wave of packaged food manufacturers has entered the DTC e-commerce channel in recent weeks, with more undoubtedly set to follow as producers adopt novel new ways of getting food on the table, according to Simon Harvey, GlobalData food correspondent.
"The coronavirus outbreak has forced many consumers online, some out of fear of visiting stores and others just as a means of ticking off their shopping lists because supermarket shelves have often been left empty from pantry-loading," Harvey said. "And so, some of the biggest names in food manufacturing have turned to the DTC channel, with PepsiCo joining the likes of Nestle and, more recently, Kraft Heinz, in setting up DTC services."
PepsiCo recently launched two direct-to-consumer websites: PantryShop.com and Snacks.com.
"In these uncertain times, as more and more consumers are using e-commerce channels to purchase food and beverage products, PantryShop.com and Snacks.com offer shoppers another alternative for easy and fast access to products they love," said Gibu Thomas, SVP and head of e-commerce at PepsiCo.
On PantryShop.com, consumers can order specialized bundles containing PepsiCo's top-selling pantry favorites within categories such as "Rise & Shine," "Snacking," and "Workout & Recovery."
On Snacks.com, consumers can choose from over 100 Frito-Lay products from a variety of brands. New items will continue to be added in the coming months as the site is customized to meet consumer preferences.
Pepsi will be reallocating money from other media channels and investments to e-commerce over the long term, Pepsi CEO Ramon Laguarta said, to retain customers who permanently shift from in-store shopping to e-commerce, grocery delivery, and store pickups.
In April, Heinz created its first-ever DTC business line, bundling shelf-stable items like beans, spaghetti, condiments, and soup for home deliveries in the UK, reported Just Food (April 30).
Nestle launched a DTC service in 2019 for its KitKat chocolate brand and "experienced significant increases" in e-commerce, which CEO Mark Schneider expects to continue beyond COVID-19.
On the foodservice side, Cracker Barrel recently launched an online store, reported Taste of Home (April 24). The online store boasts a large grocery range including some restaurant favorites, such as apple butter and its Biscuit + Dumpling Mix.
In addition, Sysco is providing food direct to consumers at its warehouse in Pleasant Grove, CA, through the launch of a Will-Call Pop-Up Truck sale, reported News 91.1 KFBK (May 11). Customers must place orders online and will receive instructions for safe, socially distant pickup protocols. Products include steak packs, pizza, bundles of flour, bottled water, and yogurt.
Even produce companies like PRO*ACT have started to move to DTC by providing pre-packed produce boxes to communities in partnerships with foodservice outlets, online ordering, and curbside pickup.
Going Forward
Although many consumers will likely revert to pre-COVID-19 spending patterns, DTC will be a new alternative for consumers.
"One suspects DTC may become a new normal as both shoppers and producers alike realize its benefits—after all, who wants to lug heavy cans of food around the supermarket and then get them home," said Harvey. "DTC platforms are not expected to replace existing channels, at least among the big food manufacturers anyway, but are more intended to be complementary to them. And, given the new entrants we have seen in recent weeks, the market in serving the consumer directly is set to remain active."
As the trend evolves, it will be crucial for food and beverage brands to embrace this way of business and appeal to consumers while maintaining relationships with retailers and other partnerships.