Peaches are expected to see a banner year, although the coronavirus pandemic brings with it uncertainty—from how pickers in the field work alongside each other to a sometimes overloaded distribution system trying to get goods to consumers eager to stock up on healthy foods.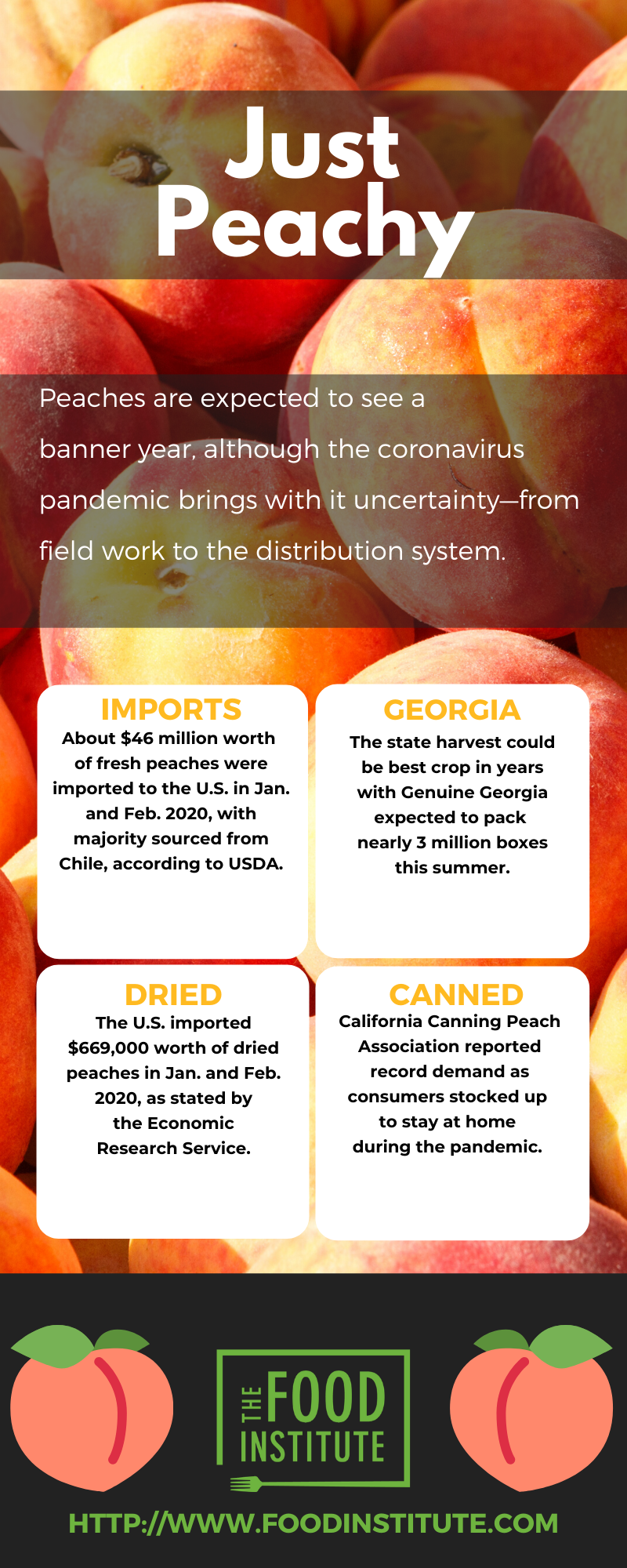 "Right now we've got a pretty good crop," said Duke Lane III, president of the Georgia Peach Council in Fort Valley, GA. "Our expectations for prices at grocery stores are pretty high. With COVID-19, everyone is concerned about their health. Retail grocery sales have been up significantly every week."
Peach production is expected to be up in the top three producing states of California, South Carolina, and Georgia in 2019, according to data available from USDA. Peaches had enough chill hours and moisture to raise production. USDA forecasted the crop size at 1.47 billion-lbs., up 13% over the previous year, with production gains in most producing states.
Lane said Georgia peach growers will start harvesting in May, and the fields are large enough for workers to keep social distancing. He expects a full crop in 2020 that is similar to the 50 million-lbs. produced in 2019. The season in Georgia runs from mid- May through August. Some 95% of the peaches go to retail stores, he said.
The number of chill hours, which are accumulated between seasons to get a good crop of peaches, was good for this year, he noted. However, other areas of the country, such as parts of western Colorado, experienced a mid-April freeze that damaged the peach crop. Local farmers in Colorado told The Daily Sentinel they could lose 50% or more of their peaches.
USDA classifies two types of peaches: clingstone and free­stone. As their names suggest, the flesh clings to the stone in clingstone, making it harder to separate and more suitable for processing. The freestone peach's pit separates easily from the flesh, making it easier to eat fresh.
Twenty states produce peaches commercially. The top four are California, South Carolina, Georgia, and New Jersey, according to the Agricultural Marketing Resource Center.
The USDA forecast of 2019 production in California, the largest peach state, rose 6% to 1.02 billion-lbs. over the prior year, reflecting bigger freestone and clingstone peach crops. California's larger freestone crop, along with higher production from most other states, meant more fresh-market peaches were available, easing grower prices last summer. But seasonally declining import supplies this spring, largely from Chile, helped bolster early-season prices.
Meanwhile, canned fruit benefitted from the pandemic as consumers look for shelf-stable, healthy foods.
"The retail sales movement that we've seen over the past four weeks has been unprecedented," Richard Hudgins, president and CEO of the California Canning Peach Association, told AgAlert in early April.
The U.S. imported $669,000 worth of dried peaches in Jan. and Feb. 2020, according to USDA Economic Research Service. Both months were up over the previous year, with Jan. 2020 at $478,000 versus $114,000 the prior January, and Feb. 2020 at $191,000 compared to $184,000 the prior year. The full-year 2019, at $3.1 million, was up from the $3.05 million in 2018. The U.S. imported the most dried peaches from China, followed by Serbia and Chile.
Fresh peach import figures were much higher than dried, with $46 million worth of peaches in Jan. and Feb. 2020. In Jan. 2020, $20.3 million worth of fresh peaches were imported, down from the $22.3 million the previous year, while February's number was higher at $25.7 compared to $24.2 million in Feb. 2019. The full-year 2019, at approximately $68 million, was down from the $72.1 million in 2018. Almost all fresh peaches were imported from Chile.
Prepared or preserved peach imports reached $81.4 mil­lion in the 2019-2020 market year, which runs on a market year from June 2019 to May 2020, with three months remaining to be measured. That compares to almost $119.9 million in 2018-2019. China topped the list of countries that the U.S. imported prepared or preserved peaches.
Exports of fresh peaches, whose numbers pick up from May through October, were $96,000 in Jan. and Feb. 2020. Jan. 2020, at $38,000, was down from the $86,000 the previous year. However, Feb. 2020 was up at $57,000 versus $53,000 a year ago. For the full-year 2019, exports of fresh peaches were down at $128 million compared to almost $131 million in 2018. Canada topped the list of countries to which the U.S. exported fresh peaches, followed by Mexico and Taiwan.
Prepared or preserved peach exports hit $3.6 million in the 2019-2020 market year from June 2019 to May 2020, with three months left for this season, compared to $6.6 million in 2018- 2019. Again, Canada topped the list of export markets, followed by Mexico and Panama. The USDA Economic Research Service did not provide numbers for dried peach exports.
A challenge presented in both 2019 and 2020 is the ongo­ing U.S.-China trade war and the back-and-forth discussions on tariffs, including on peaches. Exports of all U.S. fresh fruits declined by 6% in 2019, with retaliatory tariffs weighing heavily on exports to China, according to AgWeb. USDA statistics show fresh peaches declined 2% over the previous year to $128 million.
In January, when coronavirus cases escalated in China and the first travel-related case hit the U.S., the two countries signed the first phase of a new trade deal they had negotiated in December that includes China increasing its imports of U.S. agricultural products by $12.5 billion over 2017 levels in 2020 and by $19.5 billion over 2017 levels in 2021. The deal did not give specifics on the amount of each product to be purchased, but peaches were on the list.
"We are encouraged by China's commitment to make sub­stantial additional agricultural purchases above historical norms over the next few years, and eagerly anticipate the removal of trade barriers that have restricted exports of U.S. fruits, vegetables, and tree nuts to this critical market," Tom Nassif, former president of Western Growers in Irvine, CA, said when the agreement was signed.
In a separate move to help agricultural producers, USDA an­nounced in mid-April its $19 billion coronavirus assistance program. Of that total, $2.1 billion will go to producers of specialty crops like peaches.
ABOUT THE AUTHOR
Lori Valigra is a journalist based in Harrison, ME. Reach her at valigra@gmail.com.