Amazon, one of the world's most ubiquitous, ambitious, and profitable companies, is scaling back a bit. Though it owns Whole Foods, the disruptive retailer is shifting gears and closing down several proposed Amazon Fresh concepts across the country as it tries to figure out how to break into the fresh produce and grocery space.
During the company's fourth-quarter business call in March, Amazon president and CEO Andrew Jassy said, "We're doing a fair bit of experimentation today in those stores to try to find a format that we think resonates with customers," and that Amazon decided to "exit certain stores with low growth potential," said Brian Olsavsky, senior vice president and CGO, also during the call.
The question isn't why did Amazon Fresh fail so much as how will Amazon adapt? From food and economic inflation to less discretionary spending, rising fuel and labor costs, brand-name tradedown, Amazon's nearly 30,000 layoffs since January, and the ascendance of dollar/value stores led by Aldi, there are many thorns to identify that led to the collective pullback. But what comes next?
"The grocery business is such a big piece of the pie," said John Carroll, president of digital services and advanced analytic services for the Acosta Group. Carroll has deep roots in CPG and grocery as a former executive at Coca-Cola as well as Procter & Gamble, and he sat down with The Food Institute to talk about Amazon and the greater grocery/retail market.
"Most shopping experiences on Amazon are 'spearfishing' trips, where the shopper is searching for one to three items to purchase," he added. On a trip to your local grocery store, you make a list and build a basket based on your needs for the week. "Amazon Fresh is about building baskets that include produce, meat and deli versus just buying a few non-perishable items."
Carroll believes the pullback is temporary; business is cyclical; Amazon Fresh and Amazon's push into grocery will continue.
"They'll make bold moves into groceries because it's such an important category overall," he said. "We [Acosta Group] see e-commerce penetration going up overall with all retailers; Amazon is going to provide more progressive solutions that the consumers want; if that's more modernized brick 'n' mortar, they'll do it. They'll continue to fine-tune it. They don't mind failure; they'll learn from failure and optimize."

Technical Difficulties
In many ways, Amazon's preparation, debut, and eventual drawback from Amazon Fresh grocery has less to do with understanding how grocery works – the basic model hasn't changed much in the last, oh, century or so – and more to do with understanding that applying the maximum amount of technology from a company with seemingly limitless resources is not necessarily a recipe for success. Instead, the market pushed back – as it can, and will again – and savvy consumers should expect some sort of Amazon Fresh rebrand or re-launch.
"Overall, Amazon has struggled to find a model that differentiates itself in grocery," said Will Glaser, founder and CEO of Grabango, a leading checkout-free technology provider, to The Food Institute.
"One way Amazon has tried to innovate is by deploying its Just Walk Out technology in its Fresh stores. Checkout-free technology can have a dramatic impact on the shopper experience and store operations, which is why we are seeing rapid growth in the space. Amazon's technology, however, is based on shelf sensors and a lot of tiny scales in the store, what Amazon calls 'sensor fusion.' "
Glaser says sensors designed to detect the same product in the same place every time are expensive to install and maintain, saying nothing of the labor needed to restock shelves when, inevitably, a consumer puts down a box of cereal or the spicy salsa when they meant to buy mild.
"If you put a box of Cheerios in the wrong place, the system gets confused," he added. "Things can get very expensive very quickly."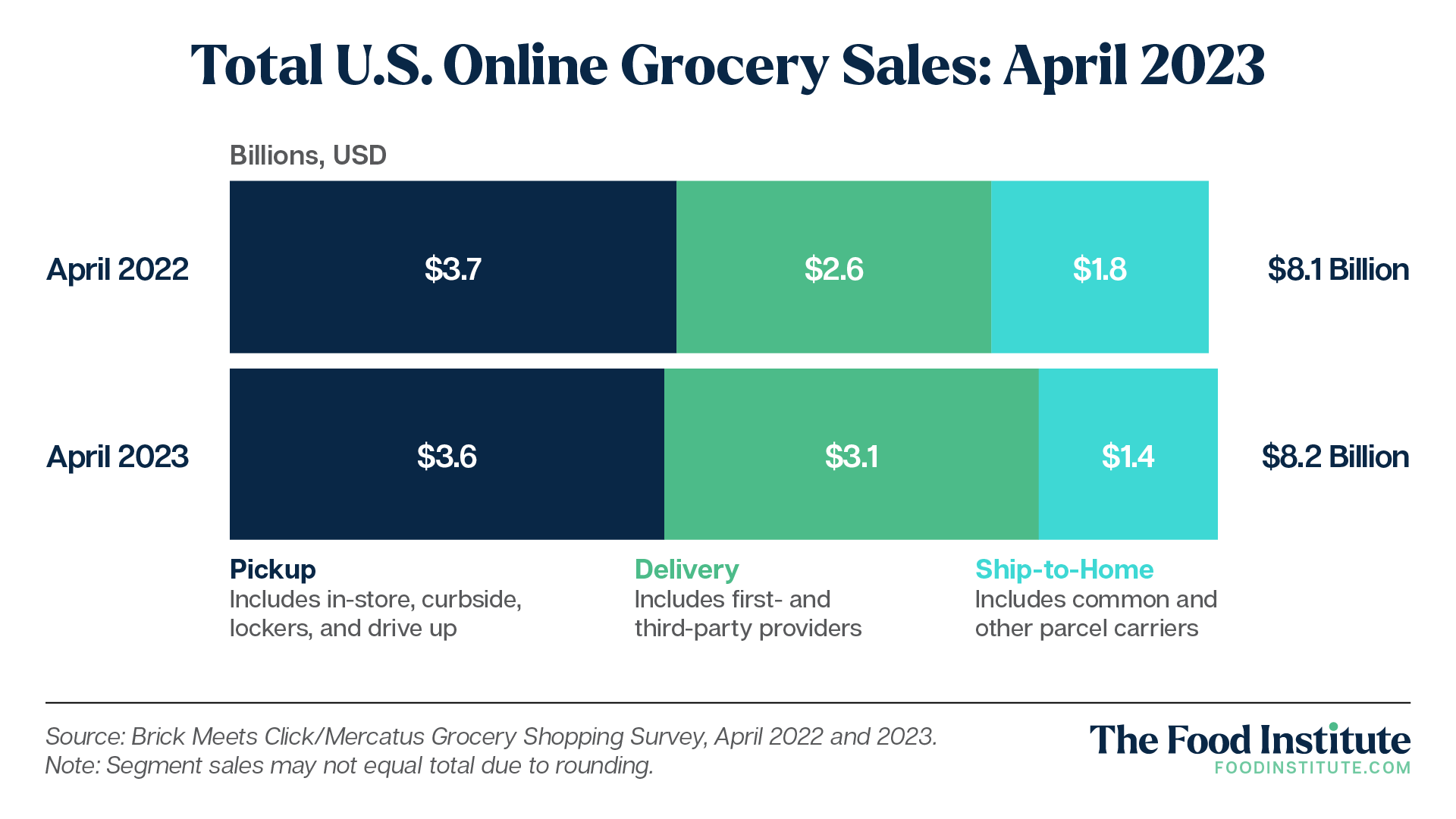 And in the age of convenience, any hiccup during the grocery process can easily render the experience moot. Coupled with simple brand loyalty economics, it doesn't take much for the average shopper to decide, meh, I'll buy online or elsewhere. And Amazon is far from the only company to lose dwell time and shoppers due to basic inconveniences.
"I think it shows how complicated it is to enter the grocery market as a new player," said Andy Friedland, CRO of Swiftly, an AI powered provider of technology solutions for brick-and-mortar grocery stores, to The Food Institute.
"Shoppers are very loyal to their local grocery store, and there doesn't seem to be the same appetite for technology and innovation in grocery right now as you see in other industries. Given the massive scale of Amazon and grocery, they won't give up on Amazon Fresh but it's not their top priority."
The Route to Market is the Route to Me
According to "Profiling the Online Shopper: eGrocery Purchase Patterns in the U.S.," a recent report by Brick Meets Click, the average overall base of e-commerce users in grocery grew 3 points in 2022 compared to the previous year. The online penetration of supermarkets, however, declined by 2 points, and though not mutually exclusive, the data supports a few key points: people are price-shopping more now than during the last few years as inflation and recession fears loom large in the minds (and wallets) of the average American consumer. While supermarkets kept the lion's share of all grocery consumers (more than 33%), super retailers like Target and Walmart are eroding that base, all while figuring out how to combine in-store and e-commerce into one unified whole that appeals to their ideal shoppers. And the online warehouse global superstore simply lacks the generational foundations, both literal and otherwise, of its primary competitors.
"Walmart is really progressive in this space," Carroll said. "They have made significant investments in technology and automation. It's hard from a profitability perspective; you have to think about e-commerce differently. In the traditional grocery model, shoppers drive to a store and pick their groceries from an aisle or endcap; with e-commerce the retailer is responsible for picking, packing, and getting the order to the customer. That makes e-commerce more expensive from an operating cost perspective."
So perhaps part of Amazon's problem was optics combined with a markedly different in-store experience than what most (but not all) consumers are used to. "If the CPG and retailer plan and work together, they can offer great solutions specific to certain shopper demographics and needs," Carroll added. "Looking to cook dinner or entertain from a barbecue perspective? I think what retail media networks can do is really target the right shopper…just developing messages isn't enough; it has to be the right message to the right consumer, at the right price. A meal solution recipe is a great solution; that's the opportunity to use technology in a great and neat way either through in-store digital or an ad while you're at work."
Carroll stresses that as an industry, every member of the supply and value chain has to work together, optimize sensible solutions, and provide real value to the common consumer. It's not enough to throw a jungle's worth of resources and trust consumers will respond in kind.
"What is the route to market?" Carroll wondered. "That's what we all used to say – 'what is the route to market?' Today, though, it's the route to me. Give me what I want, when I want it, as conveniently as possible."
And in grocery, that means making shopping easier, simpler, more intuitive, and at best enjoyable for the consumer. (As a newish parent, this really hit home – shopping for groceries, like mowing the lawn, is one of the last bastions of peace I'm able to regularly enjoy, lingering in the produce aisle, maybe catching up on hot sauce fusions.)
"Nobody just shops in-store or online – most do both," he said. "It's not mutually exclusive – it has to work together overall. Every retailer is thinking about the right solution to build as much loyalty as possible. We've spent a lot of time figuring out the supply chain; now there's a good opportunity to ask, how do we work better? How do the manufacturer and retailer work better together with tech and convenience for the consumer?
"We need to re-define the relationship between retailers and manufacturers from a planning perspective to help the shopper get what they need when they want it."