The great separation has begun.
Last month, Epiq Bankruptcy, a provider of U.S. bankruptcy data, reported that Chapter 11 bankruptcies jumped 68% during the first half of 2023 compared to the comparable 6-month period in 2022. What's more, monthly bankruptcies in 2023 outpaced the previous year's figures in every month from January to June, illustrating the fact that the rise in Chapter 11 filings isn't an aberration, but a sustained problem amongst businesses.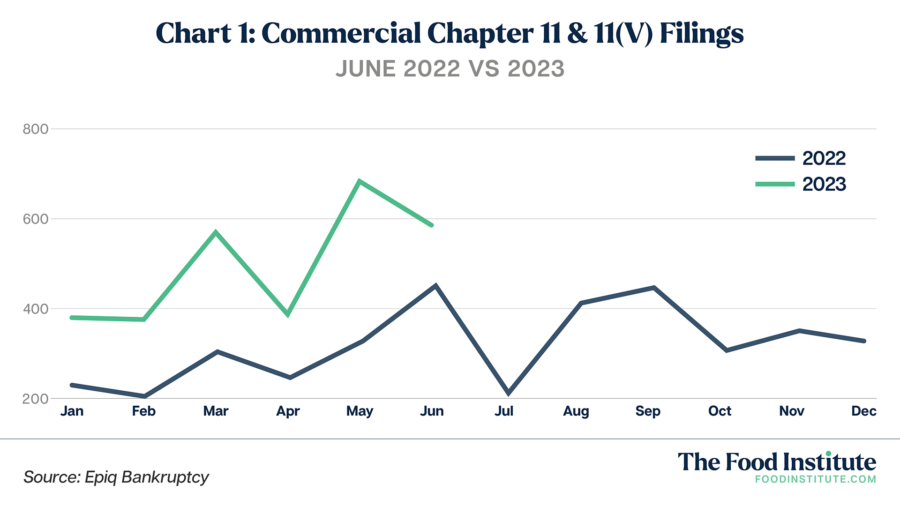 While some may naturally assume that the corporate casualties reflect primarily SMEs (small and medium size businesses), the latest data from S&P Global suggests otherwise. The data below show that even larger businesses filed Chapter 11 bankruptcy at an increasing pace in 2023 (see Chart 2).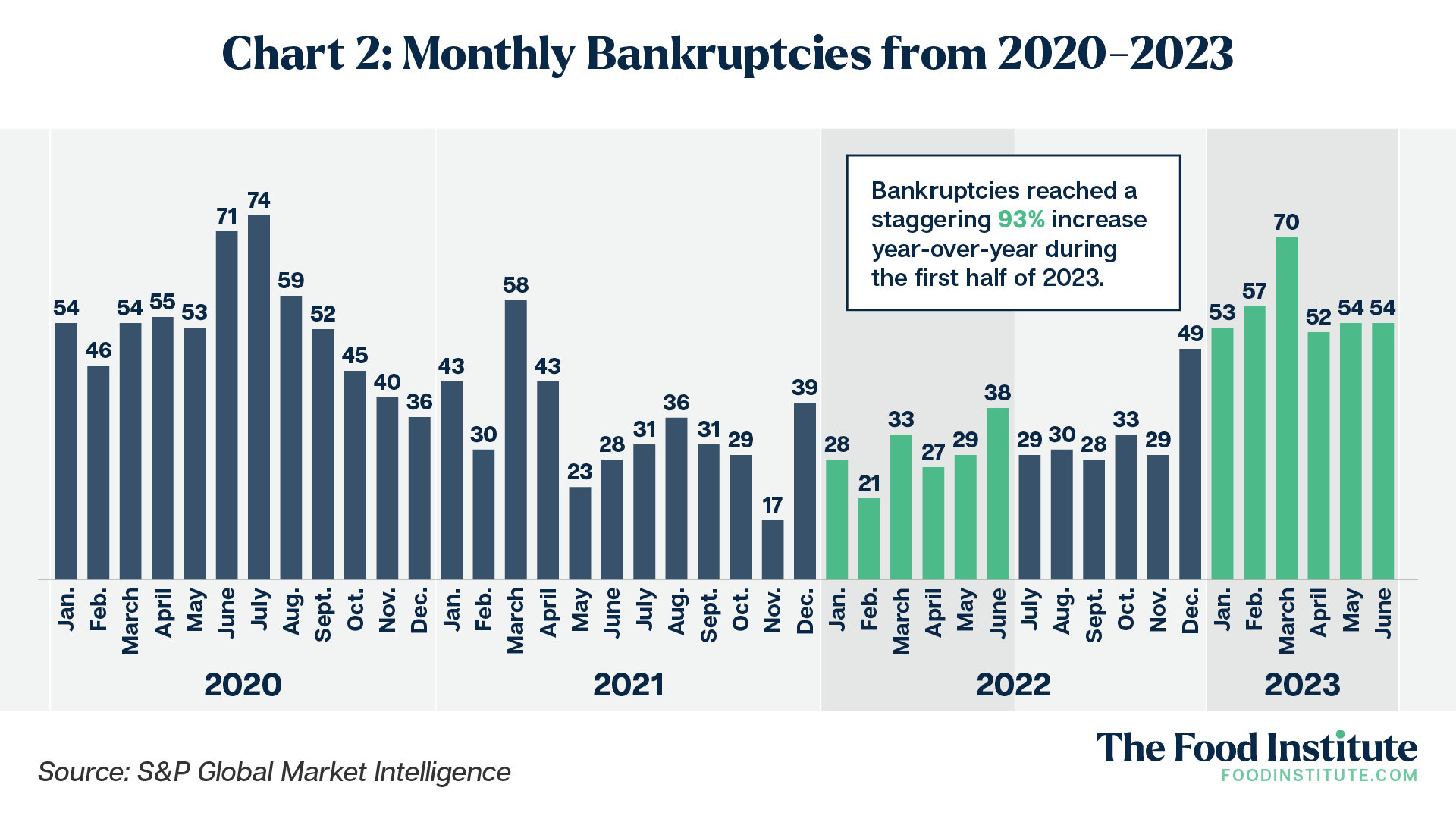 Not only have bankruptcies reached a staggering 93% increase year-over-year during the first half of 2023, but they've also reached their highest level since 2010 (see Chart 3).

Potential Implications
While the rise in bankruptcies in 2020 can be attributed to the COVID-pandemic, the 2023 figures point to a deeper fundamental issue: many companies have not fully adapted to the post-pandemic "new normal."
The new normal, of course, entails a business operating environment characterized by increased volatility, elevated inflation, restrictive capital markets, and accelerated technological change.
As I mentioned in a March 2023 article titled The Food Industry is at a Crossroads, a new playbook is needed in this post-pandemic era that's focused on three key factors:
A new framework of understanding the business environment & megatrends
Building in financial and operational flexibility
Being hyper-focused on customer acquisition and innovation / new product development
Companies that can adapt will thrive, and those that can't will ultimately suffer their demise.  The data provided by Epiq and S&P Global above validates my thesis that The Great Separation – the divide between the "haves" and "have nots" – has already begun. Unfortunately, this divide is likely to widen over the next 1-2 years as the markets be less forgiving for poor decision-making.
The Time is Now to Adapt
What companies need, especially during this period of The Great Separation, are strategic leaders or advisors – executives that can challenge the status quo and aren't institutionalized by conventional wisdom.
For some companies, the solution might require replacing the CEO or leadership team altogether. For others, the approach might require bringing in strategic advisors to help develop new roadmaps of growth and innovation.
The next couple of years will serve as a defining moment for many businesses in the food and beverage industry.  The time is now to make the necessary changes.
Many CEOs and management teams tend to blame corporate bankruptcies on inflation, increased competition, higher interest rates, and suboptimal economic conditions. While those factors do contribute to the downfall of companies, the inconvenient truth is that organizational failure comes down to one main thing — poor leadership.
Even Shakespeare seemed to understand the root cause of failure, when he penned the iconic words of Cassius to Brutus in the play "Julius Caesar":
"The fault," he wrote, "lies not in our stars, but in ourselves."
---
About the Author
Brian Choi, CFA is Managing Partner and CEO of The Food Institute, a leading food and beverage media company focused on insights-driven content. The Food Institute also has an in-house Strategy & Insights Group that advises food and beverage companies on corporate strategy and insights. 
---