"It is not the strongest of the species that survives, nor the most intelligent, but the one most responsive to change" (Charles Darwin, 1809)
The U.S. has gone through one of the most dramatic periods of change in its history. After coming out of the Great Financial Crisis (2007 and 2008), the economy experienced, back to back, one of the longest bull markets (2010-19) and worst pandemic shocks (2020-22) in over a century.
The food industry is now at a crossroads.
Food manufacturers, foodservice operators and retailers alike face a new set of challenges: elevated inflation, financial instability, geopolitical risks, and economic recession. The consumer has also become more complex, making it more difficult than ever for companies to understand purchasing behavior.

What must food companies do to thrive in this "new normal"? This is a question I will address during a keynote presentation on Tuesday for SIAL America 2023. How companies act will be the litmus test of long-term success or failure.
Here are some of the key points that the entire food industry will need to consider over the next 12 months:
Optimized Framework for the Current Operating Environment
Most food industry leaders operate under a conventional set of assumptions: the economy will "normalize," inflation will go back to pre-COVID levels (i.e., +2% to +3%), and that geopolitical tensions will de-escalate over time. While this framework may have worked in the past, it lacks a holistic perspective on history, economics, financial theory, and human behavior.
Consensus estimates from a majority of economists and financial pundits predict that the rate of inflation will return to "normal" over the next 12-24 months. What's often overlooked, however, is that the drivers of inflation are much more complex this time around. In fact, inflation has hit > 10% at multiple instances over the past 100 years as shown in the chart below.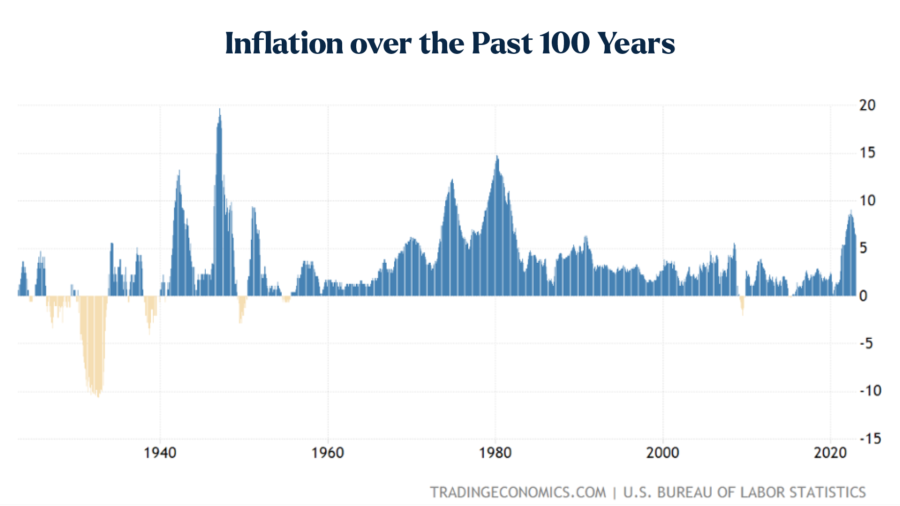 How should food businesses operate in a sustained and elevated inflationary environment? What framework should management use to offset the impact of inflation, potential recession, and geopolitical shocks? What is needed is a new playbook – one that's hyper-focused on cost management and customer acquisition/innovation.

Building in Financial and Operational Flexibility
Given the potential risks mentioned above (i.e., economic recession, inflation, financial instability) food and beverage businesses need to build in financial flexibility to withstand potential shocks to their companies and the current economic environment. There are several tools available to companies, such as:
Raising equity and debt capital
Lowering fixed and variable costs while maintaining (and growing) revenues
Repositioning and retraining staff to support critical business units
Leveraging data and technology (e.g., robotics, AI, etc.)
Customer Acquisition & Innovation, New Product Development
For companies to succeed in the post-pandemic world, food industry leaders must have a solid understanding of trends impacting the food industry and the consumer. Having a sound framework will enable food industry leaders to develop a strategic path to innovation and growth. A short-term focus on "meeting budget" for quarterly meetings will ultimately lead to stagnation and eventually decline.
How can food manufacturers, foodservice operators, and retailers develop strategies based on industry trends? The answer lies in understanding the key megatrends impacting the food industry. Here are two examples:
Exponential Technological Change – Describes the disruptive nature that technology (e.g., AI, digitalization, robotics) has on the way consumers live and companies operate.
Increasingly Dynamic Societies – Explores the patterns and behaviors of consumers from a demographic and psychographic perspective.
Companies that have a sound understanding of these trends will be better positioned to capitalize on growth and innovation.
A Call to Action
Food companies are facing a brave new world of challenges in this upcoming season. I liken the situation to a ship about to set sail in low-visibility weather, and in an ocean full of icebergs large and small.
Businesses will need leaders and advisors with strategic mindsets to effectively navigate the complex waters ahead. Furthermore, having the appropriate frameworks and insights will ensure that food companies will thrive in this new season.
Safe sailing everyone.
---
About the Author: Brian Choi, CFA is Managing Partner and CEO of The Food Institute, a leading food and beverage media company focused on insights-driven content. The Food Institute also has an in-house Strategy & Insights Group that advises food and beverage companies on corporate strategy and insights.