Even amid inflation, candy consumption is occurring at a record-setting pace.
Confectionery shoppers are looking for deals, but they remain committed to their candy consumption. According to the National Confectioners Association's recently released 2023 State of Treating report, confectionery set new dollar sales records in 2022 – with gains ahead of most other in-store categories.

Despite issues like 40-year high inflation, 74% of consumers agree that confectionery remains an affordable treat. Approximately 81% of those surveyed see chocolate and candy as a fun part of life. NCA also noted that consumers report having a confectionery treat an average of 2.4 times per week.
"Confectionery treats are an inexpensive way to boost serotonin (a happy hormone) in times of stress," Yelena Wheeler, a registered dietitian nutritionist for MIDSS, told The Food Institute. "Therefore, people are treating themselves to some treats after making it through a very stressful time in our country and world history."
That said, 45% of candy shoppers used one or more cost-saving measures in 2022, switching between types, brands, pack sizes, or stores, NCA noted.
Boosted by inflation, sales reached $42.6 billion in the total confectionery market according to Euromonitor, which projects the total category to reach $54.3 billion by 2027.
NCA's study was conducted by 210 Analytics. Shopper insights were collected using an online survey of 1,567 consumers between the ages of 18 and 75.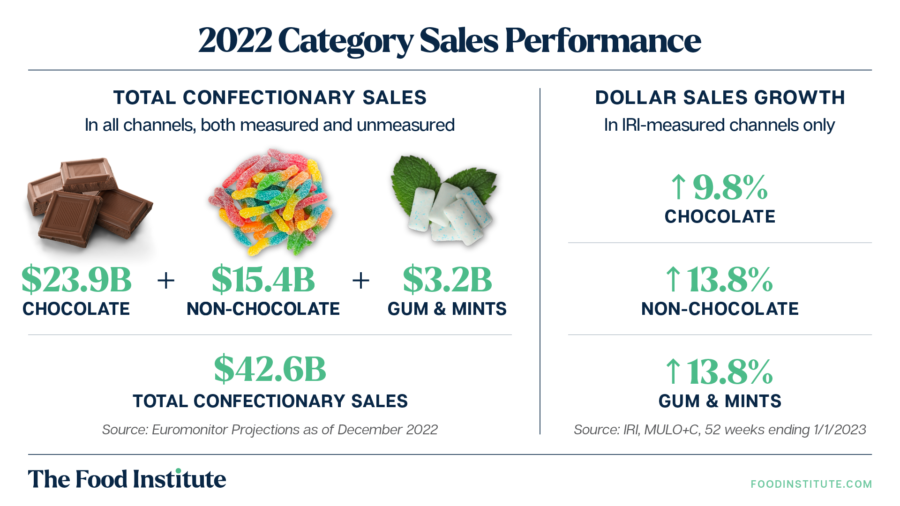 PORTIONS AND PRODUCT CLAIMS
The report revealed that nine in 10 consumers are interested in calories and portion information. At the same time, 32% of consumers are unsure what constitutes an appropriate amount of chocolate or candy to eat at one time.
When attempting to determine the appropriate portion size for their candy consumption, consumers mostly look at total calories (28%) and total sugar (22%), according to NCA.
CHECK IT OUT
The majority of consumers would like to see a variety of portion and pack sizes for candy, while fewer have a desire for more reduced-sugar options, portion/calorie caps, or candy-free lanes like those recently implemented in Perris, California. NCA revealed that support for a ban on confectionery at checkout is low, at just 24% of consumers.
SOCIAL MEDIA STATS
Candy consumers have proven to be active social media users; the State of Treating report indicated that 59% search Facebook, YouTube, and Instagram for confectionery-related topics or inspiration for gifting or baking. TikTok, meanwhile, is the lead platform among Gen Z confectionery shoppers.
Wheeler noted that social media targeted ads can be an especially helpful way to market products like confections. Utilizing candy consumption brand ambassadors on social media also has its merits, and "fun graphics featuring the product that can be turned into memes or new emojis can also be a tool within social media platforms."
EYE-OPENING NUMBERS
Other numbers of note from NCA's findings:
86% of Americans say it's fine to occasionally treat yourself with candy
78% of parents have candy in the house all year
61% of shoppers seek candy they haven't had before
32% of those surveyed buy candy both in-person and online
---
The Food Institute Podcast
Click the play button above to listen to the episode.
How do you measure the financial efficiency of a fan-driven food business? Dr. James Richardson, owner of Premium Growth Solutions and author of Ramping Your Brand, joins The Food Institute Podcast to define these types of businesses and how they can succeed. Dr. Richardson pulls on historical and recent examples of these types of businesses, and what common threads contribute to their success.