New research suggests many consumers have an undeniable sweet tooth these days, and candy sales back that up.
A report by the National Confectioners Association (NCA) revealed that non-chocolate candy is the second-largest selling confectionery category, accounting for 32% of all confectionery dollars. This segment's growth is outpacing that of all other segments.

Tessa Porter – a candy scientist who helped invent NERDS Gummy Clusters and Black Forest Organic Gummies – isn't the least bit surprised by that news.
"It seems there's a bit of generational nostalgia happening more than in the past. With millennials and Gen Z being in strong buying roles now, or buying for their families, they're still holding on to the fruity candies that they grew up on while still seeking out new innovations in the non-chocolate space," Porter told The Food Institute.
The recent NCA report, which featured data compiled by IRI, suggests that non-chocolate candy – defined as gummies, chewy candy, hard candy, licorice, lollipops, and marshmallows – is a consumer favorite during prosperous, inflationary, or pandemic periods. Candy has experienced strong pre- and post-pandemic sales with a growing fanbase.
Most candy spending is slowly but surely moving from baby boomers to millennials, which has further fueled brand innovation, the report noted.
"Fruity or sour candy isn't just for kids anymore," said Porter, the founder of Sprinkk, a candy development and manufacturing company. "Additionally, the visual appeal of colorful non-chocolate candy lends to more Instagrammable moments."
Non-chocolate candy is outperforming most categories around the store, with strong dollar, unit and volume growth over the past year. Influenced by inflation, dollar sales increased 13.7%, units by 3.1%, and volume by 2%. Sales were supported by more trips and larger baskets, the NCA noted. Chewy candy is a sales powerhouse, generating 12.7% growth.
Non-chocolate candy is expected to reach $20 billion in total market size by 2027, including alternative channels, online and vending, according to Euromonitor.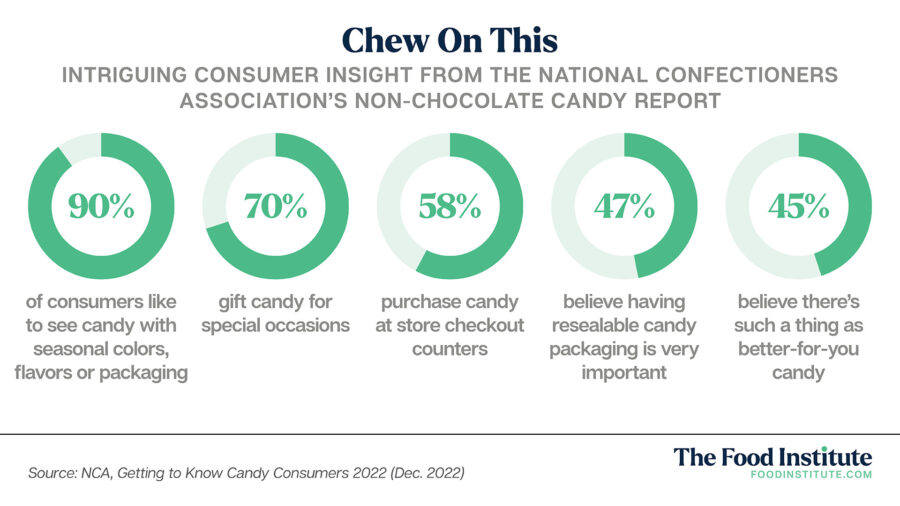 NCA's findings suggest that consumers think of candy as a fun treat, with a high permissibility: 83% of Americans believe it's perfectly fine to occasionally have a non-chocolate treat.
Other noteworthy insights from the NCA report included:
PURCHASING DECISIONS
These days, candy is bought as a planned purchase/list item (by 69% of consumers) nearly as often as it is a spontaneous purchase (75%). While sales and secondary displays have long reminded shoppers to buy candy, the report suggested the influence of social media is growing.
Candy prices have increased over the past few years, at +11.4% per unit basis, and 54% of consumers recognize that costs are somewhat or a lot higher.
BELIEF IN BETTER-FOR-YOU PRODUCTS
Roughly 45% of consumers believe there's such a thing as better-for-you candy. Approximately 30% of candy shoppers are highly interested in purchasing candy in all-natural, lower-sugar, or sugar-free options, with above average purchase interest among younger shoppers.
Consumers cite a variety of purchase drivers, including maintaining a healthy weight and managing their sugar intake, NCA noted.
CANDY PREFERENCES
Gummies, chewy, and hard candy have the highest cross-population engagement. Classic fruity flavors are the top preference, at 50%.
When it comes to gummies, 46% of Americans equally like both sweet and sour flavors, whereas 43% prefer sweet. The sour preference is much higher among Gen Z and millennials.
"Chewy candy overall will continue to be strong, with gummies and new innovations in fruit chews being the bulk of that growth," said Porter. "We're starting to see more texture combinations and super long-lasting chews that build upon gummy brands or deliver additional better-for-you ingredients."
---
The Food Institute Podcast
Click the play button above to listen to the episode.
Recent cyberattacks have shown the business and reputational impacts of a breach, but what technologies can be used to protect your organization? SmartLedger's Bryan Daugherty and Gregory Ward explain how CERTIHASH Sentinel Node can help a company detect a cyber intrusion more quickly, while IBM's Patryk Walaszczyk shares how the technology could redefine cybersecurity.