Here are trending economic and food industry data points, as well as major economic and company earnings releases for the coming week: higher inflation and COVID-19 infection rates, public health policy changes, vaccine passport, the implications for the food industry, and more
---
The implications of higher inflation and COVID-19 infection rates for the food industry
A recent Food Institute study found that among G20 economies, countries with higher COVID-19 infection rates are experiencing higher inflation. With that, what are the implications for the food industry? Let's take a closer look.
Higher inflation and COVID-19 infection rates
The Federal Reserve acknowledged that inflation has increased "notably," and COVID-19 still poses risks to the recovery. At the center of the current inflation debate is the question of when will the pandemic be contained to the degree that the economy can return to "normalcy." Waves of the pandemic, especially the surging Delta variant, created uncertainties for the economy. And these uncertainties exacerbated the mismatch between supply and demand, which in turn, sparked inflation growth.
In The Food Institute study, we found that among G20 economies, countries that have been more affected by the pandemic are experiencing higher rates of inflation. In the initial study, we divided the countries into two groups by the number of COVID-19 cases as well as the infection rate (number of COVID-19 cases / number of tests). Then computed the average inflation rate for each group based on each country's latest CPI or similar measure. In further analysis, we excluded outliers (countries that had extremely high or low inflation prior to the pandemic). In other words, their high/low rate of inflation is not necessarily a result of the pandemic.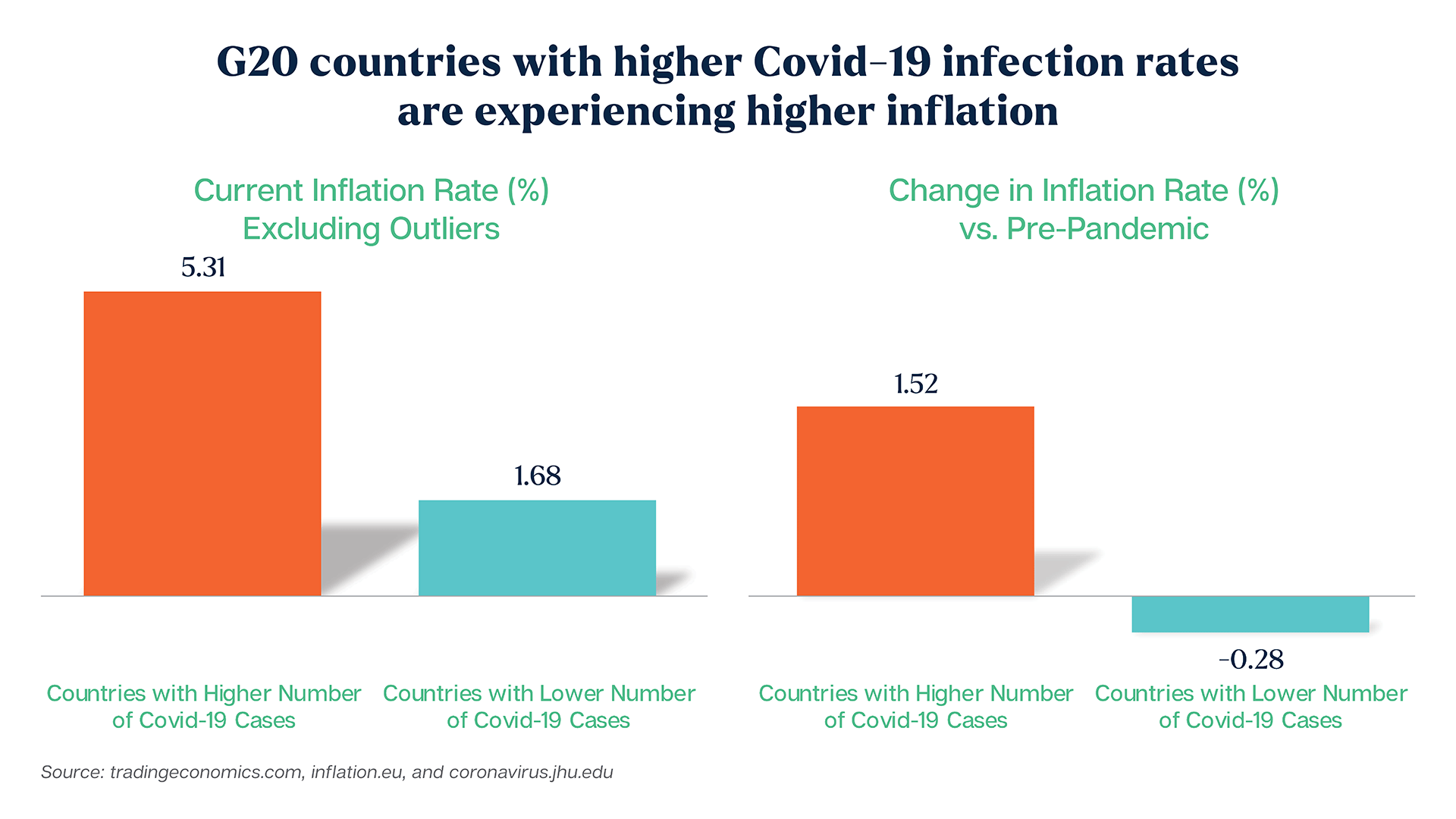 After excluding outliers, the first group (high COVID-19 cases) had an average inflation rate of 5.31%, and the second group (low cases) had an average inflation rate of 1.68%. In other words, consumer price increases among high-infection countries were more than triple those of low-infection countries. Moreover, when compared to 2019 (i.e. pre-pandemic), the first group experienced an increase in inflation by 1.52%, while the second group experienced a decrease in inflation by 0.28%.
Public health policy changes and implications for the food industry
The recent surge of Delta variant cases suggests that the U.S. has entered a fourth wave of the pandemic. Pending FDA's full approval, businesses and government agencies will likely require vaccinations for their employees and customers.
In the U.K., the government will launch daily COVID testing of food sector workers to tackle its 'pingdemic."
In France, the government requires "vaccine passport" for anyone who wants to enter a theater, museum, theme park, cultural center, shopping mall, train, bus, restaurant, bar or cafe.
In China, the government partnered with McDonald's to offer free ice cream to boost its vaccination efforts.
A number of food-related companies are stepping up ahead of government mandates:
ALDI, Chobani, Darden Restaurants, McDonald's, Starbucks, Target, and Trader Joe's are providing paid time off for vaccinations.
Amazon, Lidl, Bolthouse Farms, Instacart, JBS USA, Pilgrim's, and Kroger are giving employees cash bonuses to get vaccinated.
Amazon is also providing on-site vaccination for its U.S. front-line employees. Bolthouse Farms and Houston's Legacy Restaurants hosted vaccine "pop-ups."
Michelin-starred restaurant Eleven Madison Park requires all workers to be vaccinated.
Safety and Mobility are keys to return to normalcy
In a recent update of the "Anticipated Vaccine Adoption & Impact on the CPG Industry" report, IRI pointed out that consumers' willingness to restore normal work and shopping patterns will depend on vaccine adoption. Understanding the evolution of social mobility is key to assess demand and supply in the foreseeable future. In the framework of a "new normal," IRI's current forecast of resuming "normal" mobility is summer 2022.
Projecting future inflation is a more difficult task. "I think trying to predict where inflation is going to be in a few years is a mug's game," said Kristin Forbes, an economist at M.I.T. and a former official at the United States Treasury and the Bank of England. "Policymakers need to be ready for different scenarios…If things recover faster than expected, we know how to deal with that. If things don't recover, that's a harder situation." The longer and to a greater degree that the pandemic can't be contained, the more challenging it will be for both consumers and businesses.
---
Upcoming Economic Releases
| | | | | |
| --- | --- | --- | --- | --- |
| | | | Forecast | Previous |
| 7/29/2021 | | Continuing jobless claims (Weekly) | 3.26 mil | 3.24 mil |
| 7/29/2021 | | GDP (Q2 est) | 9.1% | 6.4% |
| 7/30/2021 | | Employment cost index (Q2) | 1.0% | 0.9% |
| 7/30/2021 | | Consumer spending (Jun) | 0.7% | 0.0% |
Source: Bloomberg, CNBC, Trading Economics, Food Institute
For more information on CPI/PPI and Retail Sales, go to Food Institute Economic Benchmarking.
---

Earnings Calendar of Select Companies
| | | | | |
| --- | --- | --- | --- | --- |
| Announce Date | | Company | EPS Estimate | Previous Quarter EPS |
| 7/26/2021 | | J & J Snack Foods Corp. (JJSF) |  $                0.77 |  $                0.39 |
| 7/27/2021 | | Archer-Daniels-Midland Company (ADM) |  $                1.02 |  $                1.39 |
| 7/27/2021 | | Starbucks Corporation (SBUX) |  $                0.77 |  $                0.62 |
| 7/27/2021 | | Lamb Weston Holdings, Inc. (LW) |  $                0.42 |  $                0.45 |
| 7/27/2021 | | Mondelez International, Inc. (MDLZ) |  $                0.65 |  $                0.77 |
| 7/28/2021 | | Bunge Limited (BG) |  $                1.61 |  $                3.13 |
| 7/28/2021 | | McDonald's Corporation (MCD) |  $                2.12 |  $                1.92 |
| 7/28/2021 | | Pilgrim's Pride Corporation (PPC) |  $                0.53 |  $                0.42 |
| 7/28/2021 | | Wingstop Inc. (WING) |  $                0.33 |  $                0.44 |
| 7/28/2021 | | Shake Shack Inc. (SHAK) |  $               (0.07) |  $                0.04 |
| 7/29/2021 | | Amazon.com, Inc. (AMZN) |  $              12.25 |  $              15.79 |
| 7/29/2021 | | Albertsons Companies, Inc. (ACI) |  $                0.67 |  $               (0.37) |
| 7/29/2021 | | Yum! Brands, Inc. (YUM) |  $                0.95 |  $                1.07 |
| 7/29/2021 | | Molson Coors Beverage Company (TAP) |  $                1.35 |  $                0.01 |
| 7/29/2021 | | Keurig Dr Pepper Inc. (KDP) |  $                0.37 |  $                0.33 |
Source: Bloomberg, CNBC, Yahoo Finance, Food Institute