What do consumers desire in 2024 when they eat out? Value and convenience, mostly, and though those are universal qualities most any time, an uncertain economic outlook and increased food prices have seen consumers slowly shifting their habits after re-emerging in 2022 into the general market and enduring inflation throughout 2023.
R.J. Hottovy, Head of Analytical Research at Placer.ai, recently sat down with The Food Institute to discuss what's coming in 2024 in the restaurant sector.

Trends
January 2023 saw a strong start in both retail and overall dining spend from consumers compared to the year before, but as the year has continued, those trends are reversing—consumers are eating out less, staying in more, and preparing for the winter amid an uncertain economy.
"We're starting to see some normalization," Hottovy said, "as some of the spending in restaurants driven by the holidays is now leveling off a bit."
As of September, year-over-year spending in both categories is around -5%. Spread among different restaurant categories – QSR, Fast Casual, Specialty Coffee, Casual Dining, and Fine Dining – monthly visits has swung almost 20% except in the specialty coffee category, though this may have more to do its annual appeal and the return to the office for many consumers.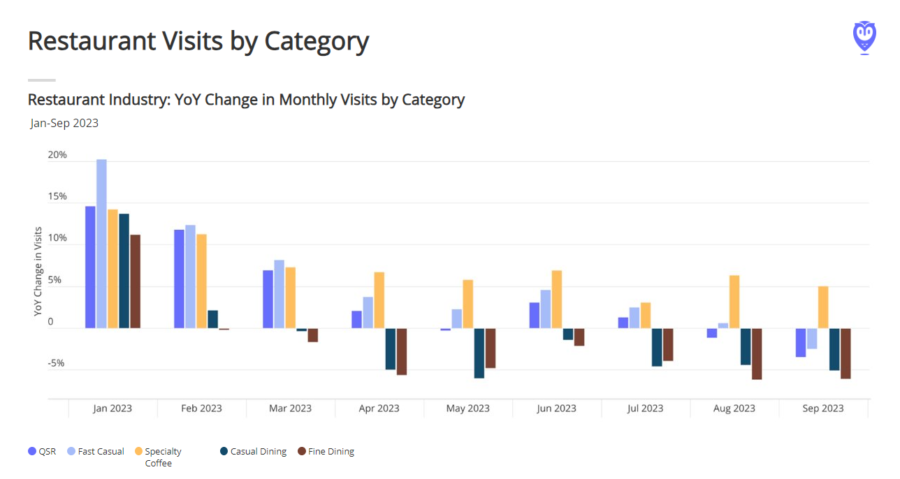 "Consumers want to stretch budgets," Hottovy said. "Visitation trends holding steady show a big change in consumer behavior; fast casual is thriving, possibly due to the value and ease of mobile ordering combined with takeout. It was already happening pre-pandemic but has now accelerated and is here to stay."
Four Keys to Understanding Contemporary Visitation Trends
"Why the shifts?" Hottovy asked. Here are some of the answers:
Return to Office – Return-to-office remains below pre-pandemic levels but year-over-year gains have helped, especially in specialty coffee and fast casual.
Migration – Chains employing suburban real estate strategies have been winners, and many companies are looking with hungry eyes toward urban residential areas. Rural and suburban population densities have been increasing since 2018 as urban centers are losing people.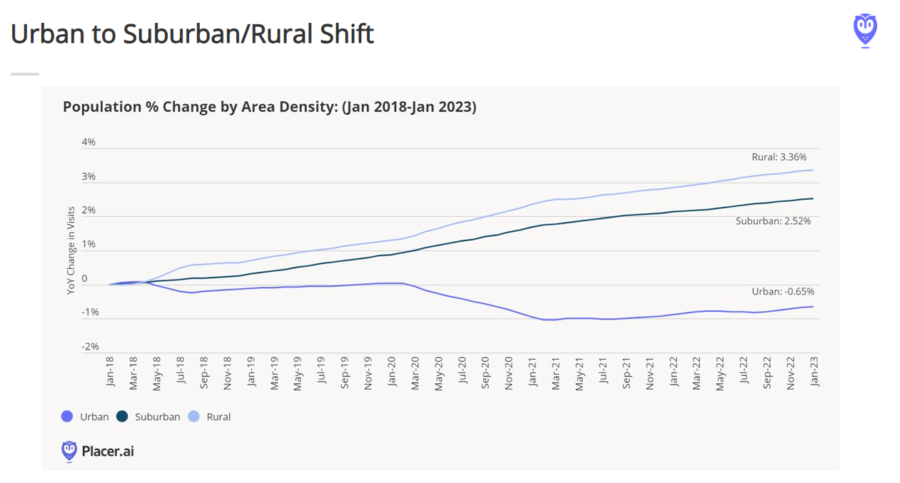 "Chipotle has done a good job with this and it's just fascinating," he added. "Historically, groups have stayed away from these markets due to lower volume but previously unexplored markets are paying dividends."
Value – Consumers remain price-sensitive and are exploring more channels to find values. Across the broader food category (restaurants, grocery, dollar stores), people are shopping in different channels more than ever before. They're trialing different locations and brands, and as inflation pressures the common consumer, many are shifting toward dollar stores, ALDI, and value chains to stretch their budgets. Private label and branded products are playing an increased role in that as well.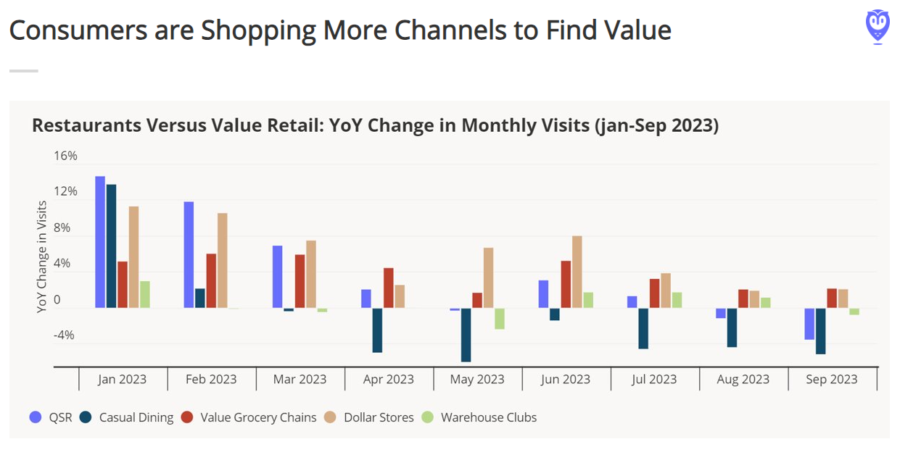 Experience – Early post-pandemic visitation gains went to larger players given their scale. Eatertainment (Dave & Buster's, Top Golf, Main Event Entertainment, etc.) are doing well. Eatertainment gains naturally occurred post-pandemic and now they're even higher with 25-30% increased foot traffic.
"Chains with unique experiences are making up ground," he said. "Experiential concepts are really doing well. Olive Garden and Outback-type restaurants are doing well, particularly in the past 12-18 months."
What Have We Learned?
Combined, these factors point to a value-driven consumer willing to shift brands and modes of eating in order to have an experience, feel good, and make their dollars work. Compared to Q3 2022, Fast Casual and Quick Service restaurants have seen phenomenal numbers:
The Fast Casual category is led by:
Wingstop – +24.9%
Raising Cane's – +20.7%
Panda Express – +9.7%
The Full Service category is led by:
Cooper's Hawk – +9.7%
Texas Roadhouse – +3.7%
Red Lobster – +3.7%
In Coffee, Breakfast, and Bakery, Hottovy pointed out Dutch Bros. Coffee with a whopping +24.2% increase YoY, followed by Starbucks at a distant +6.4% and Peet's Coffee & Tea at 1.8%.
"Broadly speaking, more suburban openings for fast casuals is evident," Hottovy said. "Fast casual is re-emerging and asserting itself despite blurred lines with QSR."

People are also eating earlier. Six p.m. may be the new 8 p.m. as a swift change toward late afternoon / early evening dayparts is evident across categories. Reservation times are moving up coupled with less visits in the late hours and more from 3-7.
"We [Placer.ai] think it has a lot to do with return-to-office and more flexibility with dining out," Hottovy said.
"Late night dining is experiencing a resurgence as well. Consumers eating at the 10:00 p.m. or or later daypart over the last several quarters is increasing, particularly at Taco Bell and Jack in the Box."
Outlook for 2024
Hottovy summed up the previous three years as such:
2021 – The year of shelter
2022 – The year consumers make adjustments and re-emerge
2023 – The year of inflation
2024 – The year of innovation
"Innovation is key next year," Hottovy concluded.
"Consumers want value and convenience. Automation is hitting its stride after almost a decade of hype and slow implementation."
Hottovy said today's automation not only saves labor but can increase food quality. Sweetgreen's Infinite Kitchen concept in Illinois has a fully automated assembly line, and that location has 50% higher visits than legacy locations. Meanwhile, Chipotle is testing conveyor-type options for salads and bowls.
He also believes the suburban advantage will continue to play out, as well as holiday and experience-driven meals around Easter, Mother's Day, and certainly the upcoming holidays. Event-based spending will continue into 2024.