The landscape for commercial real estate transformed significantly in recent years. RJ Hottovy has seen that first-hand.
"The demand for commercial property right now is real," said Hottovy, head of analytical research at Placer.ai. "There's a tremendous amount of demand for new restaurant concepts, and even existing restaurant concepts that are still innovating."
A recent webinar hosted by Placer.ai examined how post-pandemic changes in consumer behavior have reshaped restaurant operators' real estate strategies. For instance, the significant population shift to America's Sun Belt in recent years has made markets like Scottsdale, Arizona, red hot.
"We have [seen a] mass influx of population to Texas and Florida, and of course the Phoenix area; Scottsdale couldn't be any busier as a market," said webinar panelist Emily Durham, senior VP, brokerage, food and beverage advisory at JLL.
Here's a look at some of the industry trends discussed during the webinar:
Small Towns Boast Big Potential
Suburbs and rural areas, which typically offer relatively cheap rent, are becoming more and more appealing to restaurant chains. Chipotle, for example, has seen success lately in markets with less than 100,000 residents, Hottovy noted.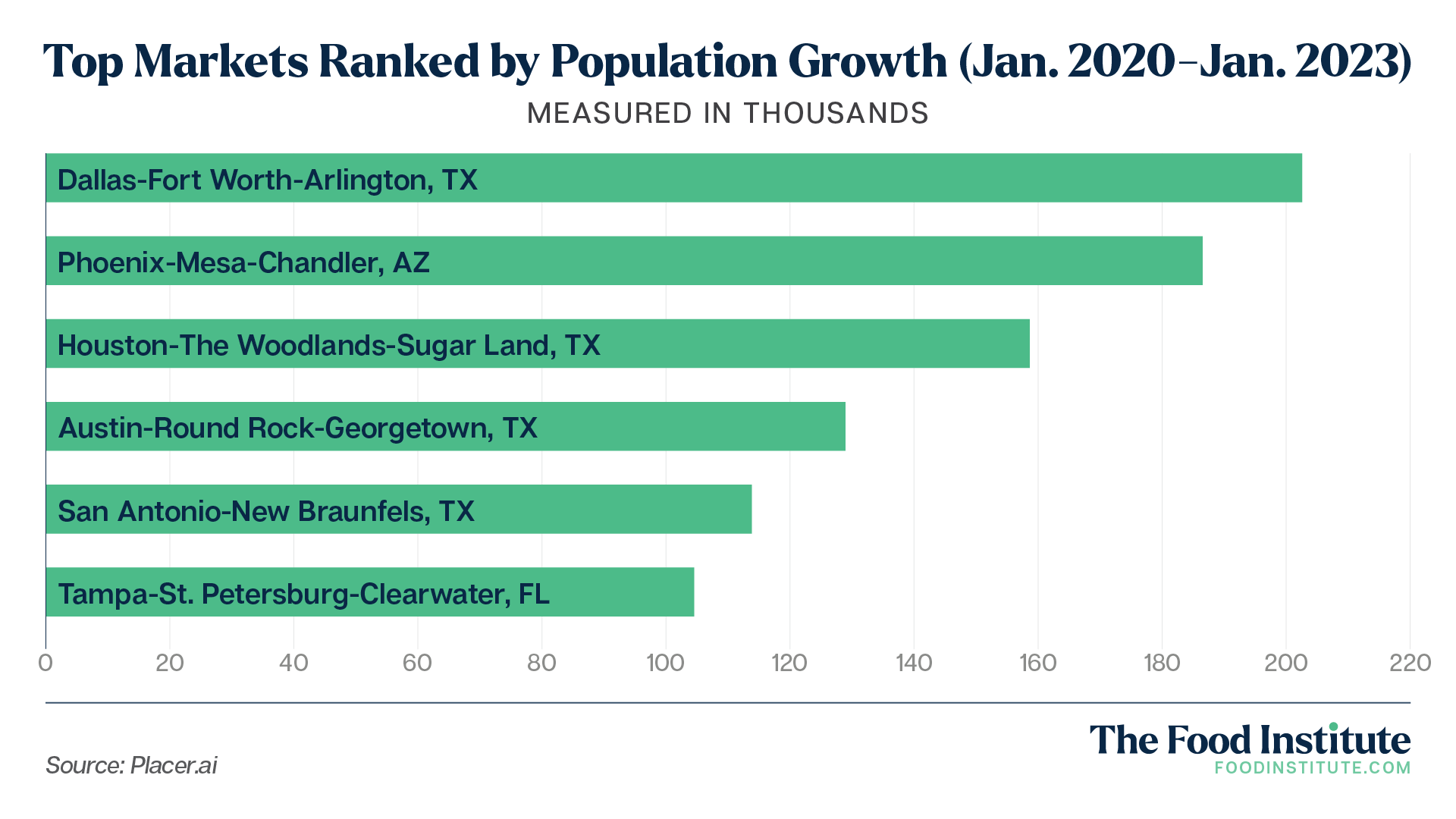 "There's a lot more visits per location in those smaller markets," Hottovy said. "There's less competition in those markets. You get the first access to labor in those markets. (And) we're starting to see migration trends and people moving more to suburban and even rural areas."
The gradual office recovery throughout much of America lately has helped make suburban commercial real estate more attractive, the webinar's panelists said.
Drive-thru Lanes Proliferate
The QSR of the future appears likely to feature as many as four drive-thru lanes, as evidenced by new locations for chains like Shake Shack. After all, most modern consumers demand convenience.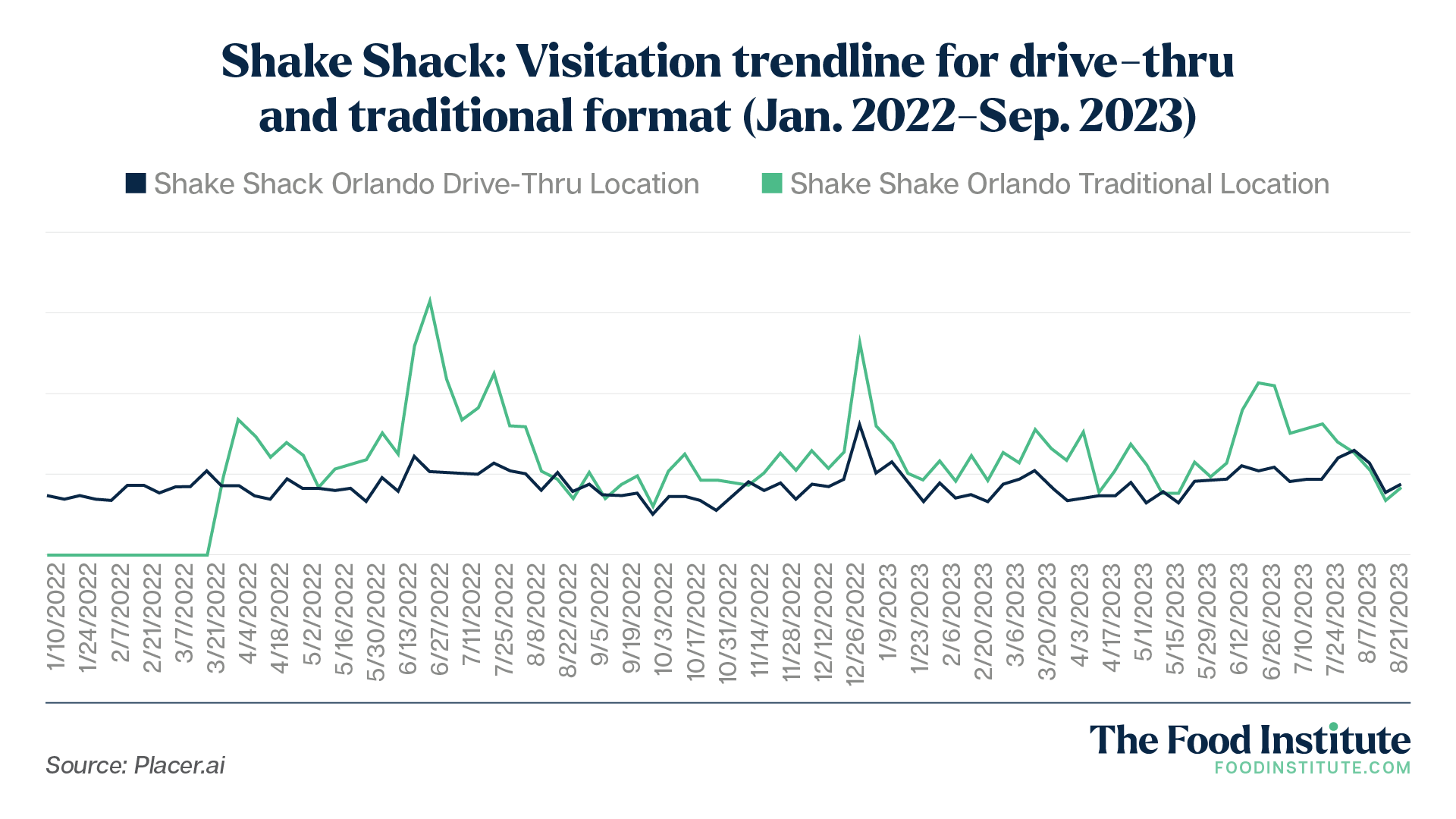 Case in point: Placer.ai data showed that one Shake Shack drive-thru location in Orlando, Florida, experienced a spike in visitations in June 2023.
"We're seeing more and more demand for … double and triple drive-thru areas," Durham said. "I don't think interest in this is going to wane anytime soon."
Malls, Reimagined
While the old-school, indoor malls of the 1980s are largely fading into irrelevance, facilities like outlet malls certainly have the attention of modern consumers.

The role of the American mall has changed, webinar panelists said.
"The newer projects are generally going to be more like a 'lifestyle center' than an indoor mall," Durham said. "The dwell time is increased [at lifestyle centers] because of the tenant mix. You can eat, you could drink, you might do some shopping.
'One of our local, newer lifestyle centers has a dwell time of 80 minutes," the Texan added, "and that was longer than retail that's been around Houston for 40 years."
C-Stores, Restaurants Blur
Convenience stores like Wawa and Sheetz have invested heavily in their food platforms in recent years, adding pick-up windows and mobile ordering. Those investments are paying dividends in the form of increased visitations, Hottovy said.
"The evening daypart seems to be where C-stores are picking up a lot more share all of a sudden," Hottovy said.
"I have to believe some of the stuff like increases in C-store popularity are generational," Durham said. "My daughter goes to college outside of Philadelphia and all she does is go to Wawa (and) that's what her friends do. These (stores) are stepping up their game."