Half of U.S. adults have tried plant-based meats, but alt-meat adoption has cooled in recent years as many have moved away from the category.
In March, Sweet Earth conducted an online survey across the spectrum of millennial and Gen-Z adults to explore the reasoning behind this decline and to source potential solutions for reigniting consumer adoption of alt-meat.
Barriers to Plant-Based Eating
According to the survey, 39% of respondents who have tried plant-based protein say they then stopped plant-based eating. Nearly 1/5 of those who have stopped say they would rather delete their social media accounts than go back to a plant-based diet.
Furthermore, only 1-in-3 respondents who have never tried plant-based protein stated they are currently open to trying these alternatives.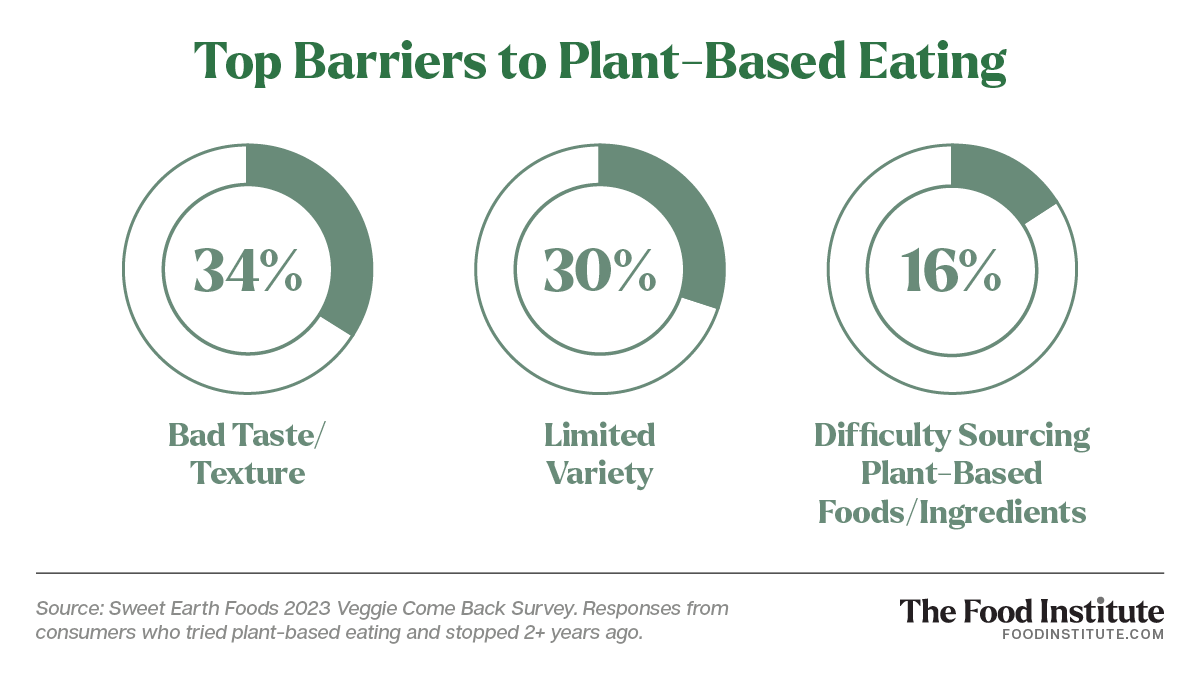 "The three main factors people cited for this shift were taste, texture, and convenience," Jennifer Barnes, VP and GM at Sweet Earth Foods told The Food Institute. "The survey results helped us understand where we can focus our efforts. We found that consumers who abandoned plant-based eating still indicated they were open to trying a plant-based diet again if taste, variety, and other product attributes improved."

Keys to Re-Engagement
Despite category hurdles, plant-based product producers continue to innovate and evolve to improve consumer adoption.
As the survey notes, among the 74% of Gen-Z and millennial adults who have tried plant-based protein alternatives, 54% currently consume plant-based proteins more than once a month.
Additionally, more than one in three respondents who have tried but stopped plant-based substituting 2+ years ago indicate that a 'variety of options' would convince them to try a plant-based diet again.
"People are leaning toward plant-based versions of their favorite recipes they love," said Barnes. "This preference gives us at Sweet Earth room for greater innovation, as we prioritize making a variety of flavor-forward dishes…for many different eating occasions."

Nutritional Priorities
While the survey does not touch on nutrition as a specific barrier for adoption, it does indicate that U.S. adults are more likely to initially follow a plant-based diet for health reasons versus concerns related to environment, animal welfare, and so on.
In response to consumer feedback and research, Sweet Earth recently elevated its product portfolio with a variety of entrées, including 15 new recipes like General Tso's Tofu Bowls and Big Sur Breakfast Burritos.
"[Sweet Earth] is continuing to evolve how we communicate product benefits," said Barnes. "Our wide range of products are Non-GMO Project Verified whenever possible."
The recent feedback also revealed that "health" has many nuanced meanings to consumers.
"We're constantly focused on giving our consumers the widest range of choices available and we encourage retailers and the plant-based industry as a whole to continue to surprise and delight consumers based on evolving expectations," Barnes concluded.
Click here to sign up for PBI – The Food Institute's free plant-based newsletter – to get related news, data, and trends delivered directly to your inbox every Tuesday.