Innovation continues to play a critical role in plant-based product advancement, but significant challenges remain in the year ahead. The Food Institute spoke with Jennifer Bartashus, senior analyst with Bloomberg Intelligence, to unpack the outlook for plant-based innovation.
Overall, the pandemic period was a volatile time for the plant-based industry.
"A lot of innovation happens in labs and dedicated centers, so the early stages of the pandemic probably dampened innovation initially," said Bartashus. "At the same time, consumer trial of plant-based products soared, which helped drive R&D budgets and encouraged more new entrants into the market."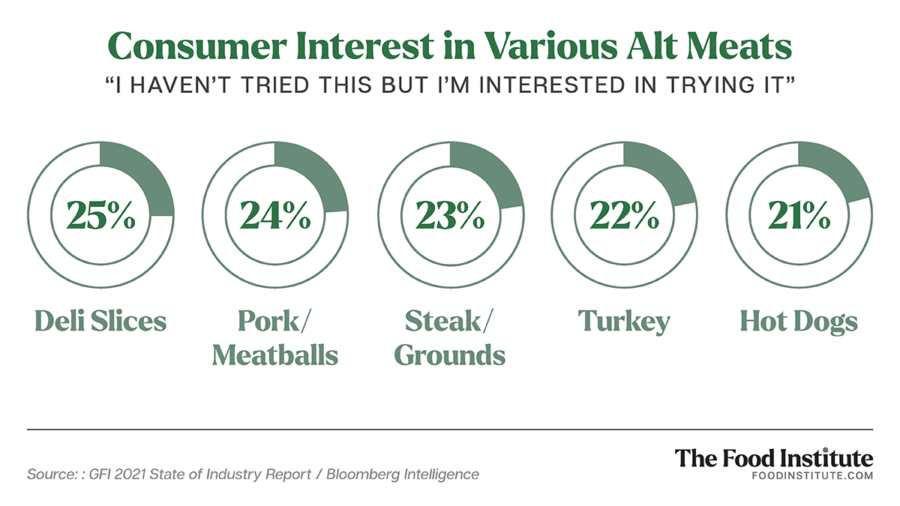 Fast-forward to 2022, the year "plant-based" was the most-searched term in food and beverage market research company Datassential's ReportPro library.
According to the Datassential 2023 Food Trend report, categories like plant-based meats – which saw a significant amount of funding early on – are hitting a natural part of the process where the bad ideas die off and the truly good ideas stick around.
"The thing that we're seeing right now is a huge number of consumers who purchased purely because they were interested in all the hype surrounding [plant-based meat]," Mike Kostyo, associate director & trendologist with Datassential told The Food Institute. "Moving forward, innovation will be essential to make products that are both price competitive and taste better. I think it's going to be really interesting what we see survive in the next few years."

Major Challenges
As Bartashus noted, the overall economic environment is not great for innovation, with companies from Beyond Meat and Oatly to larger tech-focused operations cutting their workforces.
"We're entering a period of cost-cutting and stringent zero-based budgeting as companies look to protect profit and margins, which could mean that budgets allocated to innovation or product development are scrutinized and potentially scaled back," said Bartashus.
But there's a silver ling to these financial setbacks.
"If there are fewer new products being developed and introduced, there should be dedicated marketing behind them to help ensure they hit return-on-investment goals," she added. "Strong marketing could help re-ignite consumer enthusiasm around plant-based foods."
Opportunities
Because the industry is still in the early stages of evaluating proteins and new ways to use them for alternative products, there are a lot of exciting ingredient advancements that could potentially reduce processing and improve ease of use and flavor profiles.
As global demand for plant-based products grows, the availability and cost of proteins and ingredients is also improving, which will eventually make the end-products for consumers cheaper to produce.
"Inflation is clouding this a bit at the moment, but as that starts to wane, we could see this help bring the price gap to more conventional proteins narrow," said Bartashus.
More governments are focused on food security and sustainability initiatives as well, which is pushing more research funding into the sector.
"This is a positive for the industry, and can help unlock more innovation for technology, production, and end products for consumers."

Priority Categories
Innovation will be crucial to bring early whole-muscle cuts on the market "even closer to chicken, beef, pork, fish, lamb and other conventional products," Bartashus said.
"Fermentation is a very old process, but new applications for it along with improvements in the production process are key," she added. "The need for strong innovation in supporting technology can't be understated. Things like high-capacity bioreactors and new forms of media to feed growing cells are absolutely necessary for innovation to grow in areas like cell-based meat and dairy."
At retail, Bartashus still sees significant opportunity for innovation in plant-based cheeses, frozen desserts, and other dairy products.