The pandemic era strengthened food and beverage trends like health, wellness and nostalgic indulgence. While contradictory at first glance, these behaviors are finding alignment as consumers redefine what constitutes "healthy" behavior.
Health and wellness are often discussed as one idea, but wellbeing goes beyond physical fitness and nutrition, said Nik Modi, managing director at RBC Capital Markets in a recent Food Institute Podcast.
"It's important for the industry to understand that there is this delineation," said Modi. "Wellness can take many different forms."
For instance, the pandemic has expanded the concept to include moments of indulgence, which provide a break from day-to-day stress and environmental challenges.
"It's really about that mental escape," he added.
Furthermore, eight in 10 Americans believe that physical health and emotional wellbeing are interconnected, Anne-Marie Roerink, principal and founder of 210 Analytics told The Food Institute.
"Happiness, balance, and general wellbeing are just as important [to consumers] as physical health and nutrition," said Roerink.  "Along with that premise, we see that traditional or nostalgic treats have a very unique role."
Candy, for example, enjoys a high level of permissibility. According to the National Confectioners Association (NCA) 2022 State of Treating report, 78% of all adults believe it is perfectly fine to enjoy chocolate or candy from time to time.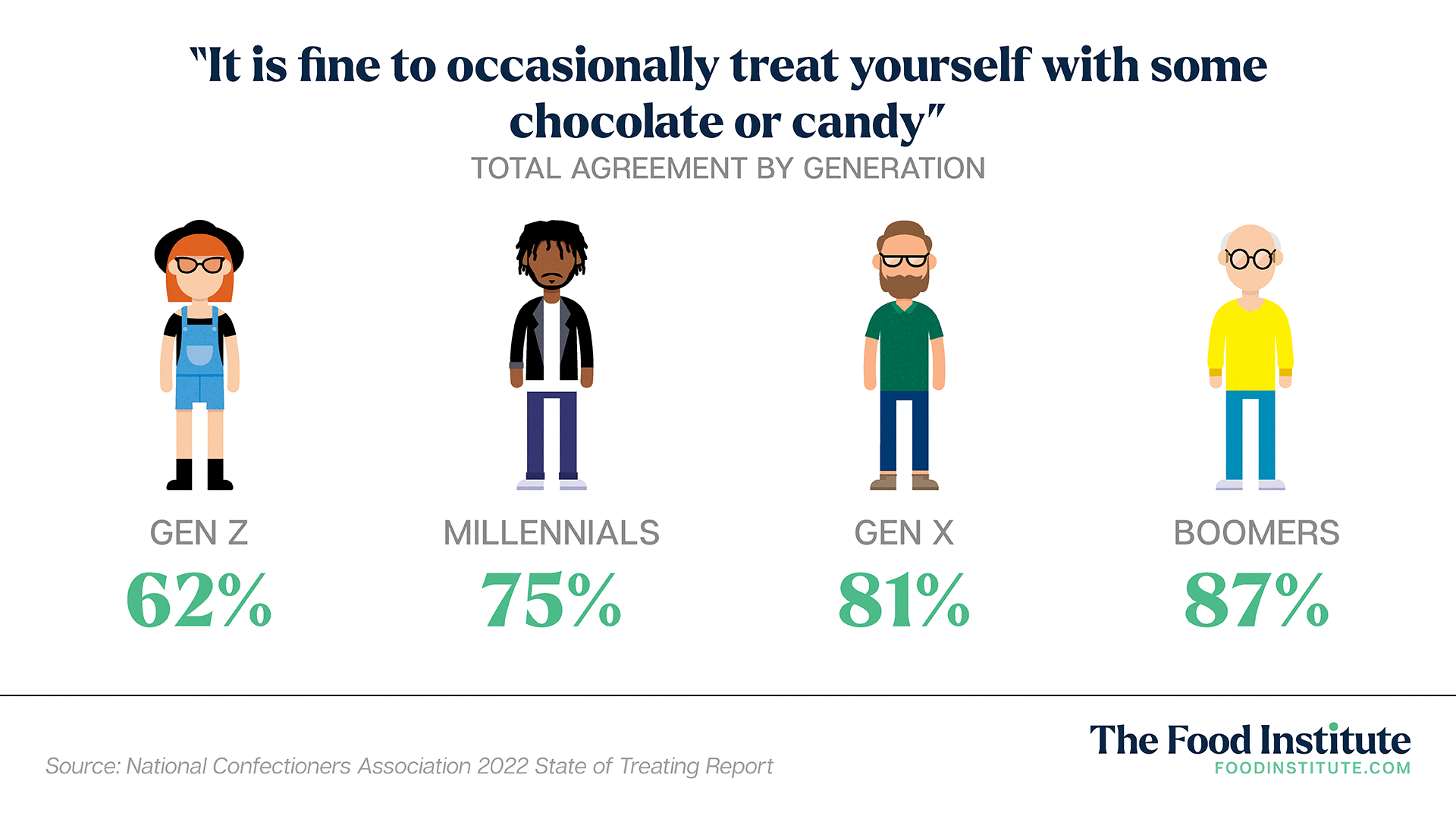 But the word "treat" is the key. Portion control and smaller pack sizes are also a priority.
Candy, chocolate, and indulgent snacks are not meal replacements and by and large consumers understand that, said Roerink, who co-authored the NCA report. "They are integral parts of celebrations, special occasions, holidays, get togethers…or just celebrating everyday life."

Pockets of Indulgence
In 2021, U.S. confectionery sales reached an all-time high of $28.9 billion in the IRI-measured marketplace, with combined chocolate and non-chocolate dollar sales growing relative to 2020, but also exceeding the pre-pandemic normal of 2019.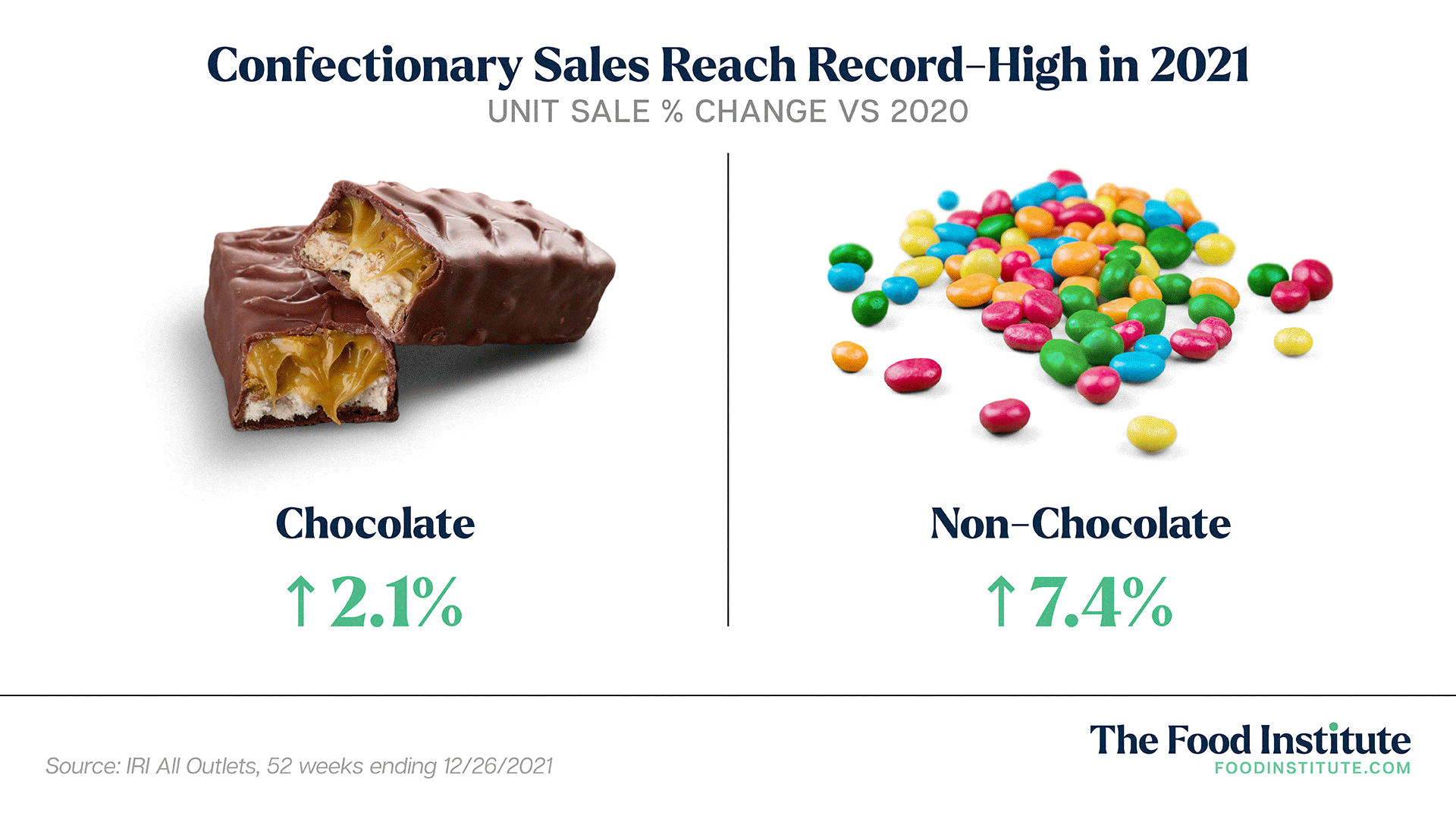 Non-chocolate confectionery resumed its role as the top growth leader, with chewy and novelty candies seeing the strongest gains alongside seasonal items, which enjoyed a lift from increased consumer mobility, according to the report.
Chocolate sales also remained strong with noteworthy unit sale boosts in sugar-free varieties (+21.4%) and gift boxes (+9.5%).
As Roerink notes, gifting and sharing are also a component of wellness. The pandemic's impact on gathering with loved ones has amplified that value.
"In all these [social] occasions, treats play a key role," said Roerink. "They are rooted in tradition and emotional wellbeing, whether selfcare or taking care of others."
Frozen treats have also seen a boost in sales, reported Supermarket News.
Data from NielsenIQ showed that sales of frozen novelties were up 5.9% for the 52 weeks ending Jan. 1, 2022, to about $6.2 billion across all retail outlets, including convenience stores.
Household penetration has also increased, driven by Millennial consumers who are longtime customers, along with a rise in demand among Gen Z.
Novelties and pint-sized ice cream allow consumers to try new flavors and offer a small dose of self-indulgence, said Marc Nosal, dairy product business manager for UNFI Brands+, in the same article. "We're seeing more consumers enjoying a few bites of ice cream out of a pint or eating a small ice cream novelty more regularly."

Reinventing Comfort Food
In moments of pandemic indulgence many consumers also turned to comfort foods and favorite snacks from childhood. Since then, nostalgic treats and snacks — many with modern twists that utilize premium or better-for-you ingredients — have been gaining traction.
In fact, brands that are reinventing comfort foods and inspiring nostalgia were a noteworthy exhibitor trend at Natural Products Expo West 2022.
"During difficult times, we often see people pull back to the familiar," said Roerink. "But at the same time, we have seen a tremendous amount of experimentation across just about every category in the store."
Innovation has been particularly strong in the confectionary space.
In interviews, shoppers tell Roerink that they look forward to the moment when the chores are done, the kids are in bed, and they get to sit on the couch, relax and enjoy a little piece of chocolate. "Others say that their gym workout is just as important to them as the five minutes of zen time in enjoying a candy bar they bought at checkout," she added.
City National Bank Managing Director Eric Viergutz echoed these sentiments in the FI Podcast, adding that he believes health, wellness, and indulgence can coexist — as long as consumers continue to prioritize active, balanced lifestyles.
"I think this notion that you can't eat these indulgent kind of comfort foods is going out the window," said Viergutz. "In moderation, there's nothing unhealthy about that."