In a quiet evolution from shelf stable baking substitutes to refrigerated scrambles and beyond, plant-based eggs are on the rise.
Consumer awareness of plant-based egg products has been increasing, but it is still a small industry compared to the traditional egg market, senior Bloomberg Intelligence analyst Jennifer Bartashus told The Food Institute. "We are seeing strong growth, but it is off an admittedly small base."
IRI data illustrate the overall dollar size of the egg alternative and substitute categories — which include plant-based egg products — compared with traditional eggs.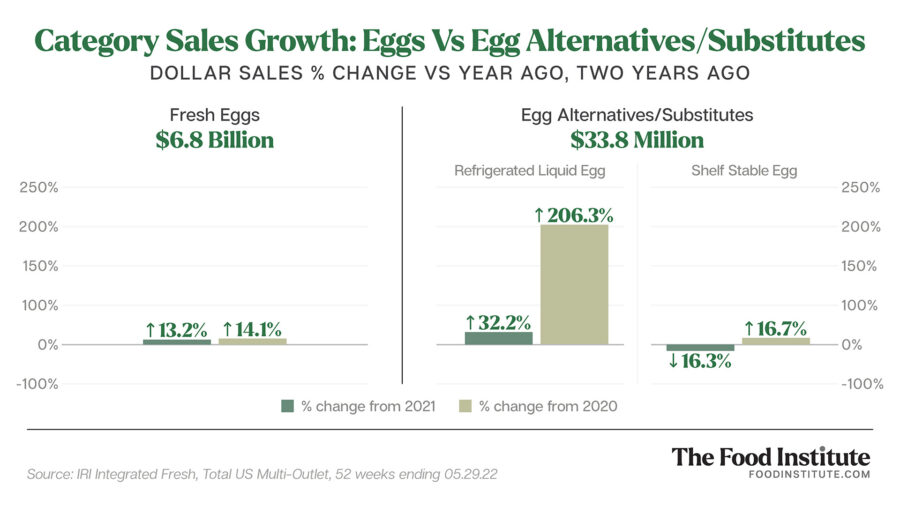 With that, the global plant-based eggs market is projected to grow at a CAGR of 21.82% through 2026, according to a forecast by Research and Markets.
Recent Innovation
At retail, plant-based eggs have been pushing into new territory in the U.S., with companies like Just Egg rolling out frozen and refrigerated sandwiches, wraps and crepes in partnership with major players like Kellogg's.
"Over time, I expect Just Egg to be part of baked goods, pastas and breads—basically anywhere that conventional chicken eggs are used," Matt Riley, chief revenue officer at Eat Just told The Food Institute.
The market has also seen a significant amount of "whole egg" innovation in the past year, with startups and companies across the globe scrambling to create animal-free substitutes beyond powders and liquids.
Israeli food-tech company Yo! Egg, for instance, debuted its realistic plant-based poached and fried eggs at the 2022 National Restaurant Association Show ahead of its U.S foodservice launch.
Company CEO Eran Groner believes taste, texture, and visual will be major contributors for the growth in this category. "Brands that will deliver on the same will be the ones capturing most of it," he told The Food Institute.

Lifestyles Drivers
Current dietary trends, including flexitarianism, are stirring innovation and trial across the market.
In a recent interview at the Bloomberg Intelligence 2022 Thematic Investing conference, Eat Just CEO Josh Tetrick noted that more than seventy percent of people that eat the company's plant-based egg products also eat animal protein.
"Our consumer is not vegan or vegetarian," said Tetrick. "They're primarily driven not by climate change or helping animals, but by health."
Bartashus believes vegetarians and vegans can also help drive growth in the years ahead, because there are specific health or sustainability attributes that appeal to them.
"Nutritionally speaking, plant-based eggs generally have less saturated fat and no cholesterol compared to conventional eggs," she said.
The adaptability of plant-based eggs, along with their ease of use and lower environmental footprint, are also driving trial.
Foodservice Activity
More restaurants are starting to incorporate plant-based eggs into their menus, which is a key means of boosting consumer awareness.
"It is a low-risk way to experiment," said Bartashus. "If there is a major advertising push with a restaurant chain, that will help drive trial and can turn into long-term purchases in a retail setting as well."
Plant-based breakfast items are also a top trend in college and university foodservice, with Gen Z students largely driving demand. In April, Yale University incorporated products by Zero Egg into a significant portion of its breakfast menu, reported VegNews.
The Fresh Egg Factor
Recent spikes in traditional egg prices could help close the price gap between eggs and egg replacement products.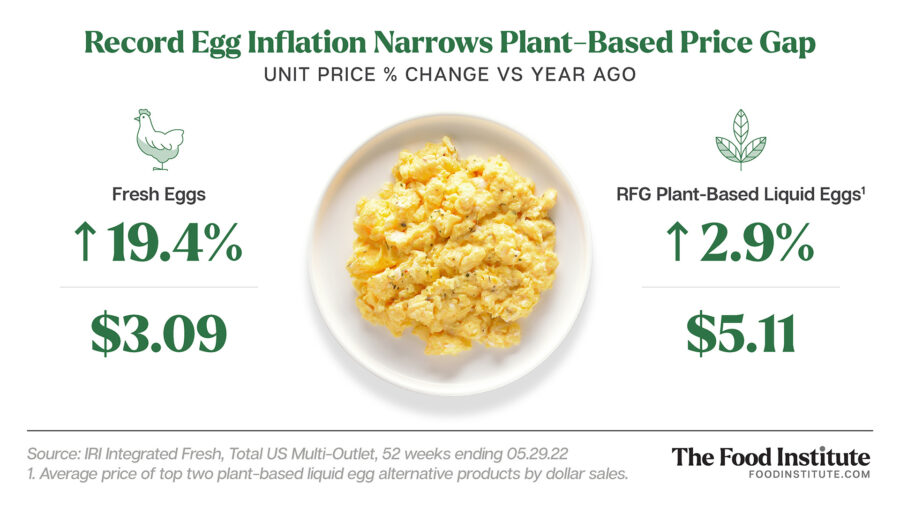 "With the highly pathogenic avian influenza (HPAI) outbreak, egg production may be at risk over the short-term, which can also be a potential driver for plant-based egg product growth," said Bartashus.
In the long term, however, pricing could remain one of the biggest hurdles for the category.
"Eggs are generally a low-cost, protein-rich food that are easily accessible to most consumers," she added. "So adapting consumer behavior could be a challenge."
As plant-based companies like Eat Just continue to pare down their price points, Tetrick's approach is to prioritize consumer's awareness and make the products better tasting, healthier, and more cost effective with every passing year.
"The biggest advantage, cost wise, that we have over a chicken egg is that roughly 53% of the cost of every egg comes from the soy and corn the chicken consumes," he told Bloomberg. "[Egg companies] are stuck with that cost, we're not."