Consumer demand for shell eggs should remain strong in the near-term despite year-over-year price increases, due in part to the value proposition eggs provide for consumers searching for protein options, according to industry analysts.
Eggs Present Value Protein Option
Food Institute analysis of USDA data found that, although prices for a dozen white eggs in cartons dropped 24.2% month-over-month as of June 14, prices were still up 129% when compared to the prior year.
Despite significant price increases earlier in 2022, demand for eggs was entering a seasonal lull following the Easter/Passover holidays in April, according to Eggs Unlimited Global Trade Strategist Brian Moscogiuri.
With that, eggs are still an attractive option for many consumers.
"Eggs are still one of the most affordable proteins in the store, especially as competitive protein prices remain elevated. As consumer dollars are swallowed up by grocery costs, gas prices, and interest rates (inflation), they may turn more to value items like eggs to feed their families," Moscogiuri told The Food Institute.
Karyn Rispoli, egg market reporter with Urner Barry, agreed.
"There's no question eggs are still the cheapest protein option available, but consumers have experienced a bit of sticker shock…Has that stopped them from buying eggs altogether? Probably not. Has it stopped them from buying larger pack types, where price points are even higher and they may end up with potential food waste? All signs point to yes," she said.
At the retail level, volume sales for fresh eggs dropped 6% in the 52-weeks ending June 5, according to IRI data. Meanwhile, dollar sales increased 13.2% to nearly $797.3 billion during the period, showcasing the impact of inflation on the sector.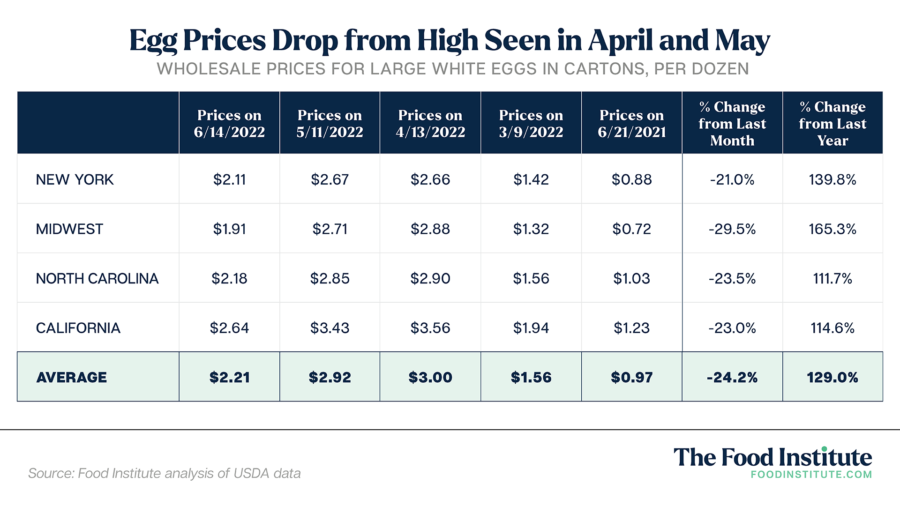 "The average consumer probably isn't thinking about the comparative purchasing power they possess, but rather that eggs and food in general simply costs more today than it did last year or even just a few months ago," said Wells Fargo Sector Analyst Kevin Bergquist, citing USDA data from June 10.
"And yet, the changing cost of protein across the spectrum of choices is quite varied," Bergquist added. "Year-over-year retail prices for proteins are all higher in May compared to last year: beef (up 17% for ground beef), pork chops (up 7%), chicken (up 19%), and eggs (up 76%). But when it comes down to a comparison of value instead of cost, eggs are still a winner on the relative hit to the pocketbook."

Inflation Projections for Eggs Enter Double Digits
USDA projected retail prices for eggs could rise by 20.5%, and farm-level prices by as much as 76.5% amid the current inflationary environment.
Moscogiuri said the egg industry was contending with increased diesel and gas costs, making it more expensive to move the product. Peak backups at West Coast ports earlier in the year also helped to push prices up as producers searched for available trucking.
"Anecdotally, some companies in the value chain have increased prices based on fuel surcharges more than five times thus far in 2022, and they're still not keeping up with the skyrocketing fuel costs," Bergquist said.
Rising transportation costs and a lack of available labor are also impacting pricing.
"In addition to record-high fuel costs, a lack of labor has certainly contributed to some of the transportation woes affecting the industry, as drivers remain scarce—causing product to sometimes back up at plants and warehouses," Rispoli noted.

HPAI Cut Production in Spring
Highly-pathogenic avian influenza was a major recent contributor to egg price inflation, with between 29 million and 30 million egg-laying hens either dying from the disease or being culled to prevent its spread, though that was about 5 million bird shy of those lost in the 2015 outbreak.
Moscogiuri said most producers were making efforts to repopulate facilities as quickly as possible, and doing what they could to stem the spread of the virus. He was hopeful the worst of HPAI was behind the industry in 2022, but recent discoveries of the virus in both Colorado and Arizona could impact the market in the months to come.
Rispoli pointed to increased biosecurity measures at egg-laying facilities, saying most of the reported cases were "unique instances brought about by environmental factors, not tracked from farm to farm."
USDA data in April indicated a 4% year-over-year loss in table egg production and a 6% loss in the national egg laying flock.
"Egg producers cannot quickly add new chicks to replace the euthanized layer flocks, and extending remaining layer production beyond scheduled replacement at other sites is the only practical short-term mitigation measure usually employed by companies for the loss of a flock," Bergquist said. "It is expected that flocks will likely be replaced in a timely fashion, and the number of eggs in incubators is running slightly higher than average to facilitate this strategy."
Stay up to date on inflation developments using The Food Institute's Inflation Central page: Click Here