The American Bakers Association (ABA) and SNAC International recently hosted a webinar describing the current state of the snack and bakery industry. Presented in partnership with Circana (formerly IRI), the webinar featured a slew of in-the-know snack and baking executives and described many of the challenges and opportunities in snacking and bakery. The presenters included:
Eric Dell – President & CEO, American Bakers Association
Christine Cochran – President & CEO, SNAC International
Sally Lyons Wyatt – EVP & Practice Leader, Circana
Melissa Altobelli – Client Insights Principal, Circana
One thing made clear by Christine Cochran of SNAC International is just how crucial the snacking and bakery industries are to the American economy.

"The snacking industry is vital to the nation's economy," she said, citing over $186.4 billion in sales last year – roughly 27% of all food/bev sales in the U.S. The industry also employs almost 400,000 workers responsible for over $15 billion in wages and $11 billion in collected tax revenue.
"It's a great time to be in the snacking and baking industries," said Circana's Sally Lyons Wyatt, who added that the industry is showing great promise despite "some very tough times."
"Consumers have been through so much, between rising debt, depletion of savings, the cost of housing, and the reduction in SNAP benefits impacting F&B spend," she added.
Despite roughly $6.5 billion of monthly "money in" to the industry after cost-of-living adjustments, the money out is more of a concern as the fall season approaches; the recent reduction in federal SNAP benefits impacted 42 million people for a roughly $2 billion net reduction; that's a lot of "money out." With student loan payments returning after the pandemic hiatus, roughly 45 million borrowers will have an average hole of $503 per month in their pockets unless federal legislation is passed to pause the payments once more.
In other words, she said, "there's not enough money coming in to offset what's heading out."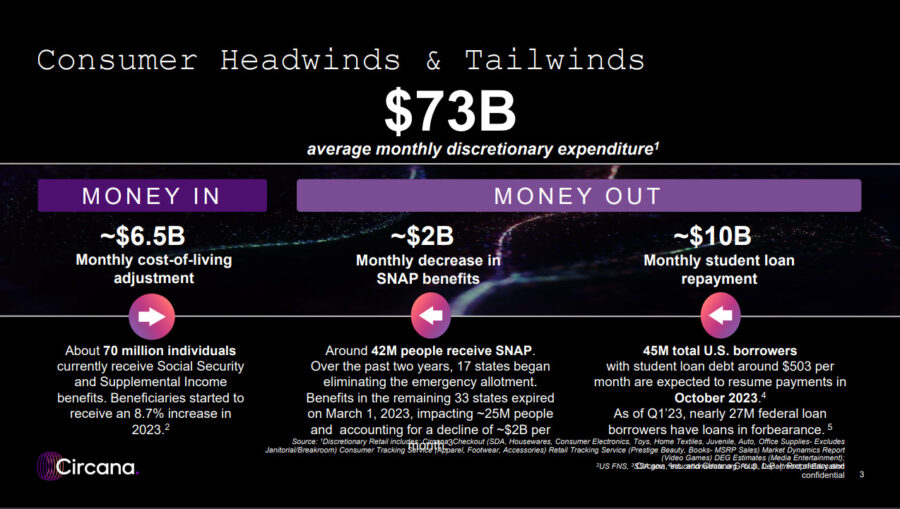 Nonetheless, core snack trends are improving. Core snacks are the typical pantry staples such as cookies, crackers, candy, and sweets. And despite unit declines, snacking as a whole is not down compared to 2019; main meals are up per capita by 1 point; snacking, however, is up 3 points per capita as almost half of all consumers snack at least three times per day. Snacking is up 8% over the past two years and dominated by non-chocolate candy and salty snacks.
"People are snacking during all parts of the day," she added. Morning snacking has seen a 6-point uptick since 2021, possibly due to the return to the office workforce for many American workers. Late evening snacking is driven by children, teens, and students.
Which Snacks are Winning?
The top five dollar volume of core snacks include potato chips, cookies, crackers, tortilla/tostada chips, and AO (all other) salted snacks (no nuts). And everyone is winning on dollars—tortilla chips have bucked every trend over the past two years with positive growth in units and volume.
The top unit sales gainers are frozen ice / milk desserts; non-chocolate candy and sugarless gum; corn snacks (not tortilla chips); tortilla/tostada chips; ready-to-eat (RTE) popcorn / caramel corn / kernel popcorn.
"Consumers have choices and those choices help keep the snacking industry strong," she said, highlighting several factors and trends from recent Circana data:
83% want bold flavors

71% want convenience

66% snacks to fuel the day / satiety

62% want snacks to be fun and indulgent

50% of consumers snack instead of eating a meal due to on-the-go lifestyles
"True indulgence continues to outpace the other snacking segments, particularly in better-for-you/wellness and permissible indulgence," she added.
Multipacks and variety are winning many SKUs. Forty-nine percent of consumers look for multipacks, which have enjoyed a 20% increase in dollar sales though volume remains relatively static. "That makes sense," she said, "as consumers will pay more for what they love without abandoning multipacks completely."
Thirty-two percent like multipacks for portion control; twenty-nine percent for less food waste.
Don't Harsh the Classics
Tried and true flavors are driving the most dollar sales. The top grossing flavors are chocolate chip, chocolate, cheese, flamin' hot, honey, cheddar, and BBQ.
"If the taste and product are right, these do well from a sales perspective, though they're not always the top growing categories."
When Lyons Wyatt's team analyzed the data from another perspective, another snacking truth came through – you can win on flavor across the type and style spectrums. The top percentage change in units and flavors were in bold and zesty flavor combos, such as sweet, tangy (dill pickle, limon, sour strawberry); blends (honey BBQ, salsa verde, habanero lime); hot & spicy (flaming hot; spicy sweet chili; hot chili pepper).

As inflation wanes but still looms large – especially in food prices – consumers are shopping more at value grocers, club, dollar, and even military venues, "which are really grabbing the hearts and minds of consumers."
Tradedown is also occurring across top categories such as non-chocolate candy, potato chips, tortilla/tostada chips, and AO salted snacks, "allowing consumers who can't afford larger price points to stay in the brand and category."
The heyday of private label is still upon these industries. Sixty-one percent of consumers have switched to private label brands when the budget is tight, and private label experienced a 12% sales increase in 2022 versus 2021.
Lyons Wyatt had several strategies for grocers and retailers to stay competitive and to attract and retain consumers as snack growth is forecast ot grow an additional 7% – 9.5%:
Start/enhance price/pack size architecture and offer options in variety multipacks.

Digitize insights and analytics for faster-decision making and

encourage omnichannel participation

.

Align dayparts with package and size offerings.

Find the right intersection of quality, convenience, promotions, and price.

Innovate quickly.

Focus on differentiated experiences and relevant offerings for people on-the-go.

Make sure offerings have functional benefits consumers desire.

Accelerate digital marketing.
The Dough (and Revenue) is Rising in Bakery
Closing the presentation was Melissa Altobelli, client insights and bakery vertical lead at Circana.
Altobelli had good news for the bakers (and bakery eaters) of the world: total bakery has been outperforming total edible from a dollar and unit trend perspective. Bakery perimeter has been outperforming center-store sales on a unit trend basis despite perimeter consumption not quite returning to pre-pandemic levels. Center-store consumption, however, has returned to where it was before the world shut down.
Baking perimeter categories making gains included breads, buns and rolls, croissants, tortillas/wraps, bagels, and English muffins.
"The multifunctionality of tortillas are really appealing to consumers looking for cost savings and to stretch the dollar," Altobelli said, highlighting the versatile food in all its many applications, from breakfast tortillas to tortilla pizza, sandwich bread alternative, and more. Furthermore, tortillas fit almost every better-for-you category as they can be low-carb, Keto-friendly, vegan, flavored—they're a perfect medium for both snack and main meal consumption.
Still, consumers are facing close to 30% higher prices in today's bakery than in 2019, and the data echoes other trends across the greater foodscape: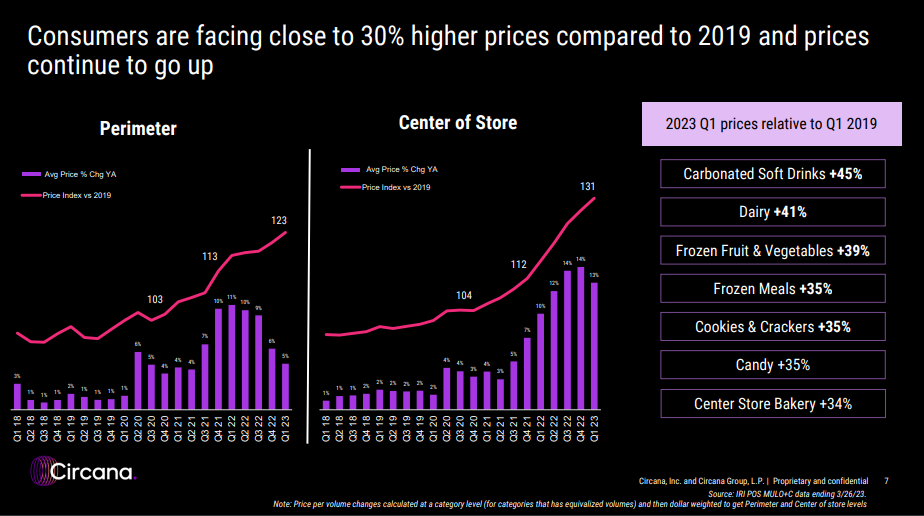 93% of shoppers are concerned about food inflation and still changing habits.

51% want sales.

45% are cutting back on non-essentials.

The average number of items bought per trip has been trending downward for two years.

There are fewer people eating in restaurants than opting for takeout or delivery.
Altobelli mentioned another truth of the contemporary consumer and market: convenience and online purchasing are driving unit growth. C-store is gaining share of foodservice traffic in edibles, which made sense to her "given the single-serve nature of some sweet goods."
Furthermore, national brands in breads and rolls are losing dollar and unit share to private label across all bread sub-categories; in center-store branded breads and rolls, however, dollar share still exceeds pre-pandemic levels. "We're still ahead of where we were in 2019 from a national brand perspective," she said.
Like snacking, tried and true flavors are driving dollar sales in breads and rolls, particularly white and wheat. Hawaiian is the next largest category though flat from a sales perspective.
Here are the flavors driving growth in unit and sales:
Brioche (22%)

Pretzel (11%)

Buttermilk (11%)

Cheese (8%)

Sourdough (5%)
She saw brioche as a trend that's here to stay. "Any why not?" she mused, "Most restaurant and fast-food places offer a brioche bun. And sourdough may be connected to gut health, further helping that category."
Better-for-you products are driving growth in this category, touting Keto-friendly, low net carbs, low-cal, organic, and non-GMO. "There were a LOT of KETO introductions in 2022," she said.
What's more, alternatives to sliced bread are gaining mainstream momentum, including cheese wraps, egg wraps, egg white wraps, and street tacos, which like their tortilla cousins can provide carb balance, are keto friendly, and can be dressed up or down in several flavors.
Altobelli concluded with several strategies to capture more opportunities in bakery, including:
Demonstrate value beyond lowest cost—center-store bakery price points are up 34%.

Develop enhanced price pack architecture per channel.

Focus on relevant, targeted promotions to entice and retain shoppers such as back-to-school or for the impending NFL season.

Review assortment and innovation to promote better-for-you attributes.