As the coronavirus pandemic continued to stress global economies, Asian countries took steps to ensure their own food supplies, with the dynamic particularly pronounced in rice markets.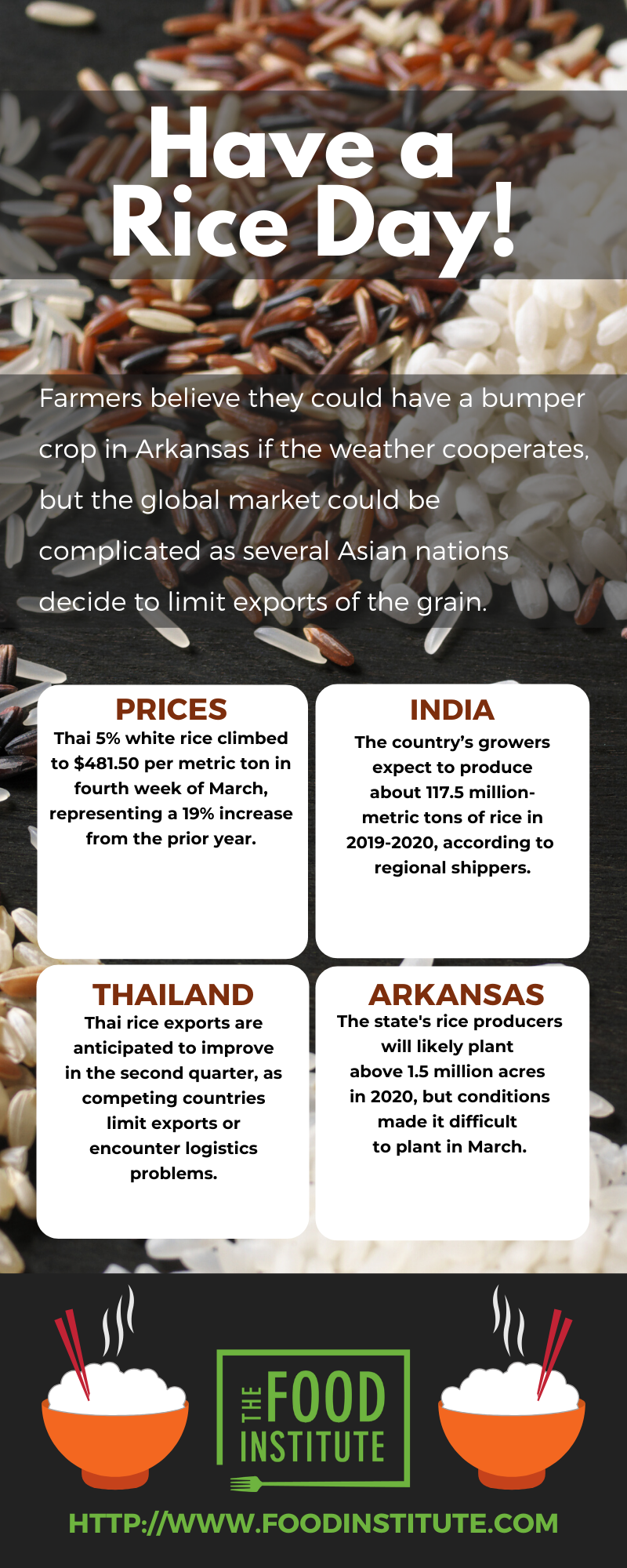 China was one of many countries looking to stockpile food as it pledged to buy more rice than ever from its domestic harvest in 2020. The nation, the world's leading grower and consumer, typically holds stockpiles of rice and wheat that could last for one year of consumption, reported Bloomberg (March 24).
A variety of nations across the globe are also locking down exports of food products, including Kazakhstan, Vietnam, Serbia, and Russia. Vietnam temporarily suspended new rice export contracts as it looked to ensure its own supply, which could be a problem for other nations that rely on the country's harvest, including the Philippines.
The country's government is looking to import 300,000 metric tons of rice to ensure sufficient domestic supply. It usually buys from Vietnam along with some volumes from Thailand. Even if Vietnam decided to lift its export ban while maintaining a quota, the temporary closure would still affect the Philippines, which became the world's biggest rice importer in 2019, reported Reuters (March 30).
Further complicating the Philippine market was a logjam at the country's largest port. Businesses at the Manila International Container Port typically retrieve 4,000 containers daily, but that number dropped to about 1,600 since the lockdown began, according to Philippine Ports Authority General Manager Jay Santiago, who said the port was operating at as much as 98% capacity, reported Bloomberg (April 1).
The country's Transport Department was working to declare cargo that was not discharged from vessels for more than a month as abandoned after five days, and it was looking to cut down the free storage period to five days from seven days. Additionally, Cambodia will ban some rice exports starting April 5 to ensure local food security. Government figures show the country exports only about 500,000 metric tons of rice annually, reported Reuters (March 30).
Although not a major force in the rice export market, Cambodia's decision was emblematic of many nations in the region. "I have ordered the suspension of white rice and paddy rice exports but allowed the export of fragrant rice until there is a new regulation for domestic supply," Prime Minister Hun Sen said in a speech, who added the measure would take effect from April 5.
One exception is Thailand, as Thai rice exports are expected to improve in the second quarter due to competing countries limiting exports or encountering logistics problems, according to Chookiat Ophaswongse, the honorary president of the Thai Rice Exporters Association. Thailand's output this year, hurt by an ongoing drought since November, would be enough to ensure no domestic shortage, while leaving a smaller surplus of around 8 million-metric tons for exports, reported Reuters (March 31).
The country typically produces over 20 million-metric tons annually, and its domestic consumption reaches about 10 million-metric tons. Accounting for hurt output, Ophaswongse noted about 8 million-metric tons available for export.
Prices were on the increase, with benchmark Thai 5% white rice climbing to $481.50 per metric ton in the fourth week of March, representing a 19% increase from the prior year. The pricing, the highest since Aug. 2013, was between $70 and $120 higher than a similar Vietnamese rice grade and a parboiled Indian variety.
A major unknown in the market is India, which recently ordered its population of 1.3 billion to stay at home as the country contends with the coronavirus pandemic. However, India's top rice shippers believe the country is ready to export rice as it produces more than enough to meet domestic demand, reported Yahoo! Finance (April 3).
The country is expected to produce about 117.5 million-metric tons of rice in 2019-2020, and wheat production is expected to reach an all-time high of 106.2 million-metric tons.
"India is not deficient in production and, in the immediate foreseeable future, there does not appear to be a cause for concern over food security," said Vijay Setia, director at Chaman Lal Setia Exports Ltd., a rice miller and exporter. "We may have sufficient surplus for exports."
In February, USDA forecast global rice production in 2019- 2020 at 496.2 million-tons, down 3.0 million tons from the year-earlier record. Global rice consumption and residual use was projected to be a record 493.1 million-tons in 2019- 2020, up 6.4 million-tons.
Domestically, U.S. rough rice stocks in all positions totaled 86.1 million-cwt. on March 1, down 17% when compared to the total reported March 1, 2019, according to USDA. Stocks held on farms totaled 14.4 million-cwt., while off-farm stocks totaled 71.8 million-cwt.
Long grain varieties accounted for most of total rough rice, representing 60%. Medium grain accounted for 38%, and short grain varieties accounted for 2%. Milled rice stocks in all positions totaled 5.24 million-cwt, up 26% from a year ago. Milled rice stocks were comprised of 3.3 million-cwt of whole kernel rice and 1.9 million-cwt of second heads, screenings, and brewers rice.
U.S. farmers planted 17% of projecting rice plantings as of April 5, the same percentage reported on the date in 2019, according to USDA. Production was up in Texas on the date when compared to the prior year, while Arkansas, Mississippi, and Missouri farmers lagged behind their year-ago figures.
Arkansas rice producers will likely plant above 1.5 million acres in 2020, but conditions were making it difficult to plant, according to Jarrod Hardke, PhD, rice extension agronomist at the University of Arkansas System Division of Agriculture. However, it remained unclear how the coronavirus pandemic would affect production in the state going forward, reported Delta Farm Press (March 30).
NOAA reported the region received about 150% of its normal rain totals since Jan. 1. The wet weather also covered the region for most of the past 18 months, and the early-planted rice planting window was nearly passed. "Given everything else that's happened, 1.5 million acres, assuming we have the opportunity to plant it, is actually at the low end of my expectations," said Dr. Hardke.
However, he noted the regions' rice producers were mostly unaffected by the pandemic thus far. "The first week when the weather opens up enough for us to do anything, it's going to be a pretty good barometer of how the pandemic might affect farming. We just don't have that information yet," he said.