Nearly 3.3 million Americans applied for unemployment benefits last week—more than quadruple the previous record set in 1982, reported CBS News (March 26).
As job losses mount, some economists say the nation's unemployment rate could approach 13% by May.
The foodservice industry is feeling the impact as restaurants are projected to have their worst year on record, reported Restaurant Business Online (March 25). According to Technomic, industry sales are expected to decline anywhere from 11.4% this year to 27.1%, based on the length of the coronavirus-related shutdown and the severity of any following recession.
"When you've basically shut down the system, most of the system, very quickly and expect it to linger, that's what's expected," said Joe Pawlak, managing principal with Technomic. "The longer-term impact will probably be the recession."
In the past, the restaurant industry only rarely experienced periods in decline, none of which approach the projected 11.4%. Technomic's estimates are based on the potential length of a shutdown. If new COVID-19 cases plateau and decline starting in the middle of the second quarter, dine-in restrictions are lifted, and the resulting recession is mild, sales will fall on the lower end.
According to Restaurant Business Online executive editor Jonathan Maze, the restaurant industry changed for good on March 15 as local officials began closing bars and restricting restaurants to takeout service.
"The number of claims jumped by 3 million in one week, reflecting large numbers of layoffs and furloughs as companies suspended operations. A huge percentage of those are certain to be restaurant workers who lost their jobs as operators closed up shop," said Maze.
Maze noted few industries can withstand this kind of shock without coming out damaged, adding that restaurants are especially unprepared as much of the industry consists of small businesses, including independents and franchisees, who operate on thin margins to begin with.
The weakest companies, those that were already struggling with credit challenges, could end up in bankruptcy first. "There are troubled deals that are already in workout," said Jordan Myers, an attorney with Alston & Bird in Atlanta. "This whole situation is just exacerbating the problem." The longer the shutdown goes, the more companies could end up filing.
OpenTable recorded the year-over-year change in restaurant diner numbers on three consecutive Saturdays in February and March, displaying the abrupt change in the number of seated diners, reported Vox (March 16). In New York City and Boston, patronage was down 64% on Saturday, March 14, compared with the same night a year earlier. Every major city appears to have felt a severe drop.
Meanwhile, Luby's is temporarily closing 35 restaurants across three banners to mitigate financial and operational impact. The company is furloughing half of its corporate office general and administrative staff and the remainder will face a 50% pay cut along with all salaried and senior management positions. The pay cuts are to last until further notice and will be periodically reassessed as the situation regarding COVID-19 develops.
The Cheesecake Factory says it will not be able to make upcoming rent payment for any of its storefronts on April 1, reported Eater LA (March 25).
The Calabasas Hills-based company informed all of its landlords in a letter dated March 18 that a severe decline in restaurant traffic decreased its cash flow and "inflicted a tremendous financial blow" to business. Cheesecake Factory's affiliated restaurants, such as Rock Sugar and North Italia, will also not make April 1 rent payments.
Additionally, Yum Brand has about 7,000 restaurants closed around the world, reported CNBC (March 25).
Unemployment Claims Spike During The Coronavirus

Crisis
Initial claims filed weekly since Jan. 7, 2006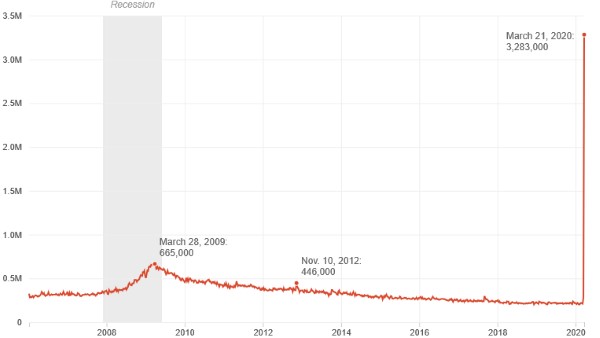 Source: Department of Labor unemployment insurance weekly claims report (March 26, 2020)
Credit: Connie Hanzhang Jin/NPR