Despite persistent inflation and cost-of-living concerns, consumers continue to seek out prepared foods for their ease and convenience.
In a new survey from good natured, 72% of respondents claimed they have consistently purchased or increased their consumption of ready-to-eat meals since the start of the year, including meal kits, grab-and-go, takeout, and delivery.

In the second quarter of 2023, for instance, customers placed a record 532 million orders on DoorDash, and the gross value of those orders rose 26% to $16.5 billion, reported Bloomberg.
Furthermore, total dollar sales for deli prepared foods and meals reached $24.5 billion in the 52-weeks ending July 23, per Circana, marking a 6.7% increase year-over-year.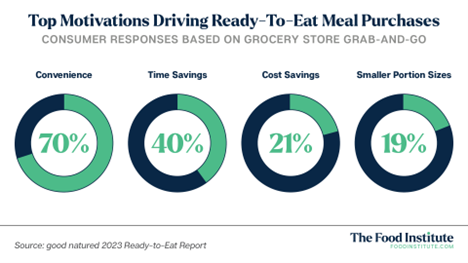 "Convenience eating has always been a trend, but what's changed is how people are consuming takeout meals," said Paul Antoniadis, CEO of good natured. "What was once grabbing a pizza and bringing it home has turned into salad bars and grab-and-go lunches from the grocery store, pickup and takeout from your favorite restaurants, and quick service meal spots where you can dine-in or takeaway."
Lifestyles Conflict with Cooking at Home
The survey also revealed that many consumers feel cooking and meal prep take time away from social and leisure activities.
Thirty percent of respondents said they are prioritizing work, sleep, and household chores with any free time that they have, and 69% indicated that buying convenience foods allows them to spend more time with family or pursue fun projects.
This desire for work-life balance builds upon the prepared food purchasing behaviors set in motion during the pandemic era.
"One of the biggest changes in convenience eating within the last few years has been an increase in the number of options available to consumers… with grab-and-go meals and takeout dinners [now] being served from food trucks and pop-ups, restaurants, and grocery stores," said Antoniadis.
Eco-friendly Packaging Confusion: The Next Hot Climate Issue?
To help reduce the effects of climate change, consumers are also looking at product packaging while they shop. Seventy-seven percent of respondents say that eco-friendly food packaging is important to them and nearly feel that it is a business's responsibility to provide eco-friendly options.
The survey also indicated that more consumer education around product disposal and end-of-life is needed. Nearly 1 in 3 respondents have good intentions to dispose of or recycle their food packaging but don't know the proper procedures to do so. For instance, 76% of respondents typically wash their food containers thoroughly but only 33% believe they are recycling or disposing of them properly.
---
The Food Institute Podcast
How can a dairy operation balance the ESG demands of consumers while still creating delicious cheeses and ice cream? Tillamook County Creamery Association executive vice president of stewardship Paul Snyder joined The Food Institute Podcast to discuss the brand's sustainability goals, its Oregon-based history, and the company's expansion to the U.S. East Coast.