As rampant inflation tightens its grip across the food industry, many consumers are cutting back on grocery staples and trading down to cheaper items.
All the while, higher-ticket prepared food sales are soaring.
Comparative unit sales for deli prepared foods and meals were up 14.1% for the 52-week period ending March 27, per IRI data, with many categories seeing double-digit boosts.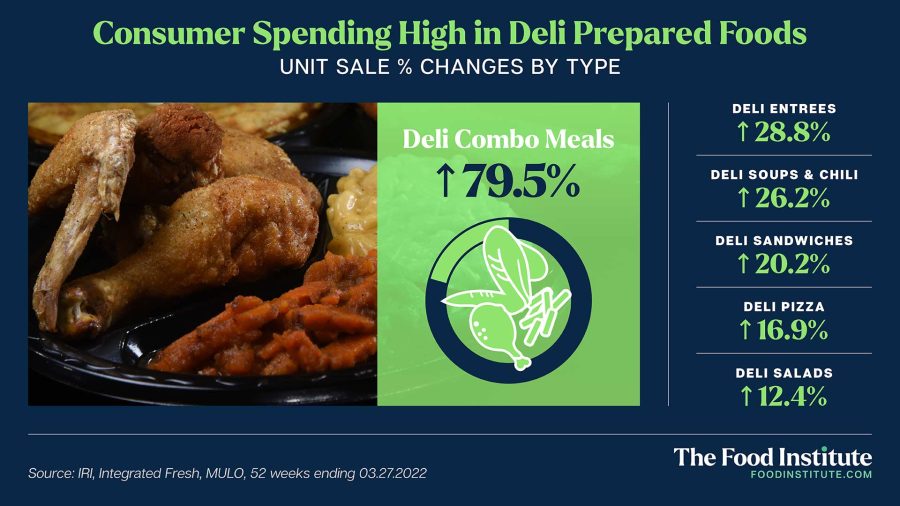 Amidst ongoing price hikes "you would think that we're all going back to cooking from scratch and that is not true at all," said Anne-Marie Roerink, principal and founder of 210 Analytics in a recent IRI Fresh Pulse podcast.
"What we're seeing is what I call 'the hybrid meal' where people cook some items from scratch, and some items are either semi-prepared or fully prepared."
Here are a few key drivers behind this purchasing behavior.

Meal Prep Challenges
After two years of more cooking at home, Americans have grown weary of preparing meals.
"The undercurrent of everything right now is meal fatigue," said Jonna Parker, team lead for IRI Fresh, in the same podcast. "Anything that can happen to help people escape, save a little time, and feel good about things — I think we're seeing that across the store."
Value-added products have further relevance as daily routines have, to some extent, returned to normal.
"Before the pandemic, convenience items that saved you time by paying a little bit more just really did well," said Roerink. "And this idea of `I need help in the kitchen, not just because I'm tired of cooking but also because I'm just smack out of time' — that is absolutely back."

Retail vs. Restaurant Spending
Consumers have returned to restaurants but not in pre-pandemic numbers, and supermarkets are seizing opportunities to capture foodservice sales through prepared food channels.
As Roerink notes, some retailers are shifting their promotional messaging to highlight the notion that cooking at home is less expensive than ordering out.
For instance, the idea of "bringing the steak house to you" gives consumers permissibility to say it's okay to buy a ribeye because it is still a lot cheaper than dining at a restaurant, she said. "They're really starting to fight a little bit more for their space."