In the U.S., pasta appeals to a wide range of lifestyles, budgets, and age groups due to its versatility, ease of preparation, availability and cost-effectiveness. According to the National Pasta Association (NPA), which supports and promotes the pasta industry, popular pasta trends fall into three main categories: the return of comfort food, interest in Mediterranean cooking and the rise of plant-based foods. Throughout the last few months, heightened interest in health, increased at-home cooking activity, and uncertainty about the future significantly intensified and reshaped these trends.
Families sheltering at home and adjusting to a new "normal" turned to pasta dishes for quick, easy, nutritious, and affordable meals. Other consumers, yearning for restaurant-quality meals and eager to experiment in the kitchen, purchased high-end pastas. As a result, in the retail sector, the pasta industry experienced unprecedented growth in all product forms—dry, fresh, frozen, refrigerated, and stuffed. At the same time, restaurant, cafeteria, and catering shutdowns decreased foodservice sales, forcing many manufacturers to rethink marketing plans.
A Need for Comfort Foods
The love of comfort food, and pasta's integration into that category, is nothing new. For decades consumers have been turning to pasta during hard times. According to a recent Grain Foods Foundation survey of over 1,000 U.S. adults representing a cross-section of the population, approximately one-third of U.S. consumers named pasta (36%) and bread (29%) as foods that are comforting during a stressful time. More significantly, it also revealed that roughly the same percentage recognize bread and pasta among the most nutritious of all the comfort foods they turn to.
Recently, however, the type of comfort food has changed. Prior to the COVID-19 pandemic, pasta experienced a renaissance in comfort food. The NPA reported consumer upticks in modernized versions of classic dishes, notably "comfort food with a twist." Popular items included vegetarian lasagna, stuffed tortellini, and healthy chicken parmigiana. However, during the pandemic, comfort foods and pasta dishes prepared in a more classic style have become a top food trend.
Consumers looking to return to the basics are searching for comfort and familiarity in an increasingly chaotic world, as evidenced by a recent survey conducted by NPA. The survey found that out of the 1,771 respondents who answered, nearly 24% of them noted their favorite pasta dish was the classic fettucine alfredo. Other classic dishes quickly followed, with 11% opting for chicken parmigiana, 10.7% choosing lasagna, 9.4% selecting classic carbonara, and 8.8% marking spaghetti and meat sauce as their favorite.
Further, according to a recent Wall Street Journal article, "the world's largest makers of packaged foods say frozen pizza, pasta sauce, and mac and cheese are rising in favor as consumers in lockdown eat at home." Likewise, a recent survey conducted by Nuovo, a specialty pasta manufacturer, noted that 70% of respondents indicated they consumed dry pasta at least once within the last three months. During that same period, 40% had dry flavored pasta (i.e. macaroni and cheese), 36% had egg noodles, 20% had frozen pasta, and 18% had refrigerated pasta.
Influence of Mediterranean Diet on Pasta
There's no question that when it comes to Mediterranean cuisine, Italian food comes to mind. In the U.S., Italian food ranks third as the most popular ethnic cuisine, beat out only by Chinese and Mexican. Pasta plays a primary role in this cuisine.
Known for its health promoting properties, the Mediterranean Diet is enjoying a surge in popularity due to increased concerns around health and the role of diet in staving off illness. Key components of the diet include fruits, vegetables, seafood, lean meat, nuts and legumes, beans, and whole wheat. Pasta is a healthful ingredient that fits naturally into the whole wheat category. It is an ideal vehicle for adding healthful and plant-based foods as well as high protein items like lean meat and poultry into a diet. As concerns over health grow, consumers are turning towards lifestyle diet options like the Mediterranean Diet, which provides health benefits like the preservation of cognitive function, improved brain health, lowered risk of heart disease, and a reduced risk of breast cancer and depression.
Pasta's prominent role in the Mediterranean Diet has not only elevated the ease and attractiveness of Mediterranean cuisine, but also fueled interest in another popular food trend: the rise of plant-based diets.

Plant-Based Popularity Grows
For consumers, plant-based diets that include pasta are particularly appealing for several reasons, such as the noted health benefits for both preventative health and controlling certain chronic illness. Sustainability is another driving force, as good-for-you foods that also benefit the environment experienced big jumps in sales. Pasta has the added benefit of being easy to prepare and budget friendly. According to Mintel data, 34% of pasta entrees at restaurants were labeled as vegetarian options, and the average pasta consumer, seeking out health benefits and a higher intake of protein, actually eats more servings of vegetables than non-pasta consumers.
While pasta fits easily into a plant-based lifestyle, non-wheat plant-based pastas have also risen. These pastas are made from other vegetables and legumes and cater to the gluten-free niche as well as consumers who simply want to try something new. According to the NPA 2019 State of the Industry Report, legume pasta doubled in growth every year since 2014. The introduction of these plant-based proteins into the pasta category also led to the growth of a "clean label" approach, in which all ingredients are lessened and simplified and do not include any ingredient that would be unfamiliar to a consumer.
Changing Times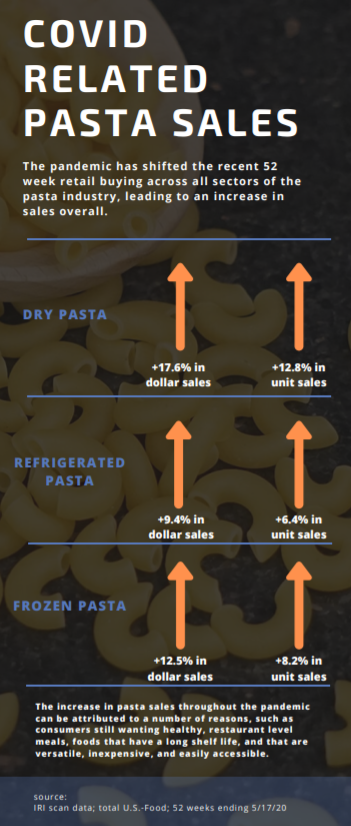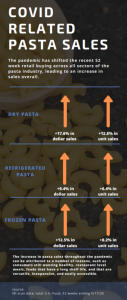 Historically, consumption patterns have always been influenced by environmental, political, economic, and social factors. Consequentially, the COVID-19 pandemic dramatically impacted and increased pasta retail sales due to numerous reasons. As we see a global health crisis sweep the world, consumers likely gravitate toward the desire for healthier meal options and to adhere to healthier lifestyles via the Mediterranean diet and/or a plant-based diet. Additionally, the U.S. meat industry has taken a severe hit to their health and sanitation standards, and as a result had to close a number of meat processing facilities due to infected employees. This doubled down on the already sparse meat counters consumers were seeing at grocery stores. Pantry staples that were affordable, versatile, and easily accessible, like beans and pasta, quickly rose in demand.
As this "new normal" continues and "panic buying" remains a trending term, increased pasta purchasing and consumption likely will too.
What About the Future?
In an uncertain time, looking to trends can help determine the way of the present and the future. When it comes to pasta-consumption and sales, the pandemic both accelerated and changed existing trends as well as elevated new ones. Consumers rediscovered, not only the health benefits of eating pasta, but also its great taste and versatility and they are not turning back. Pasta is experiencing a rebirth. It has found its place in the increased consumption of comfort food, the continued popularity of the Mediterranean Diet and plant-based diet, and the robust growth in retail sales caused by the traits that pasta has always known to be true—its affordability, availability, versatility, and popularity.
These trends help to guide the pasta industry as we seek to satisfy our customers, maintain standards of health and wellness, and drive innovation for the future.