Back in 1979, Domino's launched a rather ambitious initiative: the chain promised customers they'd get their pizza delivered to their doorstop in 30 minutes or less. It made for great marketing and was excitedly embraced by consumers.
Eventually, though, Domino's focus on speed created serious issues. A 1993 lawsuit argued that, in order to deliver pizzas on time, delivery employees drove recklessly and caused dozens of accidents. In that lawsuit, a St. Louis woman won a $78 million dollar verdict against the pizza chain, as reported by ranker.com. Just like that, Domino's dropped its guarantee of speedy delivery.
Despite lessons learned from Domino's past delivery pledge, companies are pushing for faster delivery than ever these days. In fact, in 2021, 10-minute delivery is now the goal for multiple companies.
In recent months, fledgling companies like Getir (based in Turkey), Fenix (United Arab Emirates), and Gorillas (Germany) have begun touting their speedy delivery services. It appears 10 minutes has become the new delivery standard, as part of the "rapid grocery delivery" segment. Venture capitalists have invested about $14 billion in online delivery grocery businesses since the start of 2020, according to data from PitchBook.
"The pandemic has clearly accelerated adoption and speed expectations for online grocery, particularly among younger consumers who buy smaller orders and may not meet the minimum order sizes for larger grocers," said Scott Moses, the managing director of the grocery, pharmacy and restaurants group for financial advisory firm PJ Solomon, in a statement to The Food Institute.

HOW DID WE GET HERE?
Suddenly, delivery start-ups are popping up across the globe. These companies cater to consumers that have been stuck at home at length throughout much of the pandemic. Investors, in turn, have seized the opportunity and are backing companies that will deliver a wide range of products, from pizza to baby products, as noted by The New York Times (July 27).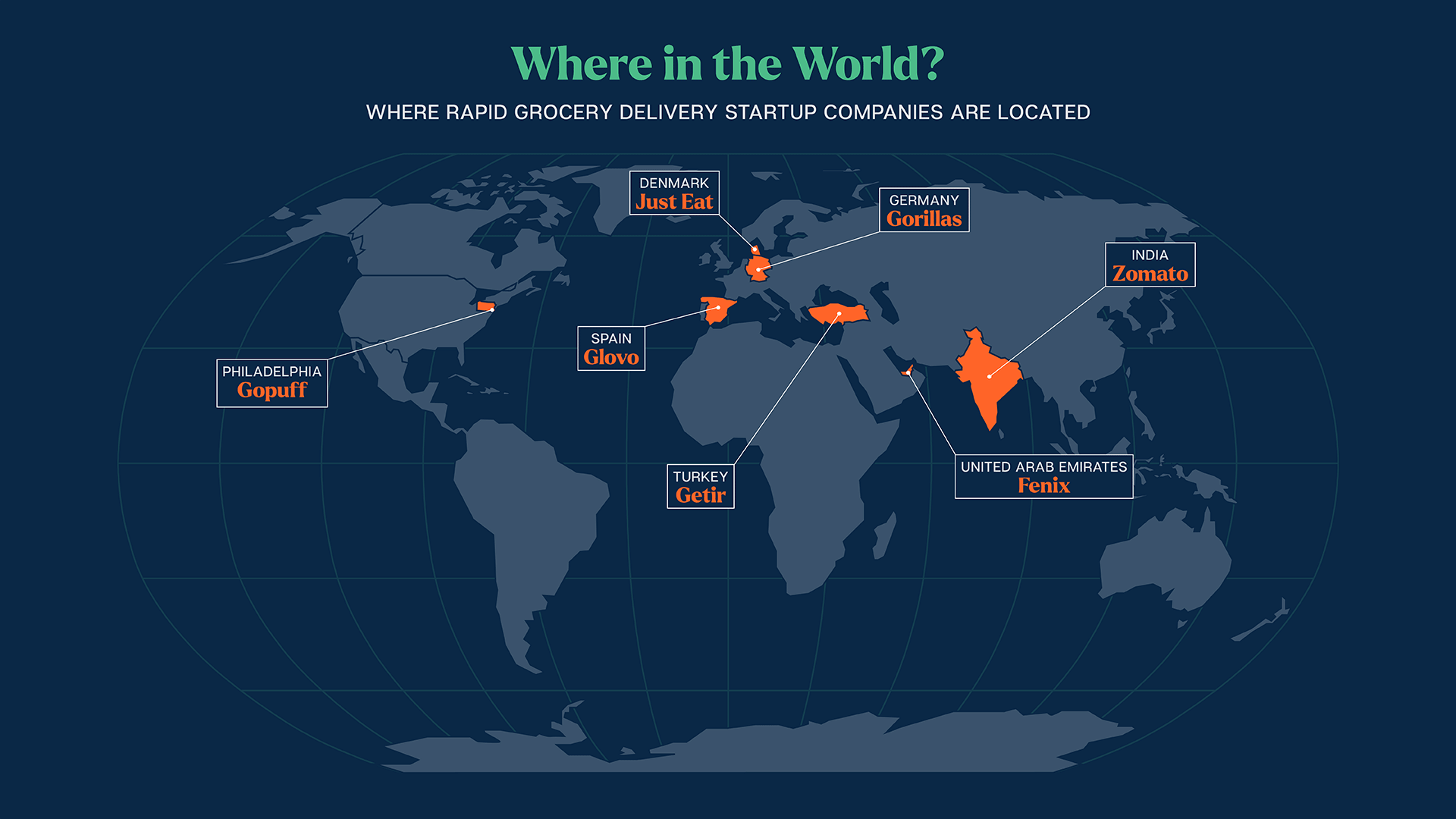 Investing in these startups makes sense, considering rapid delivery companies are catering to a generation that has come to demand Uber rides at a moment's notice, for example.
A handful of prominent rapid grocery delivery companies have emerged during the pandemic. Getir's July valuation of $7.6 billion means it's worth more than Macy's Inc. or Nordstrom Inc., noted Bloomberg (Aug. 2).
Last March, Philadelphia-based Gopuff raised eyebrows when it raised $1.5 billion from investors.
HOW RAPID DELIVERY IS DONE
Getir, a Turkish company that's in the midst of global expansion, has developed a refined rapid delivery process. Here's a look at the key elements of its strategy:
Getir buys its products from wholesalers, then charges no more than 8% more than prices in a large supermarket, The New York Times
The company utilizes electric bikes or mopeds for deliveries from "dark stores" – warehouses and small supermarkets without customers.
Inside the dark stores, bells notify the staff of new orders. Pickers then collect items and pack them in bags for delivery riders, a process that often takes less than 2 minutes.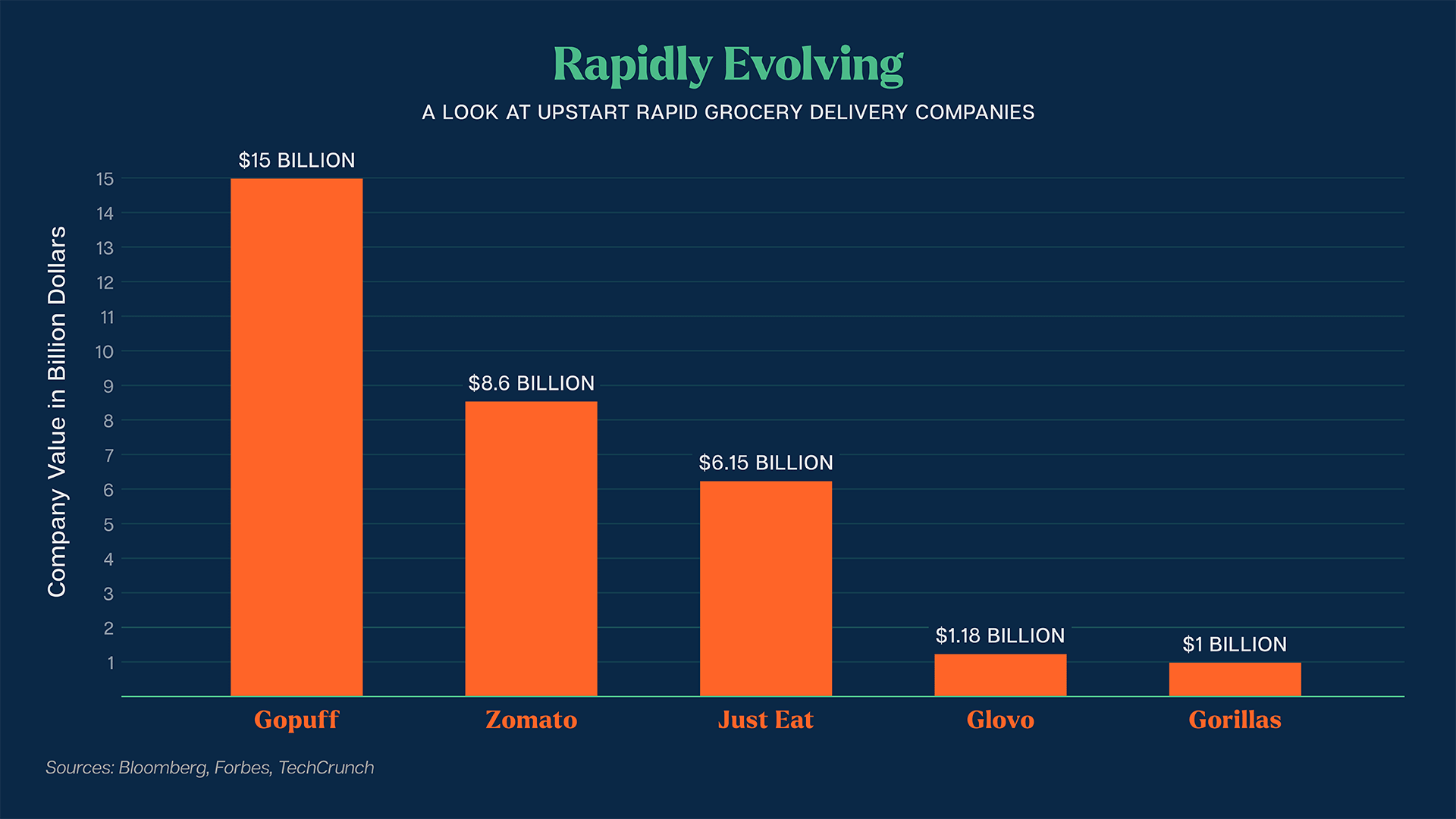 THE FORESEEABLE OUTLOOK
Competition is fierce in the rapid delivery segment. In India, for example, Zomato, which is valued at around $8.6 billion according to TechCrunch, is facing increased competition. The same can be said for Just Eat in the increasingly crowded German market. Meanwhile, Gorillas appears poised to move into U.S. cities like Los Angeles, Chicago, and San Francisco, according to The Spoon (July 12).
Mark Stanton, the general manager of supply chain solutions for PowerFleet, says several factors will determine which rapid delivery companies survive.
"It's incredibly important for the rapid delivery supply chain to manage multiple fleets, control and monitor their status, measuring the temperature of the trucks, meeting the FDA regulations," Stanton told The Food Institute. "The companies that will be the most successful are the ones that utilize technologies and solutions that allow them to 'manage' their assets appropriately [like] trailers, drivers, tractors, etcetera.
"Being proactive by leveraging data is key in identifying where the bottlenecks currently are and will be, especially when it comes to food spoilage. The quicker they're able to identify bottleneck situations the faster they can fix them – and become more efficient."