As pandemic restrictions eased, pent-up consumer demand kept inflation elevated. In July, the overall consumer price index (CPI) rose 0.5%, a somewhat moderate gain relative to recent increases. Yet, over the past 12 months, price increases remained at the highest level since 2008.
There's reason to believe that the inflation story is far from over, particularly for the food industry. Recently several large food companies increased wages or began offering alternative forms of compensation to address the ongoing labor shortage. In combination with higher transportation and logistics costs, one can expect consumer food prices to remain elevated in the foreseeable future.
Fresh fruit prices on the rise
According to the August USDA National Retail Report, significant price increases were reported for blueberries (+29%), peaches (+26%), raspberries (+19%), and corn (+21%). At the same time, significant declines were reported for strawberries (-20%), asparagus (-20%), onions (-14%), and potatoes (-14%).
USDA's most recent 2021 forecast for the fresh fruit index is between +5% to +6%.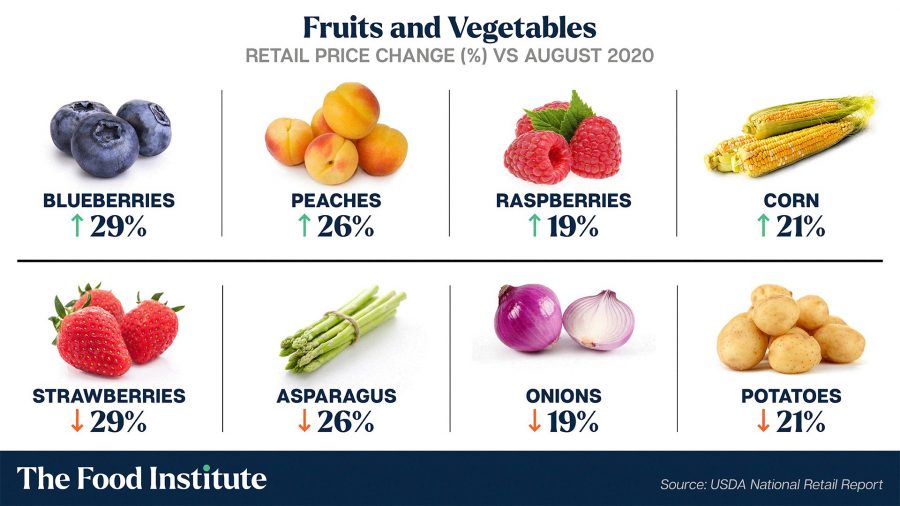 Meat prices sticker shock
The July CPI data showed that across all food categories, meat prices had the biggest gains over the last 12 months, ranging between +5% to +8%. According to USDA National Retail Report, a few subcategories saw incredible surges over the last 12 months: Filet Mignon (+111%), Sirloin Steak (+83%), Bone-In Ribeye Steak (+42%), Smoked Pork Chops (+54%), Backribs (+44%), Fresh Tenderloin (+26%), and Chicken Wings (+32%).
But sticker shock isn't stopping consumers from purchasing more meats. According to IRI's mid-year Meat Update report, first-quarter meat volume sales were up 7.9% and second-quarter volume sales increased 2.6% over 2019. The biggest growth in volume sales during first half of 2021 was bacon, with an additional 57 million pounds sold. Not far behind was chicken wings, with an additional 33 million pounds sold.
USDA's most recent 2021 meat index forecast calls for gains between +3% to +4%.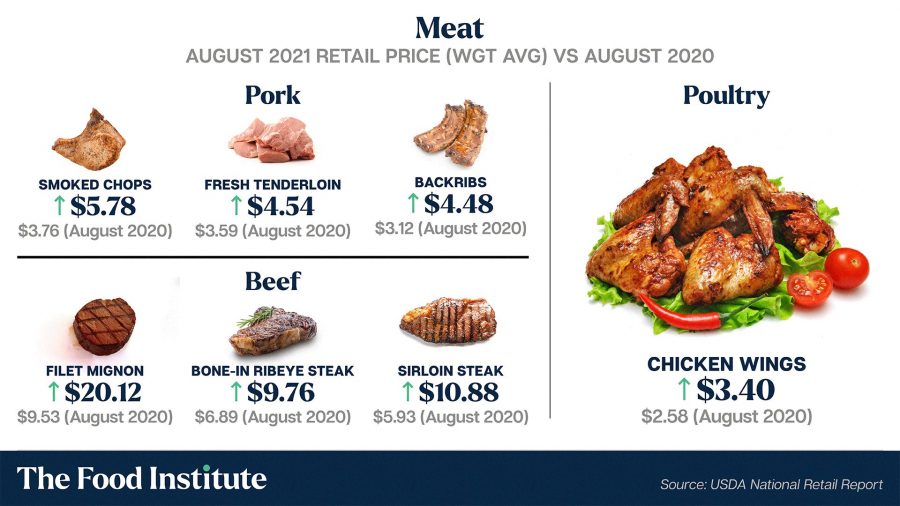 How high can prices go?
Most economists expect the overall inflation rate to be 4.2% by the end of this quarter, and range between 3%-4% next year.
The USDA projected the food at home index to rise between +2% to +3%, and food away from home index to increase between +3% and +4% (see table below).
Some in the food industry expect price increases to go even higher. According to a Food Institute survey conducted in May, 52% of participants expected food prices to rise between 5%-15%, and 28% of participants expected increases >15%.
"Is there somewhat more inflation out there? There is. Are we going to be pricing to deal with it? We certainly are." — Hugh Johnston, chief financial officer of PepsiCo told The New York Times.
---
CPI Category Forecast

CPI Item
20-year historical average 
Forecast range2 2021
(Percent change)
(Percent change)
All food
2.4
2.5 to 3.5
    Food away from home
2.8
 3.0 to 4.0
    Food at home
2.0
2.0 to 3.0
        Meats, poultry, and fish
2.9
2.5 to 3.5 (+)
            Meats
3.2
3.0 to 4.0 (+)
                Beef and veal
4.4
 3.0 to 4.0 (+)
                Pork
2.2
 4.0 to 5.0 (+)
                Other meats
2.2
 1.0 to 2.0
             Poultry
2.1
2.5 to 3.5 (+)
             Fish and seafood
2.5
 2.0 to 3.0 (+)
        Eggs
3.1
 2.0 to 3.0 (+)
        Dairy products
1.8
 0.5 to 1.5
        Fats and oils
2.2
2.5 to 3.5
        Fruits and vegetables
2.0
2.0 to 3.0
            Fresh fruits and vegetables
1.9
2.5 to 3.5 (+)
              Fresh fruits
1.4
 5.0 to 6.0 (+)
              Fresh vegetables
2.5
 0.0 to 1.0
            Processed fruits and vegetables
2.1
 1.5 to 2.5
        Sugar and sweets
1.9
1.5 to 2.5
        Cereals and bakery products
2.1
 1.0 to 2.0
        Nonalcoholic beverages
1.3
 2.0 to 3.0
        Other foods
1.5
 1.0 to 2.0
1Food prices represent 13.9 percent of the total CPI. 
2A negative sign indicates an adjustment downward and a plus sign indicates an adjustment upward.
Source: U.S. Bureau of Labor Statistics Consumer Price Indexes (not seasonally adjusted) and forecasts by USDA, Economic Research Service.
---
Upcoming Economic Releases

Forecast
Previous
8/17/2021
Retail sales (Jul)
-0.2%
0.6%
8/17/2021
Business inventories (Jun)
0.8%
0.5%
8/18/2021
FOMC minutes
n/a
n/a
8/19/2021
Continuing jobless claims (weekly)
2.85 mil
2.87 mil
Source: Bloomberg, CNBC, Trading Economics, Food Institute
For more information on CPI/PPI and Retail Sales, go to Food Institute – Economic Benchmarking.
For upcoming company earnings and forecasts, go to Food Institute – Food Company Earnings and Forecasts.
---