If online conversations are any indication, consumer interest in high-protein products is soaring.
According to a recent report by Brandwatch, online search interest for the term "high protein" reached a five-year high in early 2023 and has remained high since. The number of people talking about high protein online increased 32%, year over year, in the 12 months prior to May 31.

"The uptick in trends driving consumers towards lower carb, lower fat, clean-eating lifestyles has pushed protein into the spotlight," said Stella Sarkisyan, clinical nutrition manager with Morrison Healthcare. "The health and wellness industry has experienced an awakening.
"Managing to evade the stigma of carbs, protein has benefitted from its positive association with muscle building," added Sarkisyan, a registered dietitian nutritionist.
Millennials are most likely to talk about a high-protein diet, with 52% of all online mentions around "high protein" coming from adults in the 25- to 40-year-old age range, Brandwatch noted.
Based on the interest around protein-rich products, it's no wonder why the recent Summer Fancy Food Show in New York City prominently displayed items like high-protein balls and protein-packed crustaceans like krill. Health-conscious consumers are looking for high-protein snacks without extraneous added ingredients, Sarkisyan said, adding:
"Trail mix touted as 'high protein' with half the bag full of chocolate chips will no longer do. Meanwhile, a well-branded jerky … with a short ingredient list will draw a devout following."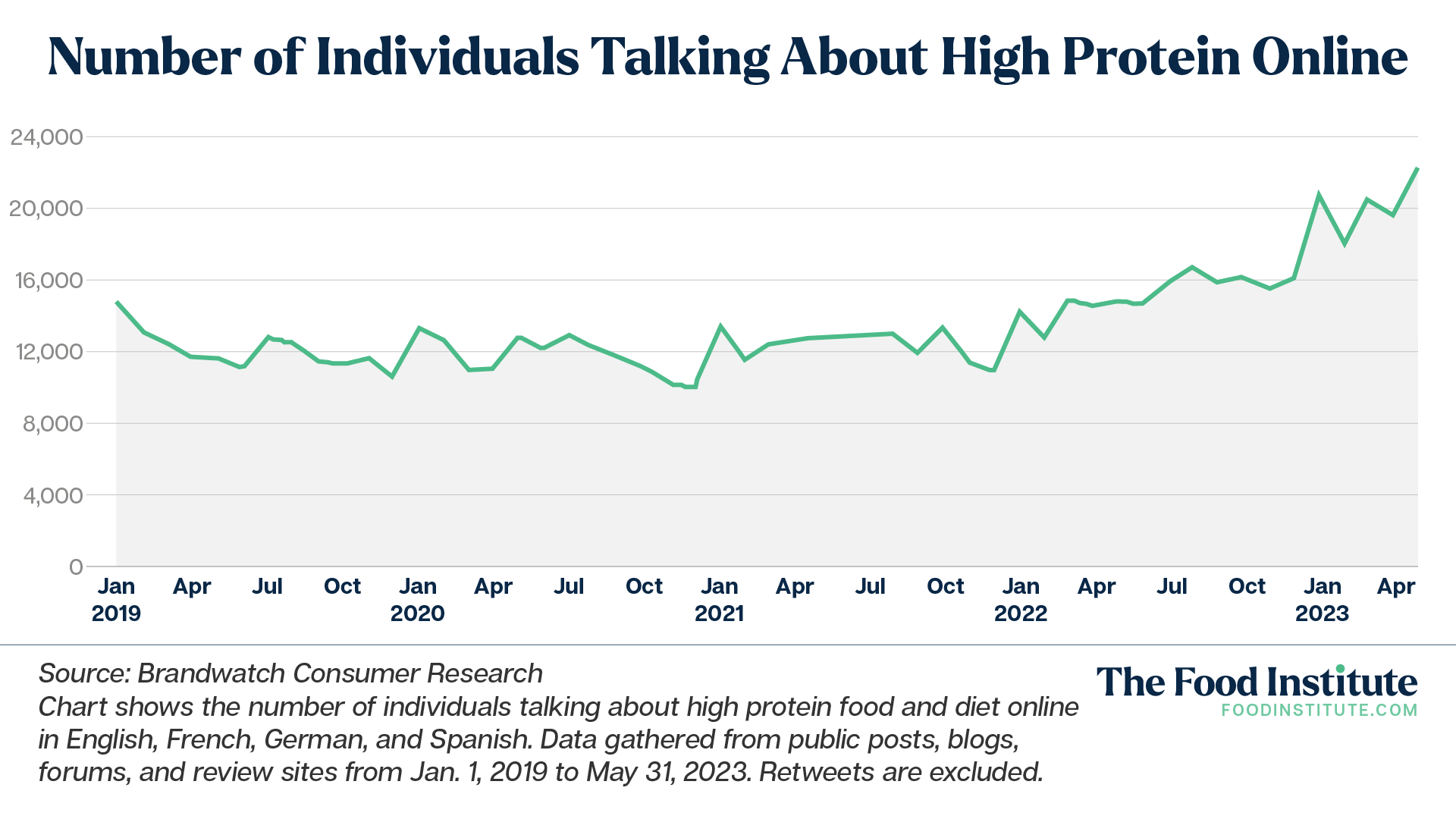 Learning from the Diet Fads
As diets like paleo, keto, and veganism have gained popularity in recent years, consumers have often emphasized a higher intake of protein-rich foods to compensate for reduced carb or animal protein consumption. It makes sense, then, that items like beans and legumes have become favored menu items for health-conscious consumers.
The healthiest high-protein foods, according to experts, include the following:
Greek yogurt
Milk
Eggs
Tofu
Salmon
Lean beef
Turkey
Skinless chicken breasts
Liver
For years, beef was considered by many as inherently unhealthy. But consumers' understanding of red meat has come a long way, dietitians note, and informed consumers are now able to distinguish between the benefits of unprocessed cuts and processed items like hot dogs that are high in saturated fat.
Contemporary dietitians recommend meals with at least 25 grams of protein.
"Protein is an indispensable macronutrient that has tons of health benefits, from muscle building, to losing weight, to immune system and tissue repair," said dietitian nutritionist Eva De Angelis.

Protein Options Abound in Grocery, Restaurant
"People considering eating less [traditional meat] are naturally wondering more about obtaining the nutrition they desire and how other types of meat can satisfy them, and what impact those choices will have on their wallets, health, animal welfare, and the planet," said Dr. Behroze Mistry, chief product officer at Meati.  "With those questions permeating people's everyday lives, an overwhelming number of brands are trying to provide answers."
For starters, food manufacturers and restaurants can highlight high-protein ingredients in products like appetizers. It's a "great area to start capitalizing on this demand for higher protein," said registered dietitian Nicole Ibarra, because "most appetizers are low in protein."
Companies like food manufacturers can also capitalize on the trend by creating products like protein bars or protein powders.
"By prominently displaying [products'] protein content and marketing the health benefits, food manufacturers can appeal to consumers," said Sarah Olszewski, owner of Sarah Lynn Nutrition.
---
The Food Institute Podcast
Can direct-to-consumer brands succeed in the food industry? Dr. James Richardson, owner of Premium Growth Solutions and author of Ramping Your Brand, returns to The Food Institute Podcast to talk through the challenges facing most food brands in the DTC space, and how an omnichannel approach may be the best way to ensure your food brand can grow successfully.