Here are trending economic and food industry data points, as well as major economic and company earnings releases for the coming week: retail sales, supply crunch, global forecast, earnings from Darden Restaurants (DRI), and more.
---
The Shifting Retail Sales Landscape
Overall retail sales have experienced a tremendous rebound since the COVID-19 outbreak. By most measures, we are back to pre-pandemic levels. However, the retail landscape is ever-shifting and being redefined by a "new norm."
Consumers return to restaurants in droves
As vaccination efforts accelerated, restaurants welcomed back customers. Sales for Food Services and Drinking Places surged 68.5% YoY, surpassing pre-pandemic levels. In particular, Limited-Service restaurant sales grew at the highest rate since the end of 2019. For details on food sub-categories, go to Food Institute Economic Benchmarking.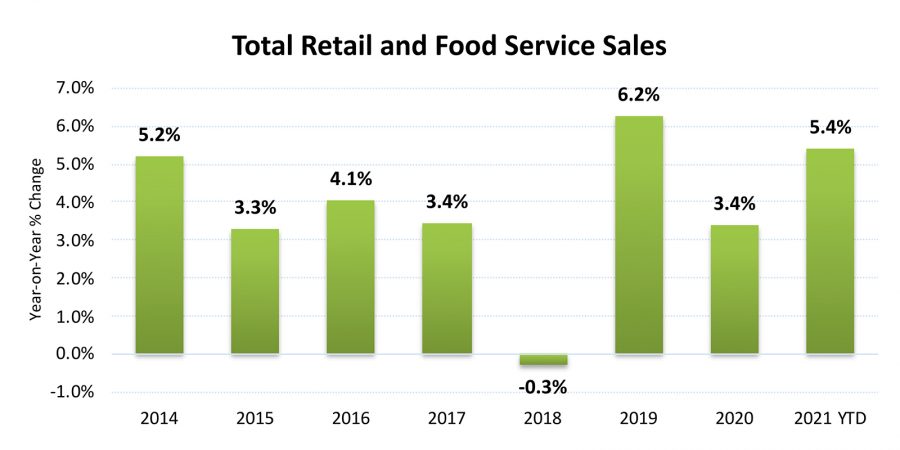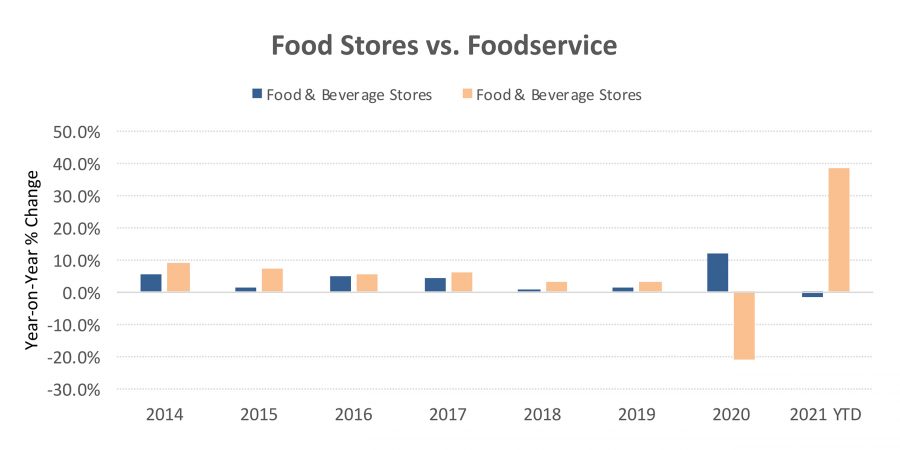 Source: U.S. Census Bureau
Balancing big-ticket items and discounts
Cars were among the top big-ticket items that Americans purchased this year. Concerns about the pandemic drove many consumers away from public transportation and toward used-car lots. Rental companies also boosted car sales by replenishing their fleets. Auto dealership sales peaked in April with 44.6% increase YoY. Car sales decelerated in May, but many dealerships still expect strong demand as employees go back to work on-site.
At the same time, price-conscious consumers are gravitating towards online discounts. Amazon Prime Day 2021 sales surpassed $11 billion, >6% increase from last year. Many of the most popular items are everyday essentials.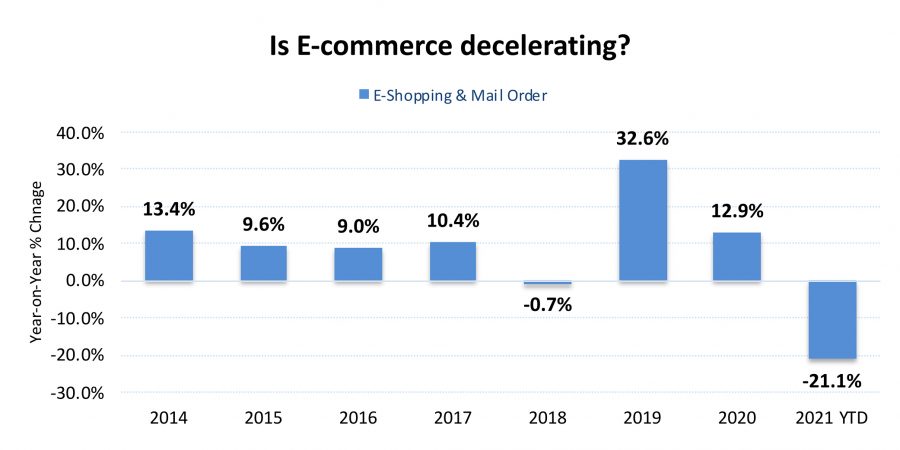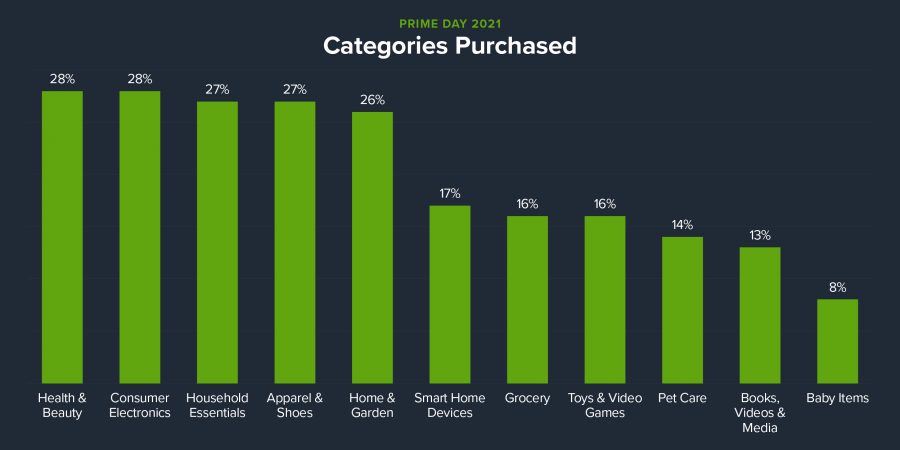 Source: U.S. Census Bureau and https://www.numerator.com/prime-day
Global supply crunch and retail outlook
Current supply and demand conditions are highly unusual and shouldn't persist over the long term for a number of reasons:
The effect of fiscal stimulus is fading. Consumers are unlikely to spend more on big-ticket items.
Pandemic regulations and cyberattacks presented new challenges to the global supply chain. Though carriers have deployed more ships than at any time in history,

the effective capacity is 25% less than what's actually deployed because so many vessels are caught up in record bottlenecks at ports

. This is likely to last for months, not years.
Current demand is outpacing supply.
In both April and May, overall retail sales fell short of market expectations. Looking forward 12 months, most economists expect retail sales growth to return to a "normal" range.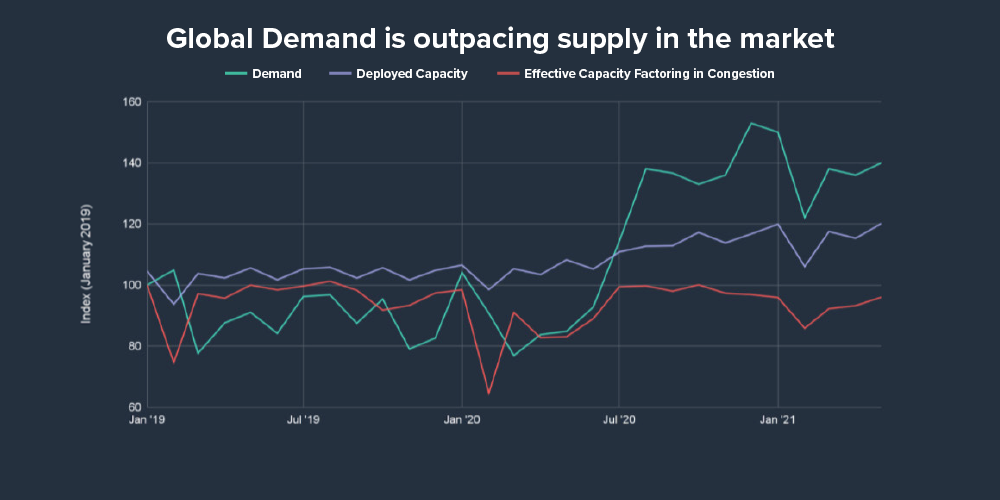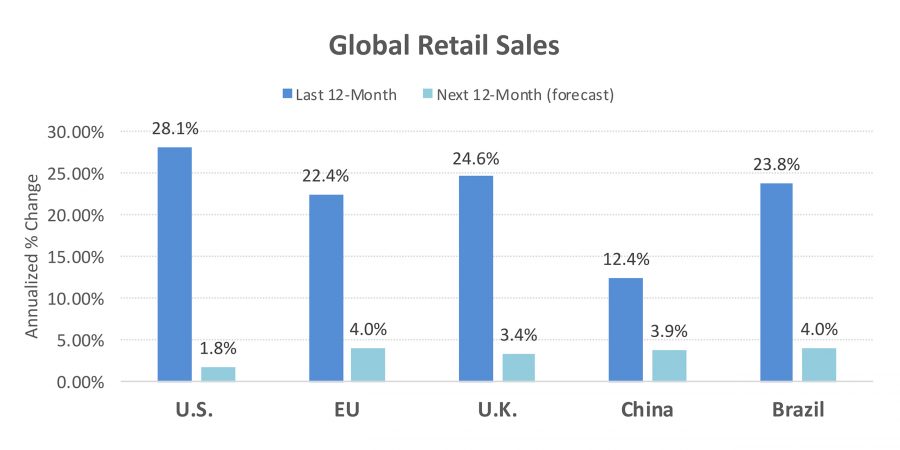 Source: Flexport and TradingEconomics
---
Upcoming Economic Releases
| | | | | |
| --- | --- | --- | --- | --- |
| | | | Forecast | Previous |
| 6/30/2021 | | ADP employment report (Jun) | 475 K | 978 K |
| 7/1/2021 | | Continuing jobless claims (weekly) | 3.32 mil | 3.39 mil |
| 7/2/2021 | | Unemployment rate (Jun) | 5.7% | 5.8% |
Source: Bloomberg, CNBC, Trading Economics, Food Institute
For more information on CPI/PPI and Retail Sales, go to Food Institute Economic Benchmarking.
---
Select Food & Beverage Industry Data Points
Foodservice – Restaurants
OpenTable restaurant diner growth data (2019 baseline): U.S. = -6% as of June 23, 2021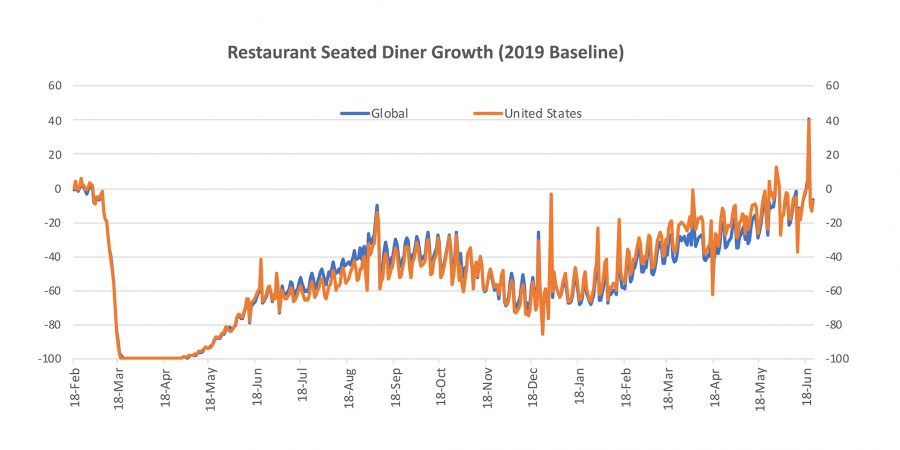 ---
Darden Restaurants, Inc. (DRI) reported Q4 2021 results
Sales: $2.28 billion (+79.5% vs. last year)
Same Restaurant Sales (vs. 2020; vs. 2019):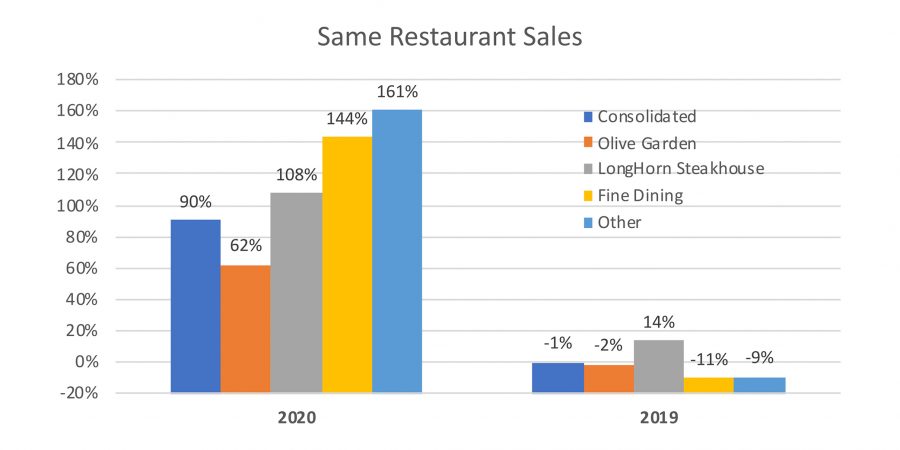 Off-premise Sales (as % of Total Sales):

Olive Garden: 33%
LongHorn Steakhouse: 19%
Cheddar's Scratch Kitchen: 16%
Key Takeaways:
2022 Guidance:

Sales: $9.2 to $9.5 billion (+5% to +8% growth vs. 2019)
35 to 40 new restaurant openings
Inflation: approximately 3%
---

Earnings Calendar of Select Companies
| | | | | |
| --- | --- | --- | --- | --- |
| Announce Date | | Company | EPS Estimate | Previous Quarter EPS |
| 6/30/2021 | | Constellation Brands, Inc. (STZ) |  $                2.38 |  $                1.82 |
| 6/30/2021 | | General Mills, Inc. (GIS) |  $                0.84 |  $                0.82 |
| 7/1/2021 | | McCormick & Company, Inc (MKC) |  $                0.64 |  $                0.72 |

Source: Bloomberg, CNBC, Yahoo Finance, Food Institute