While consumers have a general understanding of how Amazon.com disrupted the retail landscape, most probably don't know how the company's signature sales event, Prime Day, also forced the industry to pivot.
And with e-commerce sales currently making up 13.6 percent of total U.S. retail sales, Prime Day is a sure way to boost future online growth, particularly in one of the final frontier markets for online retail – grocery.
A Primer on Prime Day
Prime Day, which launched in 2015 to mark the website's 20th anniversary, is a two-day sale for Amazon Prime customers who pay an annual membership fee to receive benefits unavailable to regular Amazon shoppers – like free expedited shipping on eligible purchases, free movies and TV shows through Prime Video and unlimited  access to reading material on any device through Prime Reading (NBC News, June 7).
"Prime adoption is key to driving Amazon retail growth given that members spend 2-3 times more annually than nonmembers," said Jefferies analyst Brent Thill said in a note to clients.
Adobe Analytics estimated that this year's Prime Day (June 21 and June 22) sales surpassed $11 billion, representing 6.1% growth compared with last year's mid-October event. According to Digital Commerce 360, Amazon sold $10.4 billion worth of goods on Prime Day last year, up 45.2% from $7.16 billion in 2019 (CNBC, June 23)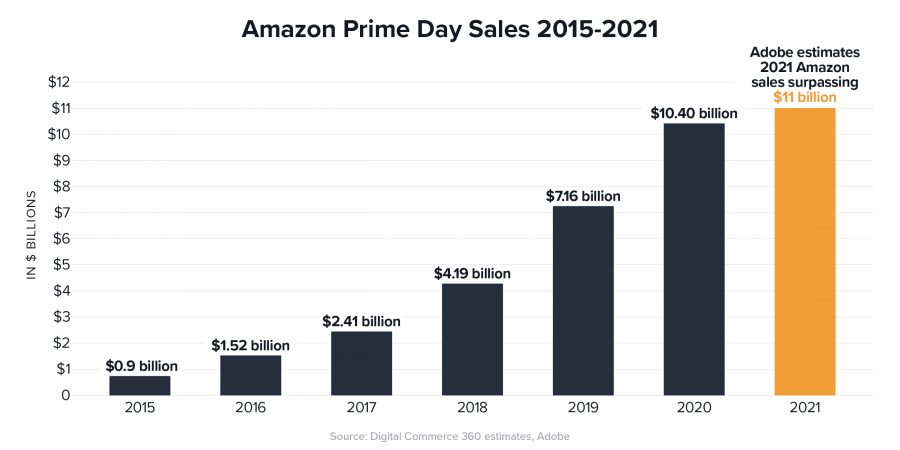 Additionally, Prime Day has become so big that it's forced Amazon competitors like Walmart and Target to respond by changing the timing of their own sales and deals to align with Prime Day. And for that matter, what they sell. Target, for instance, used its Deal Days promotion (rolled out in 2019 to compete with Prime Day) earlier this week to promote groceries for the first time.
Comparisons to Other Large Shopping Events
While Prime Day has grown big enough to spur competitors to launch their own competing sales, it still falls far behind other big shopping days.
A study from Digital Commerce 360, a market research firm, breaks down Amazon's multi-day event compared to others held around the world. Last year's estimated $10.4 billion haul was less than 15% of the gross sales of Alibaba's Singles Day 2020, which came in at $74.1 billion. Cyber Monday took in $10.84 billion in just one day, according to the study, while Black Friday netted just over $9 billion in one-day sales (Forbes, June 21)

Secondary Focus
Prime Day also serves two other key functions. Amazon uses Prime Day as a way to attract new Prime subscribers and showcase the company's vast portfolio of services. It also facilitates a massive "dry run" ahead of the holiday season to ensure its systems, as well as new warehouses and other facilities, are firing on all cylinders.
Tapping Into Prime Day for CPG, Grocery Sales
Over the prior three years, Amazon's share of CPG sales on Prime Day has averaged a 5x increase versus the company's CPG share in the month before the annual sales event, according to Chicago-based consumer data specialist Numerator in its recent report, "A Prime View: Amazon's CPG Share Growth."  Amazon also sees about a 4x gain in CPG share in the same month of Prime Day (Supermarket News, May 25).
And while e-commerce made up just 2% of total food and beverage sales in 2019, U.S. consumers have turned to online grocery shopping big time during the pandemic. In fact, online grocery sales grew 54% in 2020 to reach $95.82 billion. That propelled it to a 12.0% share of total U.S. ecommerce sales and 7.4% of all grocery sales, according to eMarketer.
Insider Intelligence projects that as the pandemic runs its course in the next few months, online grocery adoption will reach 55% of U.S. consumers by the end of 2024.
Bolstering the rise of online grocery sales has been Amazon's 2017 acquisition of Whole Foods. The purchase was a key development for the grocery industry, introducing cutting-edge innovation to a sector often recognized for its slowness in adopting digital solutions. And as the grocery industry continues to embrace innovative technologies, online grocery sales are likely to continue their strong growth trend, particularly on Prime Day.
In fact, groceries accounted for 16% of purchases made during Amazon's 2021 Prime Day, according to Numerator's live Prime Day Tracker.