Corn was the largest U.S. crop in 2019. Farmers planted 89.7 million acres, the equivalent of 69 million football fields, with another 94 million acres projected to be planted this year, according to National Agricultural Statistics Service data.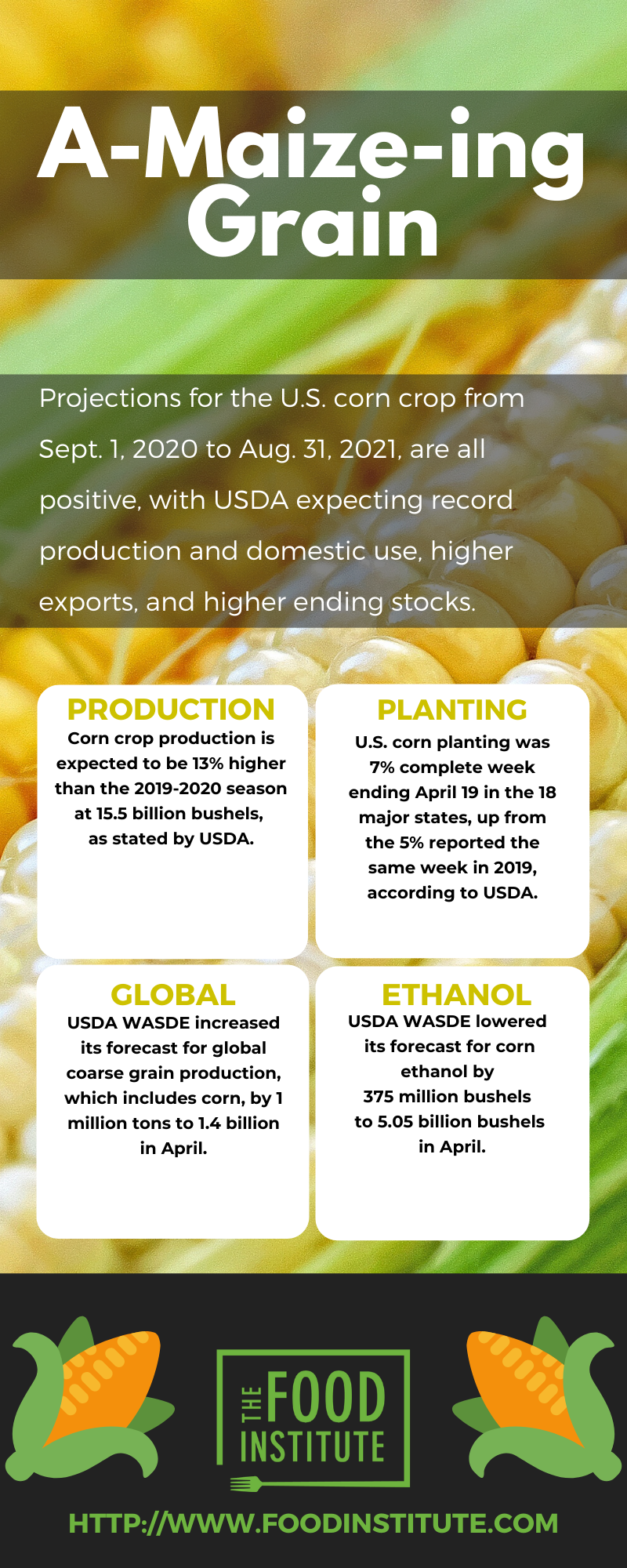 Those high plantings came despite an unusually wet spring in 2019 followed by a cooler-than-expected June. The statistics service said the 2019 amount is 3% more than 2018's planting, and far more acreage than the 89.7 million acres planted in 2019 of soybeans, the next-largest crop.
Because of the wet and cold start to the planting season, much of the corn was planted in early July, which is later than usual. USDA forecasted slightly lower yields than 2018 because of the late start.
Corn has the large acreage because it can be grown in almost every state. Iowa tops the list of corn-producing states, having produced 2.5 billion bushels of corn in 2018, or 196 bushels per acre, according to the World Population Review. The other large corn-producing states are Illinois, Nebraska, Minnesota, Indiana, South Dakota, Kansas, Ohio, Wisconsin, and Missouri.
About one-third of the U.S. corn crop is used to feed animals including chicken and cattle, providing them with carbohydrates, while soybeans give them protein, according to USDA. Just more than one-third is used to make ethanol, a renewable fuel additive to gas. The remainder of the corn harvest goes into human food like cereals and tortilla chips, beverages, growing medium for medicines including penicillin, and exports to other countries. The largest export markets are Mexico, South Korea, Japan, and Colombia.
Projections for the corn crop this season, from Sept. 1, 2020 to Aug. 31, 2021, are all positive, with the USDA's Agricultural Outlook Forum 2020 expecting record production and domestic use, higher exports, and higher ending stocks. Crop production is anticipated to be 13% higher than the 2019-2020 season at 15.5 billion bushels, with a projected yield of 178.5 bushels per acre. The rise is related to the increase in planted area.
Corn use also is expected to be high in the 2020-2021 season, rising 5% from a year ago because of record domestic use and strong exports. USDA expects corn's use for food, seed, and industry to rise only modestly to 6.8 billion bushels, with ethanol use up less than 1%. Feed use is expected to rise to 5.8 billion bushels, up 275 million bushels from the prior year, though the increase may result in lower feed corn prices.
Exports are expected to rise to 2.1 billion bushels, up 375 million bushels from the previous year. Some of the biggest competitors in that market are exporters including Argentina, Brazil, and Ukraine.
USDA expects ending stocks to rise 745 million bushels to 2.7 billion bushels in the 2020-2021 season. The result is likely to be a decline in the season-average price received by farmers of 25 cents per bushel from the 2019-2020 season to $3.60 per bushel. The price in March 2020 was $3.80 per bushel, according to the USDA's Economic Research Service.
As with other U.S. crops, the COVID-19 pandemic is creat­ing some market uncertainty, most notably for corn used to produce ethanol. USDA's World Agricultural Supply and Demand Estimates (WASDE) lowered its forecast for corn ethanol by 375 million bushels to 5.05 billion bushels in April. It based the change on information from the U.S. Energy Information Administration, indicating an unprecedented drop in ethanol production and motor gas consumption because of the pandemic. At the same time, USDA raised its forecast for feed and residual use by 150 million bushels to 5.68 billion bushels. More corn also is expected to be used for beverage alcohol and manufacturing in April.
The USDA WASDE raised ending stock estimates in April by 200 million bushels to 2.09 billion bushels. It decreased the season-average weighted corn price received by producers by 20 cents to $3.60 per bushel.
USDA WASDE also increased its forecast for global coarse grain production, which includes corn, by 1 million tons to 1.4 billion in April. Its foreign coarse grain outlook anticipates more production, less trade, fractionally higher use, and larger stocks compared to March. It raised corn production estimates for the EU and Belarus and reduced those for Indonesia and Laos.
It forecasted major changes in global trade for the 2019- 2020 season, including higher projected corn exports for the EU and an export reduction in Russia. USDA WASDE raised corn import projections for South Korea, Turkey, Algeria, and Indonesia, but lowered import projections for Vietnam, Taiwan, Cuba, and Mexico.
It also raised the ending stocks estimates in April for foreign corn to reflect increases for Thailand, Taiwan, India, and Turkey and decreases for Argentina and Mexico. That put global corn ending stocks at 303.2 million tons, up 5.8 million tons from March.
ABOUT THE AUTHOR
Lori Valigra is a journalist based in Harrison, ME. Reach her at valigra@gmail.com.