If you were looking for a graph of the expectations for the hard seltzer category, you could do worse than this one: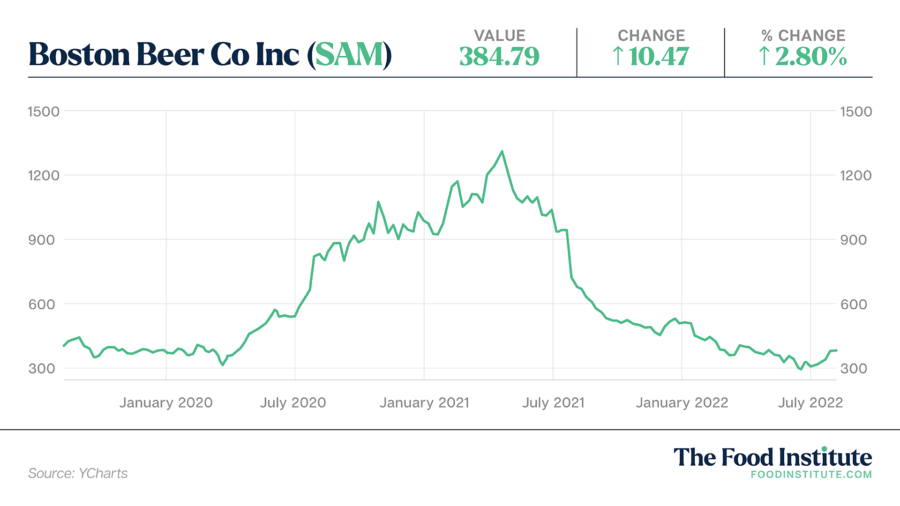 Boston Beer, the manufacturer of Truly, saw its stock price take off as the hard seltzer trend took hold in 2020. A year later, the market clearly was starting to soften, and SAM stock did the same.
And now? Second quarter earnings show the category is in big trouble. So does Boston Beer stock, which after gaining more than 300% in less than a year, now is in the red over the past three years.

AN UGLY QUARTER FOR THE CATEGORY
It was clear at the start of the year that hard seltzer growth was decelerating. What second quarter earnings showed is that the category in fact is declining.
For Truly, which trails only privately-owned Mark Anthony Brands's White Claw in market share, volume was down per Seeking Alpha 17% year-over-year. Anheuser-Busch InBev called out strength in a niche vodka seltzer, but ignored hard seltzers altogether on its conference call.
Molson Coors appears to be the only winner, with its market share climbing two points to 9%.
But Molson Coors clearly is an outlier, as evidenced by commentary from two companies that understand the broader trend better than perhaps any other: the manufacturers of the cans that hold the product. In late April, Ardagh Metal Packaging SA projected the category would post a growth rate in the mid-high single-digits for the year. Three months later, the same company pointed to a well-documented decline in the category, and cited hard seltzer weakness as the primary cause of its own disappointing revenue guidance for the year. Larger rival Ball Corporation saw its hard seltzer revenue decline 20% year-over-year.
A STUNNING DISAPPOINTMENT
Part of the problem for manufacturers of both the drinks and the cans is that inventory built ahead of anticipated summertime demand that obviously has not materialized. But the disappointment here extends far beyond a single quarter.
Hard seltzer was supposed to be a game-changer for the entire industry. There were projections that off-premise sales of hard seltzer would quickly exceed those of craft beer in the U.S., according to the University of Vermont. Given market penetration that went from 0% to 10% seemingly overnight (as reported by Forbes). and long-term benefits (notably in terms of calories), that optimism made some sense.

Right now, though, that optimism is gone. As Boston Beer's chief executive officer admitted after Q2, hard seltzer is even losing share to the decidedly untrendy category of light beer.
Hard seltzer manufacturers still have some levers to pull to drive a recovery, most notably around pricing.
But, at this point, the most optimistic hopes for the category seem dashed. Hard seltzer looks like it will be a niche part of the alcohol industry in the U.S. That's not bad considering where it began — but a stunning disappointment considering where so many thought it was going.
Editor's note: All stock price references courtesy Seeking Alpha. … Vince Martin is an analyst and author whose work has appeared on multiple financial industry websites for more than a decade. He's the lead writer at Overlooked Alpha, which offers market-wide and single-stock analysis every week.