Just months after revamping its menu and tapping new pitchmen, Subway is making more bold moves, as competing sandwich chains like Firehouse Subs, Jimmy John's, and Jersey Mike's gain market share.
The world's largest sandwich chain, which has more than 37,000 restaurants in over 100 countries, undertook a massive menu overhaul last year. The chain began utilizing a revamped bread recipe and offering more premium options like Artisan Italian and upgraded deli meats like Black Forest ham. The chain also launched new sandwiches like a Cali Fresh Sub that included smashed avocado and fresh mozzarella, noted Nation's Restaurant News (May 13).
The franchisor also turned to new professional athlete pitchmen, including NFL quarterback Tom Brady, tennis legend Serena Williams, NBA icons Charles Barkley and Steph Curry, and soccer star Megan Rapinoe.

With that, Subway faces some challenges.
"Subway, they don't make it easy on their franchisees," Dan Rowe, CEO of Fransmart, told The Food Institute. "They put [units] too close together, with a Subway at every corner – over-encroaching on new stores."
So, have Subway's latest campaigns paid off? Yes and no.
Subway officials said in February that the chain's sales across the U.S. steadily improved in 2021, though some industry experts said the gains were mainly due to price inflation and that the chain continues to lag the competition, reported the New York Post (Feb. 22).
Subway's sales were up 8.7% in December 2021 compared to the same period two years prior. Subway also said 75% of its U.S. stores had a 7.5% same-store sales increase in 2021 compared to 2019. Still, industry experts noted that the sales numbers were only marginally better than recent inflation trends, the Post noted.
COMPARING TO COMPETITORS
Subway competitor Firehouse subs reported 23.4% U.S. same-store growth in the fourth quarter compared to two years ago.
Meanwhile, Jimmy John's same-store sales were up 11.8% in 2021 compared to 2019 according to eatthis.com.
"Restaurant price inflation is running 6 to 7 percent on a year to year basis right now," restaurant expert John Gordon of Pacific Management Consulting Group told The Post. "We don't know exactly the Subway number, but it no doubt is close. That means they are getting very little real traffic growth, even in their best 75% of units."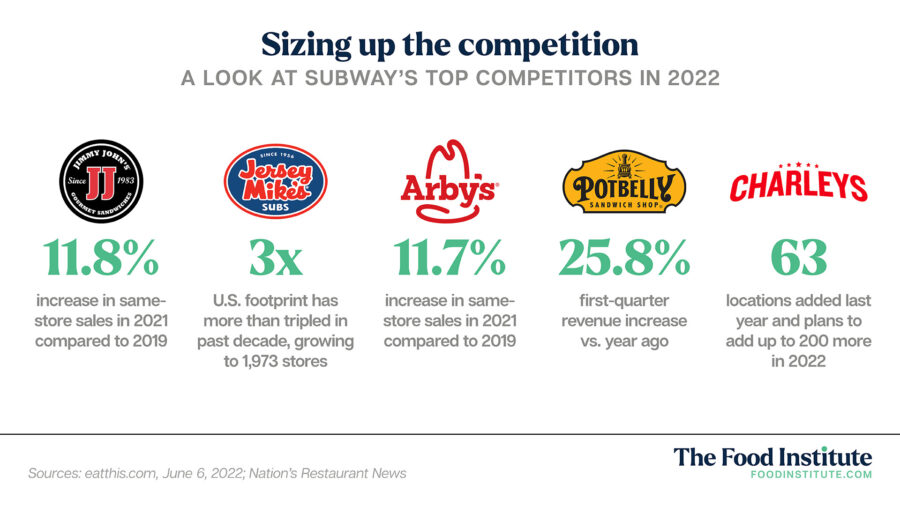 CONSUMERS SEEKING PREMIUM PRODUCTS
With Subway dealing with periodic negative press in recent years, consumers have simultaneously exhibited a demand for more premium sandwiches.
This left the door open for competitors to swipe some of Subway's market share, including fast-casual brand Potbelly, which experienced a year-over-year revenue increase of 25.8% in the first quarter of 2022.
Today's consumers, Rowe noted, "want a premium [sandwich] option. I think there's huge popularity in premium ingredients – something that's really good quality.
"There's no real money in going after the value customer," Rowe added. Restauranteurs "want to go after the premium customer – the person who would pay a little more for a premium experience."
SHIFT IN SUBWAY'S PLANS
Subway has accelerated overseas expansion plans over the past year, signing eight master franchise agreements for nearly 5,000 units across Asia Pacific, Europe, the Middle East, Africa, Latin America, and the Caribbean, reported QSR Magazine (May 26).
In the U.S., however, the sandwich franchise has downsized in recent years, and finished 2021 with 21,147 stores domestically, a decrease of 3,650 units compared to 2019. Now, Subway is shifting its U.S. development strategy, using a data-driven approach to ensure stores align with market-specific needs, are in ideal locations, and in some cases, feature a drive-thru, QSR Magazine noted.
Subway is also relaunching its catering program, offering new "easy order" options, new packaging, and a partnership with ezCater, reported Nation's Restaurant News (May 31). The chain said it was also offering delivery and pick-up options as part of the redesign.
"Over the past year, we've continued to see an increased demand for pickup and delivery orders overall, alongside larger catering orders spurred by a return to in-office operations and increased gatherings," said Trevor Haynes, president of Subway North America, in a statement.