The COVID-19 pandemic changed the foodservice industry drastically during the first half of 2020. Several chains were forced into bankruptcy, while others relied on delivery or pivoted their business models.
Eating and drinking places registered sales of $38.6 billion on a seasonally-adjusted basis in May, according to preliminary data from the U.S. Census Bureau. While that was up nearly $9 billion from April, it remained nearly $27 billion down from the pre-coronavirus sales levels posted in January and February.
In recent years, May was typically the top sales month for restaurants, based on the unadjusted data. On average during the last five years, May sales at eating and drinking places were more than 5% higher than the average monthly sales volume for the entire year. This year, May sales were more than 40% lower than what would have been expected pre-pandemic.
In total between March and May, eating and drinking place sales were down more than $94 billion from expected levels.
A Bankruptcy Boom
In April, FoodFirst Global Restaurants, the parent company of the Brio Italian Mediterranean and Bravo Fresh Italian restaurant chains, filed for Chapter 11 bankruptcy. The company indicated that 71 of its 92 restaurants temporarily closed amid the coronavirus outbreak.
Management said the chains were struggling with sales and profit declines before the pandemic. In January, 10 stores were closed and the viability of "a substantial number" of additional stores was being viewed, according to bankruptcy court documents.
Antonio Bonchristiano, chairman of FoodFirst's board and CEO of principal backer GP Investments, described the impact of COVID-19 as "irreversible."
In May, the U.S. arm of Le Pain Quotidien filed for bankruptcy with plans to sell itself for $3 million, reported Bloomberg. The Chapter 11 petition allowed Le Pain Quotidien to rework its debts and carry out a sale to Aurify Brands LLC, which requires court approval.
Chief restructuring officer Steven Fleming said the chain's sales were slipping amid heavy competition and lack of investment in its stores even before COVID forced the shuttering of all its U.S. locations. The U.S. arm reported a nearly $17 million loss on $153 million in sales last year.
Garden Fresh Restaurants, owner of the buffet chains Souplantation and Sweet Tomatoes, also filed for Chapter 7 bankruptcy on May 14, choosing to close its doors for good. Executives said they saw no proper strategy for reopening as federal regulations forbid self-service operations, such as salad bars.
Meanwhile, The Boston Globe reported in May that dozens of TGI Fridays will close permanently. At the start of the crisis, sales at TGI Fridays dropped by about 80% immediately, according to CEO Ray Blanchette.
In July, NPC International Inc., the largest franchisee of Pizza Hut restaurants in the U.S. and Wendy's operator, filed Chapter 11 protection after coronavirus-related shutdowns added to competitive pressures, reported Bloomberg (July 1).
The company has $903 million in debt and pre-negotiated a restructuring agreement with about 90% of its first lien lenders and 17% of second lien lenders. The plan aims to reduce the company's debt, with first lien lenders taking equity and potentially participating in a new cash injection. It also includes the sale of at least part of the company's restaurants, as indicated in the filing.
The company has until July 24 to work out a deal with certain creditors and Pizza Hut itself on how to restructure NPC's pizza business. If they can't come to a deal, NPC will try to sell an unspecified number of its Pizza Hut restaurants, according to a restructuring outline filed with the court.
CEC Entertainment, parent company of Chuck. E. Cheese, described the current crisis as the "most challenging" in its history and will use its Chapter 11 proceedings to continue talks with stakeholders and landlords, as well as restructure its balance sheet, reported St. Louis Post-Dispatch (June 25).
Additionally, more than $6 million of federal loans wasn't enough to keep HopCat's beer pubs or TooJay's sandwich delis out of bankruptcy, reported Bloomberg (July 1). The chains are the two biggest recipients of Paycheck Protection Program aid that filed for Chapter 11 protection, according to bankruptcydata.com.
TooJay's Management LLC and HopCat parent company Barfly Ventures LLC, which both filed within five weeks of getting federal assistance, seek to use the cash to keep operating while reducing debt and preparing for a fresh start once the cases end.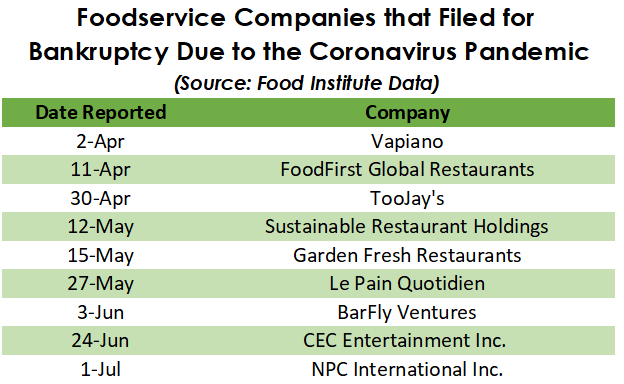 The Rise of Delivery
Before the mandatory closure of in-house dining for many states, Coresight Research found 27% of surveyed U.S. internet users were already avoiding public places in February, with 58% saying they would do so if the outbreak worsened.
By the end of April, Dine Brands Global Inc. and Brinker International Inc. said diners are increasingly turning to delivery and takeout, providing some relief to casual dining chains, reported The Wall Street Journal. Same-store sales at Dine Brands' Applebee's fell almost 11% in the first quarter and 15% at IHOP, while same-store sales at Brinker International-owned Chili's dropped about 5% in the quarter ended March 25. However, Dine Brands' takeout and delivery sales grew almost 13% at U.S. Applebee's and 16% at IHOP in the first quarter, and more than doubled so far in the second quarter.
As delivery continued to grow, delivery companies began to consolidate and secure funding. Uber agreed to acquire Postmates in a $2.65 billion all-stock takeover, reported Bloomberg (July 6). The deal follows Uber's failed attempt to obtain Grubhub, which was recently acquired instead by Europe's Just Eat Takeaway.com NV for $7.3 billion. The transaction, which represents Just Eat's entry into online food delivery in the U.S., is said to make the world's largest online food delivery company outside of China.
As people stayed home during the pandemic, Uber's core ride-hailing business struggled. In May, Uber posted a $2.9 billion loss for the first three months of the year and announced it was laying off 14% of its work force. However, revenue for its Uber Eats division rose 53%.
DoorDash is also raising approximately $400 million in a Series H financing led by Durable Capital Partners LP, Fidelity Management & Research Co., and existing investors.
In addition, some restaurant chains began delivering meal kits to consumers. DIY meal kits allowed restaurants to generate sales without bringing their entire kitchen staff off furlough, reported The Wall Street Journal. The kits are also cheaper, or at least no more expensive, than takeout, and eliminate the possibility of deliveries arriving cold or "roughed-up" in transit.
Pivoting Business Models
To make up for lost sales, some restaurants began turning to retail operations.
Notably, Panera Bread started selling groceries to consumers such as breads, bagels, milk, yogurt, and fresh produce, at the beginning of April. Other chains followed suit after seeing the value.
Locales across the country let restaurants sell all sorts of goods, including toilet paper, allowing them to transform into small markets.
This hybrid restaurant-grocery model started becoming a viable business model for struggling locations, reported Bloomberg. Several establishments plan to keep it going after restrictions lift. Many independent restaurants intend to allocate more of their dining space to groceries, offering butcher shops, spices, and baking mixes, while others consider expanding to nearby vacant storefronts for markets and bakeries.