NEW YORK CITY – The lingering pandemic has done little to dampen consumer demand for specialty food.
This was certainly apparent Monday at Specialty Food Association's Summer Fancy Food Show. The Javits Center was abuzz with a strong turnout and plenty of live cooking demonstrations and taste tests.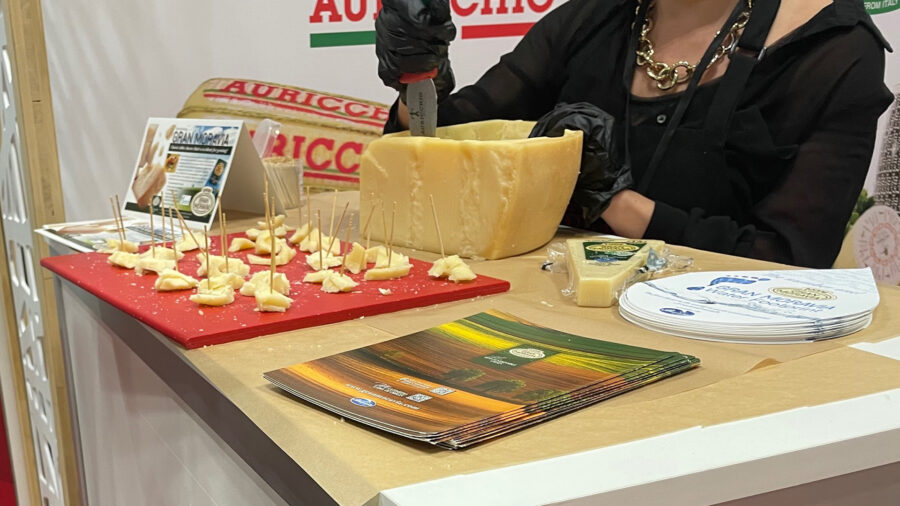 "Over the last couple of years with the pandemic – with more people dining at home – that certainly helped our industry quite a bit," SFA president Bill Lynch told The Food Institute during a livestream presentation. "We're pretty excited about what the next few years has to come for our industry."
The specialty food market reached total sales of $175 billion in 2021, up 7.4% versus 5.8% the year prior, according to SFA. That helps explain why attendees at the show sound so positive this week.
"The turnout is wonderful," said Charlie Apt, CEO of Sarabeth's and chairman of SFA.  "It's really nice to have that personal contact. [The show] is about members getting to know each other, networking, asking questions, learning about different opportunities – whether that's distribution, manufacturing, or co-packing. And you get a lot of that in-person; you don't necessarily get that virtually."
Here's a look at three key takeaways from the first two days of the Summer Fancy Food Show, which continues today:

REFRIGERATED CATEGORIES GROWING: David Lockwood, a consultant and author of SFA's State of the Specialty Food Industry Report, recently finished extensive research on the category.
A key finding? Refrigerated products are heating up.
"The fastest-growing categories in the last year-and-a-half have been refrigerated," Lockwood said, citing ready-to-drink tea and coffee, and refrigerated entrees.
AMERICAN DIET A KEY FACTOR: These days, a growing number of importers are placing an emphasis on healthier products, said Mike McMahon, director of grocery for Bristol Farms. Some balsamic manufacturers, for example, are reducing sugar content by as much as half, primarily to cater to health-conscious American consumers.
"There's definitely more emphasis on health than there has ever been in my time in the industry," McMahon said. "Before it just had to taste good. People are really concerned about sugar content, salt content, keto, vegan, [and] and specific diets out there now. People are aware of the ingredients, and that's going to continue."
INFLATION WEIGHING HEAVILY:  The specialty food market certainly isn't immune to price hikes.
"Like everybody else in the industry, we can't absorb all of it. So, we are going to have to pass it on in the form of price increases," said Mikhail Chapnik, vice president of marketing for Savencia Cheese USA, during a Monday conversation with The Food Institute. "Given the high energy costs, high labor costs, and the material cost, it's something that we have to do."
The supply chain has been particularly disruptive, Chapnik noted, forcing companies like Savencia to react accordingly.
"We would like to rely more and more on domestic manufacturing," he said. "Imports will always remain an important part of our portfolio. But producing the products locally gives us more control over supply chain quality, freshness, and ultimately, we're able to offer domestic product to consumers at a more competitive price point."
Join The Food Institute for more live coverage of the Summer Fancy Food Show today from 11:00-12:30 EDT. You can watch on YouTube, LinkedIn, or Facebook.
Editor's note: Additional reporting provided by The Food Institute's Brian Choi, Chris Campbell, and Susan Choi.