The kids were going to be a problem. But I had found a go-kart by the paved patio resting area and fire pits and prepared to leave them in the dust.
"Kids! Go upstairs!" I yelled, "I'm headed into the MetaMarket!"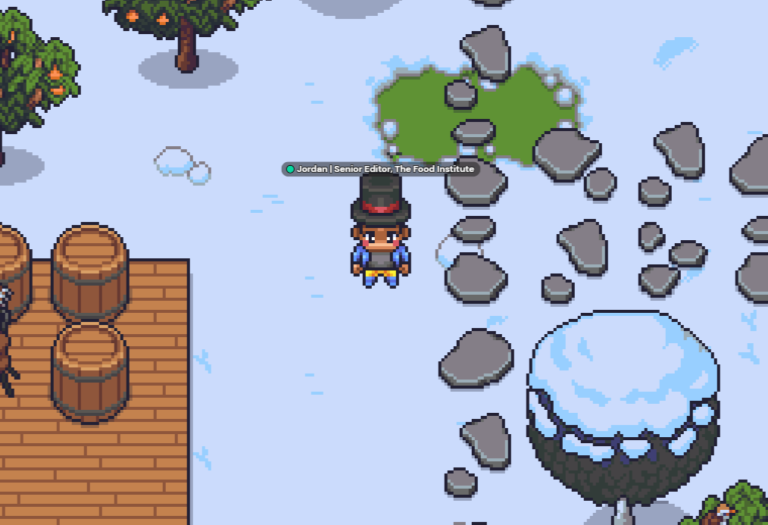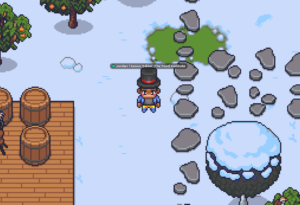 I had entered the metaverse – specifically, the MetaMarket – on my desktop from the comfort of my living room as the first snowflakes of a holiday storm swirled outside. For the MetaMarket, you don't need a proprietary headset or expensive haptic solution to immerse yourself in the world; you simply need a screen. My avatar was a young man with brown hair, a fancy red-ribboned top hat, blue jeans, and a blue jacket. But I could have been anything – a ghost. An alien. A green-haired 8-bit joker-type sprite.
"The whole point of the MetaMarket is to bring some fun back to things and get people to enjoy walking around," said Tyler Fisher, one of the founders of the MetaMarket, in an interview with The Food Institute. Fisher is also one of the executives of Parade, a digital experience company that created the MetaMarket.
"Online shopping is very isolating," he continued, "and there's little engagement with friends and the community. In this space, you can find your friends. Once close, your cameras and microphones pop up. You can follow one another around in a live conversation and interact with friends and vendors."
For someone who grew up in the 8- and 16-bit eras of Super Mario Bros. 3 and The Legend of Zelda, it was hard to deny the inherent charm of the MetaMarket. In three minutes I had crafted my character and was zooming around the virtual space. Each storefront was wildly different from the next – most kept their brands front and center using splashes of basic fonts and vibrant colors, leaving little to do except head into each virtual store and ask who they are, what they do, and most importantly, what they've got, just like a real-world farmer's market.
"We've found a really cool balance between online shopping and an organic space," Fisher said. "The goal isn't to go in, buy, and leave, like a website – it's more exploratory. Most of the time when we shop online, with few exceptions, we have a plan about whether we're going to buy something or not. Mostly you buy what you set out to buy at a specific site or with/for a specific product."
No so here, and the appeal was immediately obvious – like a farmer's market, it's often wiser to browse the booths of interest, get a sense of price, product, and value, and then return for follow-up questions, even bartering. And like IRL markets (In Real Life, to the digital layperson), you don't have to engage; the option to leave your camera off means you can pop in, ask a question or two, or simply linger within the store as others engage with the vendors and you listen through your speakers or headset. No pressure.
But that wasn't what I was there to do. I strode inside a store marked CRUSHN.
"Hi Jordan!", said Dana, one of the co-founders, "welcome to our shop!"
With my camera on, it was very much like a typical farmer's market. The difference was that I was speaking in real time to Dana and her husband Todd who lived 1,500 miles away in Asbury Park, New Jersey. Their brand, CRUSHN, specializes in red pepper blends for pizzas. 
"Partners in life and business and pizza" is how they put it. I learned about their brand, their products, and asked how it was they came into the MetaMarket. Dana worked for NBC Universal in integrated marketing while Todd spent some time in ag tech, but their real passion bakes for about 16 minutes at 350 degrees with their own products fueling the flavor.
"It's interesting to watch peoples' shopping behavior," Dana said from the comfort of her living room, "and I'm the exact same way – people walk by, check you out, maybe ask a question, maybe walk away. If they like you or the product, they'll swing back. It takes a few rounds to see what's available."
Just like the farmer's market, I thought. 
They discovered the MetaMarket via word-of-mouth – it seems most did – and were soon enamored with its easy entry into the digital realm coupled with the ability to forge relationships with people under their storefront but across the entire country. There are no mobility problems getting to the MetaMarket, neither weather nor traffic to navigate. You simply need a chair, a screen, an internet connection, some time, and a willingness to chat and learn about new products.
After just 15 minutes, there were 70-plus people in the MetaMarket; the sidebar screen told me so, naming avatars and enabling peer-to-peer instant messaging. After chatting a bit more about CRUSHN, it was time to move to the next store.

A Funny Thing Happened on the Way to the MetaMarket
Not to be confused with the Metaverse – Mark Zuckerberg's capital-M tech company that made headlines earlier this year – the MetaMarket is one of innumerable meta-communities that share a common title but exist for wildly different reasons. For Tyler Fisher's MetaMarket, connecting unique brands directly with consumers – and having some fun, establishing connections, and sharing MetaMarket insights – is the first step toward a more user-friendly, approachable, and digitally sustainable ecommerce platform.
"It's hard to find new cool brands that you really like, and it's hard for brands to find their ideal shoppers," Fisher continued. "The MetaMarket can lower barriers and sell, say, really good bars from Colorado to a consumer in New York City."
Fisher explains how it works. A Parade employee creates the digital shop, framework, and details of the products and environment (fireplace? tables? guitars or bongos? shelves, rocket ships, koi ponds? It's all doable) based on the vendors' existing images and wishes, and digital construction begins. The products for sale, of course, are represented in little 8-bit graphics (at least the ones I saw while bombing around in my go-kart and top hat). Fisher says the whole point is to replicate the vibes at a bustling farmer's market for whomever you are and wherever you are.
It's all possible at the MetaMarket.
"We can even build out other distractions," he laughed, "like whack-a-mole, for example, or playable guitars and rideable bikes and go-karts. We use gamification as a way to distract, entertain, and even tie to the actual vendors if possible."
Gamification in retail is a whole other article (and adventure), and one that's going to become more common with every passing year. Roblox has partnered with Chipotle, for example, while Panera plans to explore the Paneraverse. A previous article by this top-hatted 8-bit editor explored augmented reality and fast food / quick-serve restaurants. Who knows? Maybe in the future, game developers will flip the script and explore restaurantification of their IP (intellectual property) and top titles. It's not out of the question that Mortal Kombat Munchies or Super Mario Soups may someday be a thing.
"We try to make it as easy as possible for the brands," Fisher said. "The taxes are built into the final transaction – there's a shared Shopify storefront, and though you can buy through the brands' websites as normal, if you purchase multiple items, you can check out through our Shopify storefront." (The shared Shopify checkout is also where exclusive MetaMarket discounts can be found – most products were discounted 15-20%.)
"Another thing we push with our brands is not to focus on the broad number of sales; focus on the superfan-type connections you can make," he said. "Some brands reported that some who bought products in the first market not only returned but signed up for subscription services. Brands want to engage customers, and the MetaMarket is a phenomenal way to do so."
What about longevity? Is this platform sustainable, especially in a year when so many tech companies reduced outlook, laid off thousands (such as Twitter and Metaverse), or reduced their internal valuation (such as Instacart)?
"You're not wrong," Fisher mused, "much of the metaverse is weird hype for things that may not pan out. We don't really know what metaverse even means at this point, and in ten years, it'll be clear how and why some meta projects failed and why others succeeded."
"Ultimately, the success or adoption of the metaverse and gamification of shopping experiences will depend on a variety of factors," said Eldad Posten-Koren, co-founder and CEO of WINN.AI, to The Food Institute, "including the quality and appeal of the technology and experiences being offered, as well as consumer preferences and behavior." 
And consumer preferences are leaning digital, nay, meta. According to a study by NordVPN, over 74% of participants said they'd be joining or would consider joining the metaverse. That's a large piece of the digital pie, and one I was happy to have experienced. 

Browsing the Metabooths 
In the short term, Parade's MetaMarket is poised to succeed. Every shop I entered was a different experience filled with enthusiastic vendors with unique products and services that will live in perpetuity on MetaMarket's website as long as they employ the market's services. 
From my brief experience, everybody won. A brand named Suckerz reproduces generic popular candy with up to 90% less sugar; based in Los Angeles, Suckerz makes low-sugar replicas of historic candy brands such as Jolly Ranchers, Sour Patch Kids, Tootsie Pops, and more with far less sugar content. Suckerz was at the first MetaMarket where they didn't just find loyal customers but a loyal investor as well. Several storefronts later, I stumbled into a conversation among Canadian entrepreneurs and the conversation revolved around finding customers and establishing relationships via the MetaMarket. 
Juliana Casale was one of those entrepreneurs. Looking to join the seltzer sector, she later told me, "This time around [at the MetaMarket] I got to chat with folks in the same category who co-founded Pricklee and Leisure; introduced myself to a formulator who has helped create beverages from scratch; discussed what's on the roadmap with an agency that does product photography; and connected with a fellow Toronto entrepreneur who is also a one-woman show. I left with a handful of amazing LinkedIn connections, several follow-up calls, a couple great leads for resources, and the desire to sign up for the next one ASAP."
And she's not the only one. So create your dream avatar, grab a go-kart, and I'll see you out there. The MetaMarket may be one of the first forays into the metaverse for entrepreneurial food industry brands, and it certainly won't be the last.