Brooklyn Park, Minn. – "Tea; Earl Grey; hot!" 
There was never any doubt about what Captain Picard ordered on Star Trek. As fast food (and fast tea) exploded across the U.S. during the past 50 years, many imagined themselves boldly going to the built-in beverage machine and saying the same. That future, though, was already realized a decade ago by companies like Nespresso and Keurig. Others dreamed of autonomous flying robots whirring to their doorsteps and delivering full meals from recessed bulkheads beneath spinning rotors; that too already exists as drone technology proliferates.  
Me? A long time ago, in a drive-thru lane far, far away, I dreamed of Jetsonian, pneumatic food delivery – very cool, very slick, everything polished silver metal and chrome. My food would be hot and melty, ready to go. 
And here we are. Border Foods, a Midwest Taco Bell franchisee, has achieved this with Taco Bell Defy, a four-lane, tube-delivered fast food restaurant on the cutting edge of mobile technology and munchie satisfaction in the western suburbs of Minneapolis. There is no dining area; there are no tables. There's a kitchen on the second floor of a contemporary purple building that looks more like a bank than a burrito maker. And it's poised to transform the industry.
To-Go Orders Explode in the 2020s
Americans are eating out less and eating in more from the comfort of their cars, companies, and homes. According to research from the NPD Group, 85% of fast-food orders were to-go in 2022. Full-service restaurants saw 33% of orders leave the restaurant, which is almost twice as much as pre-pandemic rates. Fast food isn't just fast anymore, it's nearly instant; mobile orders employ DoorDashers, grant gamified serotonal satisfaction with many brands' apps, and quicken the window between your food hitting the grill and your phone lighting up with some golden arches or freckled redhead telling you one thing – your food is ready. It's out for delivery or possibly already inside your car. Never send for whom the notification tolls, John Donne once wrote – it tolls for thee.
The biggest names in global fast food are adjusting to the new market realities – McDonald's, Taco Bell and KFC (both Yum! brands properties), Starbucks, Chipotle, and more are debuting restaurants all across the country to provide good food and swift service without the overhead and trappings of sit-down dining, which offers revenue-busting dilemmas of its own – more square footage. Larger sites to provide parking. More resources to simply keep the lights and grills on. Higher turnover of employees after belligerent customers cross the line – earlier this year, Waffle House was trending after video emerged of employees fighting back against unruly customers, throwing chairs and breaking glass. 
None of that occurs at Taco Bell Defy. First imagined in 2020 and opened just two years later in June 2022, the two-story, four-lane, no-dine-in Defy defied all expectations. In an on-site interview with The Food Institute, Border Foods' Region Coach Jarrett Persons revealed some of the inner workings of what makes the innovative franchise work.
"Defy made five times our average market daily sales in the first several weeks," he said. "The sales out of the gate far blew away any expectations we had."
Persons and I spoke while sitting in the employee rest area, a cozy, clean, and contemporary nook nestled away from the kitchen next to full-size lockers, employee calendar, bulletin board, and bathrooms and change area. It was a freezing cold day in February and the wind whirled cyclones of snowflakes up through the lanes as a few cars passed by underneath, awaiting their mobile orders.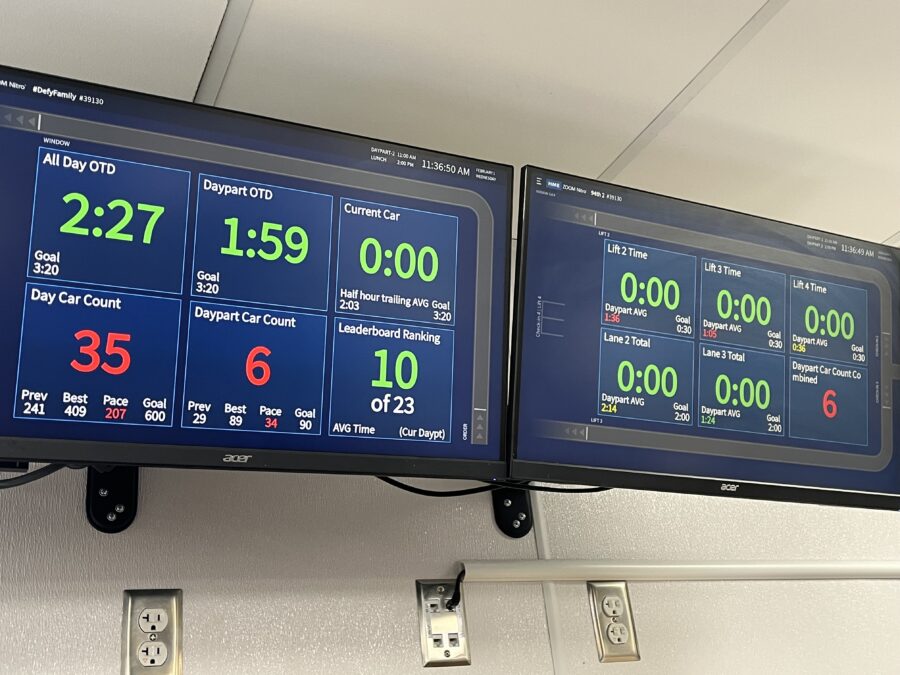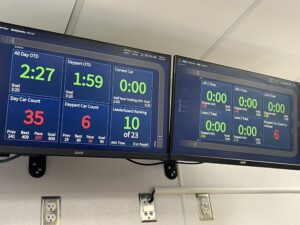 The system is built for swift and efficient food prep and delivery with multiple redundancies built in to ensure accurate orders and ultimate customer service. Proprietary technology abounds, from the highlight vertical pneumatic delivery tubes to digital displays that record the time of order, elapsed time of prep, lane number, daily/weekly average fulfillment times, and more. 
Persons said Taco Bell flew its coders out to work on the whole system before and after the grand opening. They used digital twin technology and other advanced layout and engineering programs to tweak the design for maximum efficiency and ease-of-use and worked round the clock in real time to troubleshoot unexpected dilemmas and develop features to further improve the process. Two-way audio and video technology reassures customers their orders are accurate, hot, and on their way while granting maximum visibility to the lanes and incoming mobile orders for the Defy staff. Most net times from receiving the order to putting the finished meal in a heated vertical pneumatic tube and finally whooshing it to the customer below is sub-four minutes. The new-look concept, tech, and food services requires twice as many employees to operate but can handle two or three times the volume of orders as a conventional location.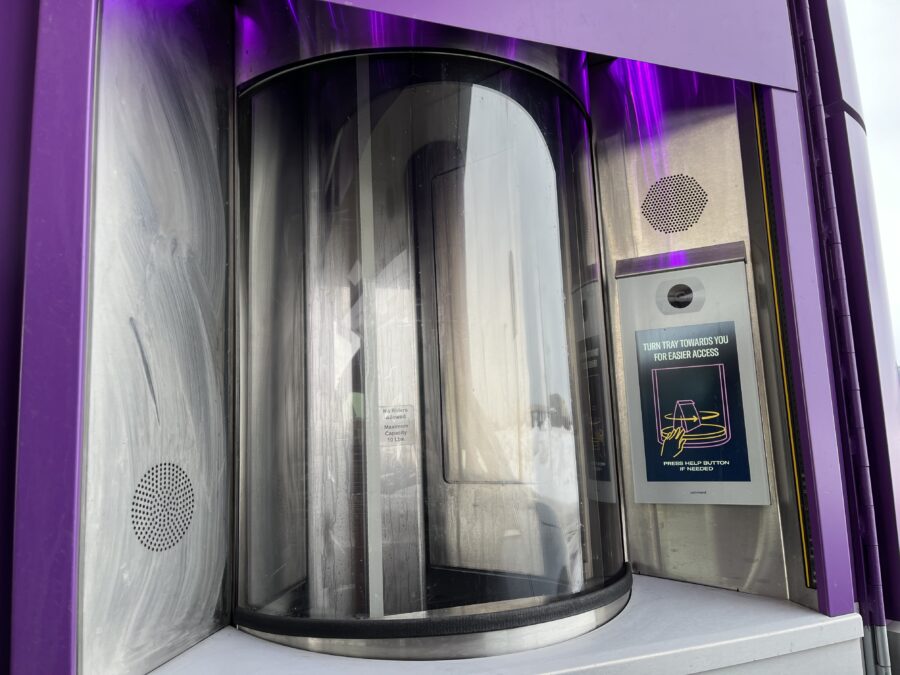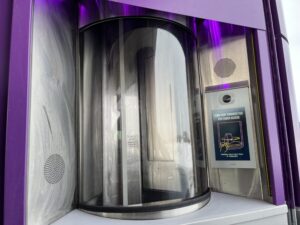 "The entrepreneurial spirit is real," Persons said, not only of the effort to improve the facility, but of the overall franchisee/franchisor relationship between Border Foods and Taco Bell / Yum! Brands. 
"When you can bring something like this concept at breakfast, get approval by lunch, and see it built and operating within two years, you have nothing but faith in the brand," he continued. "We ordered heavy anticipating we'd be busy, but the first couple of days was just astonishing – the delivery system worked. The kitchen and team held up. We had zero issues with heating and cooling, and the management team did a great job training about 50 employees."
Persons said that about half of what the staff knew from other Taco Bell employment simply did not apply to the modern location. The debut was less like an opening and more like a concert – people were parking their cars all around the site, snapping selfies and uploading to TikTok, Instagram, and more. Some flew camera-equipped drones through the vehicle lanes to showcase the whole experience while music blared from cars and mobile BlueTooth speakers. 
"It was a phenomenal marketing experience," Persons said, highlighting a more recent corporate phenomenon in social media – the abundance of cameras filming, well, everything. Many brands have moved from an atmosphere of proprietary or controlled media to one of transparency, uploads, Retweets, Shares, and Likes. As long as they're talking about you, you're still relevant is one of the oldest business concepts made manifest in launches like these. And a truly novel approach that disrupts the food industry doesn't hurt, either.
Enterprising Reinvention & Fast-Food Frontiers
"Taco Bell Defy embodies the innovative, entrepreneurial spirit of Minnesota businesses and franchisees," said Lee Engler, co-founder and CEO of Border Foods, in a press release near the launch. "It is a creative, technological solution for a faster, contactless experience for as many Taco Bell fans as possible and is poised to be the future of quick-service dining." 
Border Foods operates 230 Taco Bells in the region. If the current popularity (and market economics) of its Taco Bell Defy location hold, Engler and Border Foods hope to retrofit more locations in the future. And there's no reason to believe Yum! Brands doesn't desire the same; in the fourth quarter of 2022, same-store Taco Bell sales rose 11% in the U.S. and 7% internationally on the year (Taco Bell counts over 8,000 stores worldwide). Yum! Brands also told investors early this year that it hopes to open more than 100,000 branded restaurants over the next several years, with possibly 13,000 more Taco Bells in the U.S. alone, rivaling McDonald's.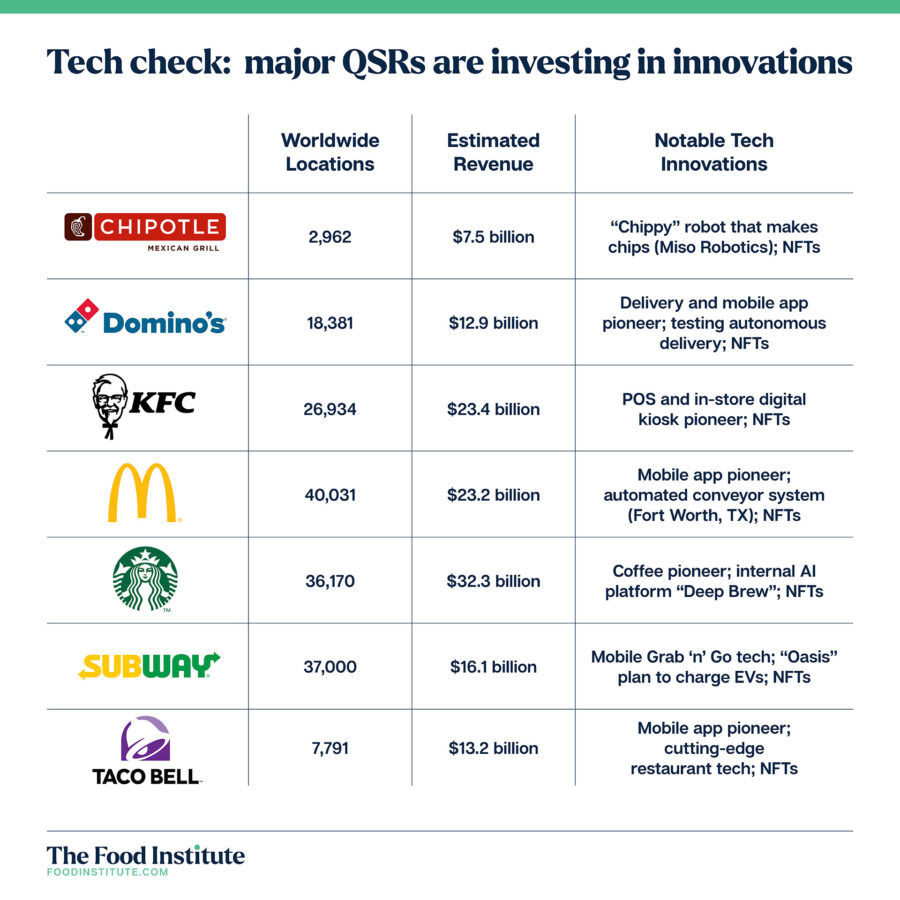 No need to look to the future (or boldly go anywhere – not with mobile delivery) to experience the latest in fast-food innovation – we already live in the future. As the original Trekkie techie fast-food foodie, Picard was ahead of his time. 
The only question is, what's next?