NEW ULM, Minn. — Bakers, start your ovens — National Butter Day has arrived.
November 17th is a day to celebrate the golden goodness of butter and the people, businesses, and industries onto which it is spread. However consumers enjoy it — salted, unsalted, cold and crisp or warm and melted, drizzled, candled, or boarded, butter is the stick that launched 1,000 viral trends, recipes, and careers. Butter is a simple medium through which many kitchens, recipes, and people thrive — Dorothy Gale journeyed to Oz on a roadway of golden bricks, and for untold millions the world over, their journey to, through, and beyond the kitchen begins atop a similar yellow slab.
National Butter Day was founded in 2021 and its story, like many holiday recipes, includes some surprise flavors, a little international intrigue, and a whole lot of butter and all the people, cows, and ensuing commerce that makes it happen.
Waking Up to Butter
"Oh," Steve Hoffman said from his family farm near New Ulm, Minnesota, "is there anything better than butter?"
Hoffman is a sixth-generation dairy farmer whose farm and lifestyle is reminiscent of many smaller family-owned farms in the United States. Unsure whether his children will continue the family business, he's poised at the edge of investment or exit as glimpses retirement edge closer with every morning milking.
"We milk our cows twice a day, once at 5:00 in the morning and again at 4:00 in the afternoon." Walking from the feed building to the barn, Hoffman said he's 58 years old and has slept in the same bedroom for 58 years, pointing to the old farmhouse in the distance.
"The same one," he said, throwing an arm out to encompass the 111-year-old property and its silos, feed building, milking parlor, homestead, and various outbuildings found on every farm. Green and yellow implements glint in the October sun as the cattle low a chorus of contented moos from across where we are standing.
Hoffman keeps about 150 dairy cows, mostly black-and-white spotted Holsteins and around 20 brown Jerseys. He milks about 80-85% of the herd every day (roughly 100-120 head) and produces about 10,000 pounds of milk per day.
Hoffman sits on the board of directors of Associated Milk Producers Inc. (AMPI) and serves as secretary. AMPI is a six-state dairy cooperative owned by Upper Midwest dairy farmers who live in the Dakotas, Nebraska, Minnesota, Iowa, and the western half of Wisconsin. Formed in 1969, the co-op knew it needed to do something to celebrate its 50th anniversary in 2019. AMPI was known for fantastic butter and cheese but had no retail presence unlike many larger competitors, so it created Dinner Bell Creamery®, the retail brand for the co-op. Farmer-owned and Co-op Crafted®, Dinner Bell Creamery is new but represents decades of dedication from the dairy farm side as well as butter and cheese makers.
And near the turn of the pandemic, the coop – and butter – was poised to further flavor the grocery sector with some unlikely allies.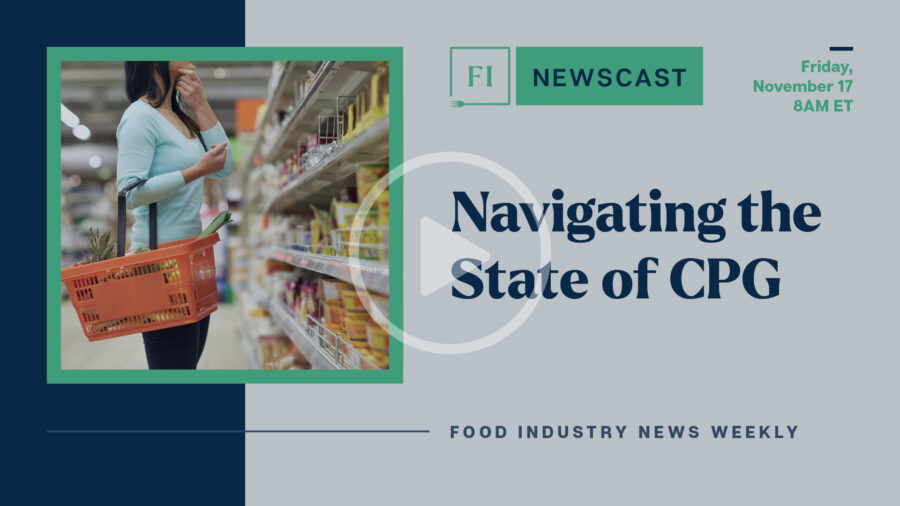 Buttering Up the Numbers
The average American eats about 6.3 pounds – or about 25 sticks – of butter every year. AMPI is the largest cheese cooperative in the country with more than 1,000 dairy farm families and almost 1,000 employees between the cheesemakers, butter makers, milk haulers, support staff, and more. In 2022, AMPI marketed about 5.8 billion pounds of milk and reached $2 billion in sales. Among its six-state region, AMPI owns eight Midwest-based manufacturing plants where its skilled workers produce nearly 10% of the nation's American-type cheese and (of course) butter.
A recent report from CoBank summarizes the way in which butter has transformed in the national consciousness. The report states dairy products were once cast as "nutritional villains" due to high saturated fat content and made a pariah of the grocery aisle in the 1970s. Nutrition research in the past 15-20 years, however, suggests full fat dairy "has a much more nuanced role – and potentially protective effect – on health, and consumers have responded."
Per the report, U.S. milk and butterfat production experienced parallel growth at 24% from 1995 to 2010. Since then, however, production has exploded, particularly for butterfat, pushing 27% growth despite total milk-pounds shipped falling off a bit at 15% growth.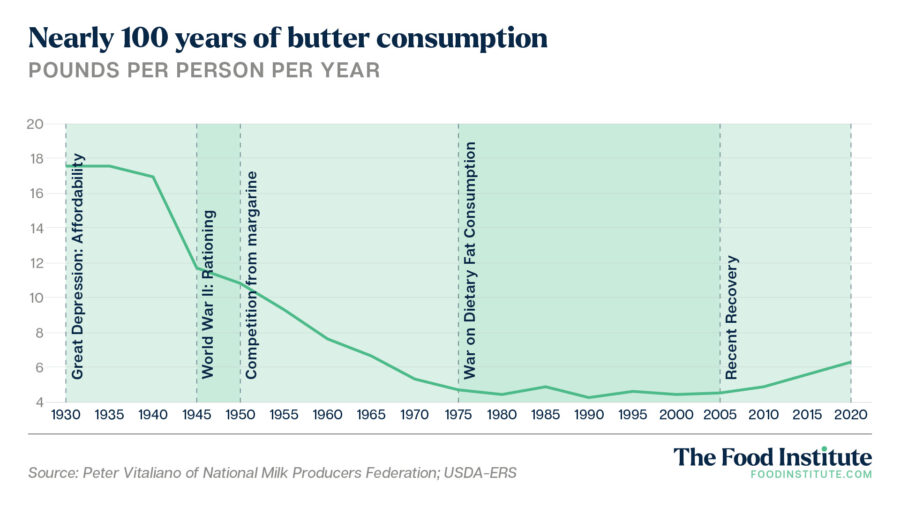 AMPI is making the most of it. In September, AMPI finished first in the highly competitive classes of the World Dairy Expo Championship Dairy Product Contest, scoring blue ribbons for Mild Cheddar and Sharp Cheddar. With entrants from over 43 states, AMPI vice president of cheese and whey manufacturing Mike Hinrichsen said, "These latest awards confirm what our customers already know: When it comes to making Cheddar cheese, AMPI is king," noting that the awards were a testament to the collaboration "between the co-op's skilled cheesemakers and our dairy farmer-owners who supply ideal milk for making exceptional cheese."
Worldwide, New Zealand consumes the most butter per capita with almost 13 pounds of butter per citizen. India produces the most butter (6.5 metric million tons), almost half of the globe's annual output.
Circana data reveals much about the state of butter in America. In the U.S., the top three cities per sales-pounds of butter are:
New York (62.4 metric millions)
Los Angeles (49.7 mm)
Chicago (34.9 mm)
Butter truly is a universal language spoken coast to coast. The top three cities of butter consumption per capita are:
Harrisburg, Penn. – 49.2 lbs.
Birmingham, Ala. – 26.2 lbs.
Toledo, Ohio – 23.7 lbs.
The fall is indeed baking season as the lift from average butter sales spikes 29% in November and 24% in December. Sticks/solids are the preferred butter form and comprise 62% of annual sales, followed by soft tub (36.8%).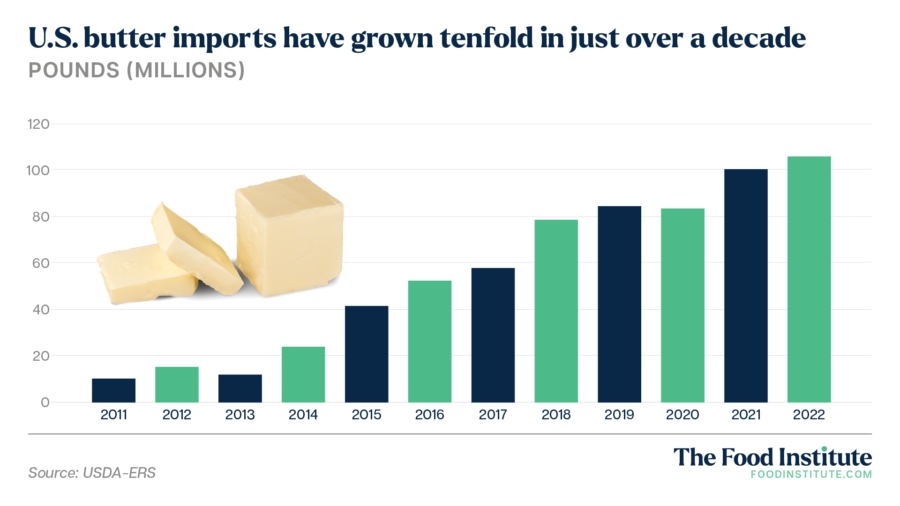 "Butter benefits from the trend favoring real food, with a clean label and just a couple of easy-to-understand ingredients," said Christopher Galen, executive director of the American Butter Institute (ABI) to The Food Institute. ABI is a 115-year-old nonprofit trade association of manufacturers, processors, marketers, and distributors of butter and butter products. "People seeking what's real in the grocery store and restaurant are increasingly choosing butter over heavily processed alternatives. Plus, it has the advantage of taste and utility, so it's a food that has many advantages."
Smooth Like Butter
Given his lifetime commitment to dairy, Hoffman has seen it all before.
"We make award-winning butter and cheese," he said, stepping around the farm dogs as we walked toward "the maternity ward," the smaller outbuilding where pregnant cows rest in the shade.
"Dairy farmers put a lot of effort (and frankly, money) into promoting dairy. Every dairy farmer in Iowa, Minnesota, the Dakotas, belongs to Midwest Dairy. Midwest Dairy does a lot of promotions of farmers and products through social and business media to work with restaurants and grocery chains and to feature their products."
"But it's been good," Hoffman said, stepping into the cows' area for a brief check, encompassing not just the farm and our brief visit but a lifetime committed to dairy, agriculture, and the communities he and other farmers support around the country, "it's been good." As we marched across the property, the cows seemed to agree, tracking us from the building, curious, seemingly happy for the extra attention as Hoffman told me more about what it takes to make it as a contemporary dairy farmer and, two years ago, just how much AMPI and farmers like him were about to be put on the map in a big way.
By going viral, of course.
Shortly after AMPI created Dinner Bell Creamery and made it into midwestern grocery and retail, they were surprised to learn there was not a national day celebrating butter. They got to work, did the research, and successfully secured November 17 as butter's day, working in collaboration with Ingredient, Dinner Bell's food content agency of record, brainstorming ways to celebrate the launch of the Dinner Bell brand at its inception.
Spreading the word about the new special day was helped by an unlikely source – BTS, the global boy band sensation from South Korea. In 2021, BTS released their second English-language single, "Butter," an international commercial success, and appeared on The Tonight Show in July.
"Butter" was a big hit. When it premiered on YouTube, it set a platform record by reaching over 100 million views in 13 minutes and broke four Guinness World Records for viewership. More importantly, a few months later on Nov. 17, 2021, The Tonight Show wished millions "Happy National #Butter Day!" along with BTS and featured a GIF of one of the band members slamming 33 golden slabs of butter into a fish bowl. It was re-tweeted almost 4,000 times. (It was not the first time butter had hit the national consciousness from an unexpected source; in 2014, Time put butter on the cover with a golden yellow font declaration that merely said, "Eat Butter.")
For AMPI's Dinner Bell Creamery, it proved to be a social media boon and proof positive that the world was, indeed, bonkers for butter. On November 16, 2021, Minnesota's governor Tim Walz declared November 17 henceforth Butter Day in the State of Minnesota in a ceremony at the state capitol in St. Paul, noting the 2,350 in-state dairy farms along with state senators Tina Smith and Amy Klobuchar.
In the Midwest, however, declaring butter a state and national treasure isn't really news – that's just life. For almost 30 years, AMPI has supplied the butter for the Minnesota State Fair and the annual naming of Princess Kay of the Milky Way, the goodwill ambassador of Minnesota's dairy industry. Sarah Schmidt is not only the vice president of marketing for AMPI (and New Ulm resident and dairy farmer's daughter herself), but she's also a former Princess Kay with firsthand experience about the ongoing business of butter.
"Since 1993, AMPI has gifted the butter used in the sculpting of the iconic Princess Kay and her finalists at the Minnesota State Fair," said Jenna Davis, Midwest Dairy Farmer Relations Manager.
"These unique 90-lb. butter sculptures are extremely popular and recognizable around the globe thanks to the generosity of AMPI and its farmer-owners."
"Demand for both butter and cheese has been exceptional, reaching 40-year highs," Schmidt said. "Butter consumption has risen through the pandemic as people are simply cooking and baking more."
Schmidt is sharp, knowledgeable, and adamant about the role farmers like Hoffman play in the community as not only producers of grocery commodities but as boots-on-the-ground leaders for local products, responsible agricultural practices, and stewards of the land and animals who exist in a symbiotic cycle of birth, production, and renewal.
"We know the cows. We know the farmer. We know the farm," she said, referring to the nearly thousand families that make up the cooperative.
"We know the butter maker. We know every piece of that process, and each of the people in that process are active in their communities. They're economic generators — from the farms, yes, and they're super involved in their churches, schools, in public service. That's very natural in agriculture and co-ops, and something we hope shines through in the Dinner Bell brand. We care for the land, the cows, the people, and the communities around them."
Consumer Confidence from Farm to Retail & Grocery
Schmidt is a fierce proponent of dairy and the farm families and animals that contribute to the dairy aisles of retail and grocery stores.
"Consumers should feel confident and comfortable knowing that farmers care about the food they're producing," she said, "and that story can't be overtold. About 97% of dairy farms in the U.S. are family owned."
For her, Hoffman, and dairy farmers around the country, the opportunity to rally around National Butter Day isn't just a feel-good day of baking as the holidays draw near – it's an opportunity to reflect upon the work and workers that help turn (and churn) the cogs of commerce in cities large and small across the country.
And for farmers like Hoffman, the opportunity to reflect is few and far between.
"I'm not complaining, but it's a lot of work; it's a huge commitment. These animals need to be cared for every day of the year. It doesn't matter if it's a raging blizzard, or Christmas day, or a birthday, every day somebody has got to be here."
On days when he is able to view his own products in the grocery store, I had to ask – what does a dairy farmer like Hoffman do when he actually visits the dairy aisle?
"That's a good question," Hoffman laughed. "I don't get to the grocery store often, but I love hanging around the dairy section. I look at labels, I compare prices, I look at the competition…I'm a bit of a dairy aisle creeper, I'll admit it. Just two or three times in my life I've warned consumers away from non-dairy products."
Here he paused, reflecting on the opportunity for humor and education when a farmer meets an average joe in the dairy aisle.
"I'll probably do that the rest of my life," he admitted with a chuckle, "I can't help it."
From dairy sculptures to international pop hits, Butter Day was a long time coming and farmers like Hoffman and others around the country who contribute to the dairy aisles in retail and grocery can enjoy a little recognition on November 17.
Or at least a buttery treat as the holidays approach.