Despite the record-searing temperatures worldwide, the summer of butter is upon us. Whether preferred melted at room temperature in the form of a bougie butter candle or whipped into a compound concoction and slathered atop a butterboard, chefs and at-home cooks are finding novel ways to light up their taste buds with some dedicated CPG buttery goodness.
The numbers add up. Per the USDA, butter production in the spring was up 8.1% year-over-year as inflation cooled and the weather warmed. Per TikTok, however, #butter is everywhere—over 25 million views for #compoundbutter; almost 475 million views for #butterboards; and a whopping 7.7 billion views for #buttercandles , a trend that rose and fell as quickly as #GirlDinner, which was really just TikTok giving name to glorified charcuterie boards and leftovers.
#WhippedButter is also rising, however, and as a kitchen and culinary staple, #butter—in all its hashtagged variants—shows no signs of slowing as long as the cattle keep lowing.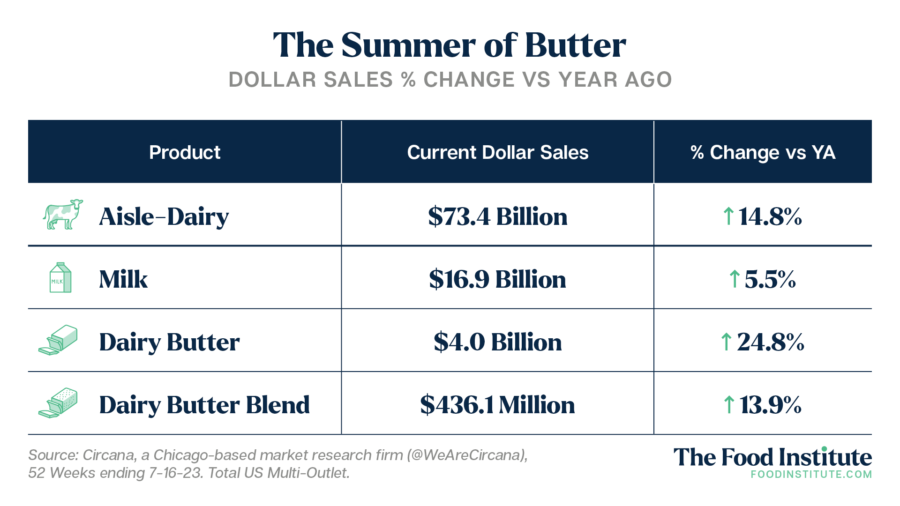 Per Circana data, the total butter/margarine/spreads category has seen over $6 billion in retail sales this year – a +24% rise versus one year ago. Dairy butter blends account for over half of that rise with sales jumping from roughly $382 million in 2022 to over $436 million this year—a 13.9% rise. Every dairy category, in fact, has seen positive growth, from milk, natural cheese, and eggs to yogurt, cream cheese, dairy processed cheese, and whipped toppings, all helping power the #SummerOfButter.

Going Global at Home
When asked to define compound butter for the layperson, chef Michael Tashman said, "Compound butter is a butter that has been blended with various ingredients such as herbs, aromatics, and seasonings to create different flavors in one bit. It's a product that enables the at-home chef to easily use it in various applications such as finishing meats, sautéing vegetables, and topping pancakes."
Tashman is also the founder of Churn Foods, a compound butter CPG company from California. Churn has a robust social media presence between TikTok and Instagram. Using its products' natural qualities—non-GMO, grass-fed, hormone-free, and non-rsbT (recombinant bovine growth hormone)—Churn hooks into many post-pandemic health and wellness trends, linking better-for-you sensibilities with a social media-friendly, very shareable product that also hits upon at-home elevated dining; namely, all the trending #butter tags.
Put it all together and you've got a product with the ability to complement everything and that enables consumers to achieve harder-to-master global flavors from the comfort of a tub; all you need is a butter knife to mimic French cuisine, say, with garlic and shallots, or a burst of New York City bagel with Everything Butter, which features onion, garlic, poppy, caraway, sesame, and sea salt for a gritty crunch.
"We put this into butter form so the average cook doesn't have to do all the work of chopping the garlic, peeling the shallots, having a messy kitchen clean-up, etc.," Tashman said.
"Restaurants have been doing this—offering gourmet compound butters—for a long time, but now that we've seen the rise of butter use (especially compound butter in the last 10 years), it's continuing to trend upward and become even more visible on social channels."
One of the lessons Tashman has learned in his transition from chef to business owner is that quality control is just as difficult (if not more so) to maintain in CPG than in the restaurant business. When asked where he now falls on the chef/business owner spectrum, "I am definitely 99% business owner now," he noted.
"Restaurants have tiny margins with all the overhead, so you have to be business-minded or you will fail. Everything you are doing is perishable, it's so complex, so you really have no choice but to be business-minded. This also translates to retail—when a product is in the store, it's out of your control. The core of the business has always been e-commerce, where we can control messaging directly to the customer through multi-channels like newsletter, social, or our blog. This allows us to educate folks on application, ingredients, and the founder story—all of that is lost within a store."

Butter Goes Big This Summer
There's more than one blockbuster that starts with a B this summer.
"There is more of a demand for specialty butters now than ever," Tashman continued.
"It's a rapidly growing category and people are valuing quality: organic, grass-fed, high butterfat. People are looking for ways to elevate their cooking simply and efficiently," the chef noted, pointing out the fact that the widespread focus of wellness is making more informed consumers who aren't afraid to spend a little extra—even amid inflation—to garner more natural ingredients into their food (and #butterboards).
In fact, Churn has grown over 450% in the past 12 months, increasing its revenue fivefold and eclipsing the best previous year of the company by almost three times. "We are expanding national distribution and making investments in production to enable scalability and growth. We are also exploring potential new flavors, collaborations with brands, and packaging options such as size variations," he said.
And as the summer gives way to fall, Tashman is confident the #SummaOfButta will continue to fuel consumers' media feeds and help power (and empower) their dining at home. Every good blockbuster gets a sequel – as inflation eases, the leaves begin to fall, and consumers come in from the cold, it may be time to evolve last year's #buttercandle into something more ambitious – perhaps a dripping chandelier festooned with aromatic compound butters dripping onto plates?